Safer Together Apart – Week 1 Protecting children and older people
15 June 2020
Welcome to Safer Together Apart!
Day 7 – The first week is a wrap!
It's been a busy first week during our first virtual #SaferTogetherApart event. We have launched our Safer Superhero activity pack and shared lots of cyber safety tips for young people, we have heard from Neighbourhood Watch and shared top tips for our older residents, and teamed up with crime prevention experts and professional boxers.
To end the week, some of our partners are telling us how they have adapted to different ways of working during the pandemic.
Project Activity Lead Zephra Atkins tells us about how Active Communities Network have changed the way they work during lockdown:
Active Communities Network service user Abby tells us about the online programme that she has been involved in during lockdown:
Youth Commission member Alex sent us a video about what the Youth Commission have been up to during lockdown:
Day 6 – Online boxing session
Join professional boxer and former world champion Hannah Rankin and let her take you through your paces in an online boxing session. Hannah is Scotland's first female world champion. The session covers initial warm up, some punch combinations and stretching.
Hannah is an Active Communities Network Ambassador and is a firm believer that activities can teach you many new skills including teamwork, discipline, organisation and most importantly allows you to meet other like-minded people and build friendships in your local community.
By being an Active Communities Ambassador Hannah hopes to inspire other young people to get involved in sport, especially young women, and help them to discover new skills and get active.
Active Communities Network (ACN) has been operating in Hampshire since 2014. Starting in Leigh Park  they deliver the Big World Impact Programme for young people aged primarily 9 to 19. ACN provides weekly sports, arts and cultural activities, accredited training, personal and social development, regular youth forums and awareness-raising workshops which tackle relevant community issues with a focus on supporting the Safer Communities agenda.
The Office of the Police and Crime Commissioner has worked closely in partnership with Active Communities Network for a number of years and have received funding from the Police and Crime Commissioner for two projects this year.
The Leigh Park Stars project in Havant received £23,000 from the PCC's Safer Communities Fund. The project delivers youth-led diversionary activities and progression pathways for young residents of the Leigh Park estate/community. The project is delivered year round, blending sports activities and youth work to divert and progress into vocational training, education and employment routes.
The second project, which received £26,000, is the Urban Stars Project, a youth diversionary project using sport as its primary method to target hotspot areas in St Thomas's and Charles Dickens wards and build formal and informal referrals for those highlighted at risk. ACN provide pathways into youth-led developmental opportunities.
Day 5 – Crime prevention top tips
Crime prevention plays a big part in keeping our communities safer. As part of our #SaferTogetherApart event we have asked the experts and collated a number of top tips for both rural and urban areas.
Crime prevention in urban areas
Police Community Support Officer Dalian Lacey from Hampshire Constabulary's Southampton Central Safer Neighbourhood Team gives us top tips:
Burglary crime prevention
Bike theft crime prevention
Purse theft crime prevention
How to safely interact with street beggars 
Neighbourhood Watch also have an important role to play in preventing crime. Working in partnership with the Office of the Police and Crime Commissioner, Hampshire Constabulary and many other organisations they have produced their top 5 tips for keeping you and your community safe.
You can register your valuables on www.immobilise.com to help reduce property crime and improve the chances of getting them back in the event of loss or damage – read more about the benefits on this leaflet.
Crime prevention in rural areas
Hampshire Constabulary's Country Watch Team have provided a number of rural crime prevention tips and resources to download to help keep you and your property safe in rural areas.
A good standard of building security is vitally important in rural areas, as outbuildings, such as hay barns, may not be visited for weeks at a time.
Farmhouses are similar to other domestic dwellings, so general advice on how to secure a domestic property, however, because of the remote location of some farmhouses, additional measures such as CCTV, monitored intruder alarms and increased boundary security may be beneficial.
Visit the Master Locksmith Association website for advice on the most secure locks that conform to the latest British Standards for your windows and doors. Always use an approved locksmith from the MLA for installation.
Install security lights that come on automatically at dusk and go off at dawn. Help make your property look occupied by fitting timer switches to lamps in different rooms and set them to come on at staggered times.
CCTV can provide formal surveillance to the most vulnerable areas of the property. Consider installing an audible and monitored intruder alarm system. Get comprehensive advice from a reputable security company that is a member of the National Security Inspectorate (NSI) and Security Systems and Alarm Inspection Board (SSAIB).
Consider installing an entry control system e.g. infra-red, video/intercom or keypad entry.
Leaflets for download and print at home
Day 4 – Celebrating PRIDE 2020
Every year during the month of June, the LGBT community celebrates in a number of different ways. Across the globe, various events are held during this special month as a way of recognising the influence LGBT people have had around the world.
In Hampshire a number of events would have happened during this month but because of COVID-19, both Portsmouth Pride and Eastleigh Pride, which were due to take place this Saturday 20 June, have been postponed.
Our @HantsYC Youth Commission members are posting daily inspiration around the LGBTQ+ agenda on their Instagram account, including books to read, people to follow, and helpline numbers worth knowing. Head over to hantsyc on Instragram!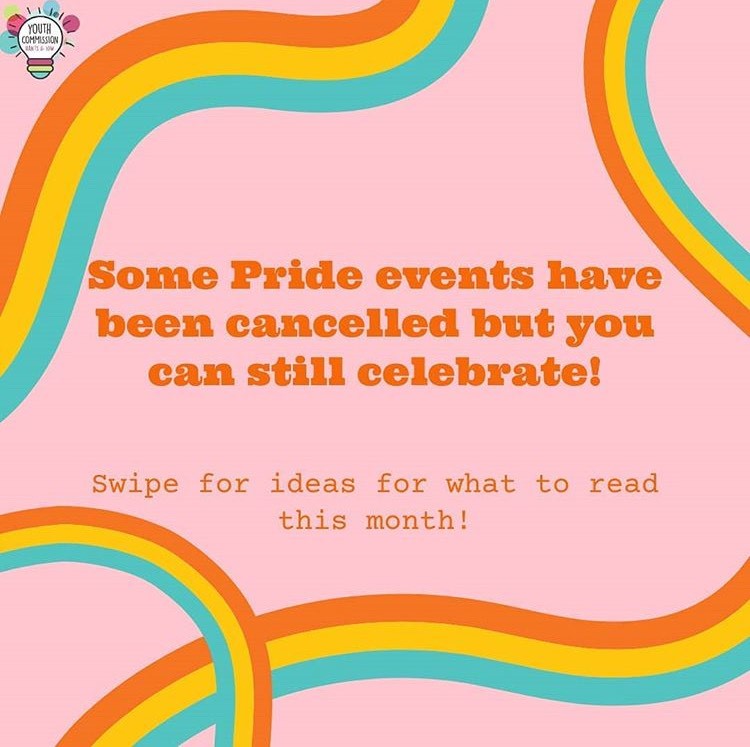 Day 3 – Neighbourhood Watch: Top tips for older people
As part of the Police and Crime Commissioner's plan to strengthen partnerships the Commissioner and his team have been working closely with Neighbourhood Watch for a numbers of years, and we've invited Hampshire and Isle of Wight Neighbourhood Watch President Margaret Filley to tell us how Neighbourhood Watch have been supporting people during the pandemic.
Neighbourhood Watch have been working with the Older Drivers Forum and created some useful advice for older drivers during and following lockdown. Click on the links to download your home printer friendly copies:
If you are interested in setting up a NHW scheme in your area, the documents below contain all the information you need:
Day 2 – Youth Commission
Since lockdown the Youth Commission has continued its work with young people, moving to online engagement. Daily posts are made on social media via @HantsYC, raising awareness of the three topics they have chosen to focus on this year – hate crime, serious violence and exploitation.
They have been busy helping Hampshire County Council create some animations aimed at educating teenagers about the spread of Covid-19 and reinforcing social distancing messages:
They have also been coding the Big Conversation responses received to date this year and created summary reports which have been distributed to hate crime leads, the violence reduction units and will be presented to the Child Exploitation Board.
Day 1 – Safer Superheroes
Get your children thinking about how to stay safe online, on the road and out about with our Safer Superhero activity pack for 5-10 year olds for you to download and print at home.
Safer Superheroes meet Cyber Ambassadors: Watch Marcia's top tips on how to stay safe online during the pandemic, including
Cyberbullying
Unwanted contact
Digital resilience
Safe passwords
Off-screen time
In-game scams
Online safety conversations with adults.
For more online safety advice and daily tips, head over to our Safer Superheroes page and follow the Cyber Ambassadors on: