The Police and Crime Commissioner's Performance and Information team provide new and insight into existing research relating to the work of the PCC and his office.
University collaboration scheme
Policing, the Criminal Justice System, support and intervention services all move and adapt with the changing nature of crime. The Police and Crime Commissioner and his team are working closely with the police, the Crown Prosecution Service, local community safety partnerships and third sector providers to keep our communities safer. But how do we know we are making the right decisions when it comes to shaping and investing in services for victims, offenders and crime prevention, or influencing policies on how crimes are being dealt with?
One way we're tackling this is by partnering up with local universities. Last year we piloted a collaboration with Winchester University, through which Masters students (two pictured above) placed with us gained work experience and research opportunities while undertaking their final dissertation. Their areas of research met the complex needs of the OPCC, while providing the students with a unique placement opportunity that gave them access to the wider network of criminal justice practitioners in Hampshire and the Isle of Wight.
We are now working with students from Southampton, Solent, Winchester, and Portsmouth Universities. Students placed here at the OPCC are undertaking research for their Masters dissertations on a range of themes such as:
Domestic abuse: service provisions, police and schools initiatives, police perceptions and response to victims.
Effectiveness of risk assessment tools: domestic abuse and offender scoring
Stalking: traditional and online
Equality in the criminal justice system
Evaluation of rape cases in the justice system
We intend to share all dissertations once marked and verified. Take a look at the research already undertaken by Masters students placed here at the OPCC below.
For any questions into the research programme please contact us via the Contact Form 'I have a question', and ask to be put in touch with our Senior Researcher Natasha Fletcher.  Follow @HantsPCCInsight on Twitter for research updates.
iESE awards gold winner 2020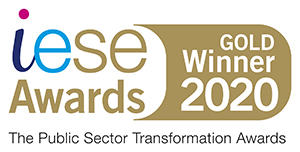 The Performance and Information team are proud to say they are gold winners of an iESE award in 2020.