Safer Superheroes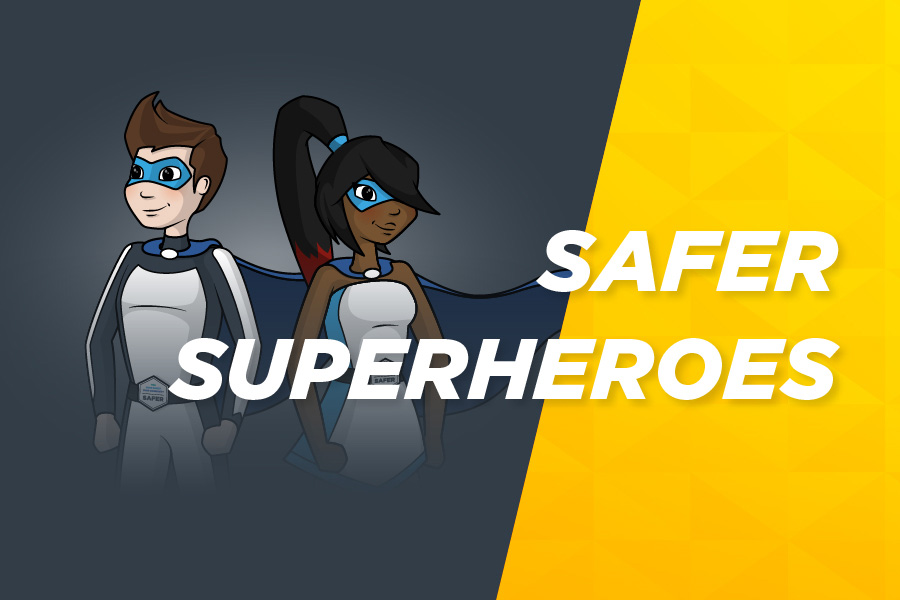 Our superheroes have put together some useful advice for parents to share with their children, and you can also download the Superhero activity pack to print at home.
Stay safe online
Ask your teacher or parents for links to some top websites that are safe to visit to help with your homework. Sit with an adult when you search the internet then they can help you pick pages that are helpful or fun.
Don't click on a pop-up box or strange links without checking with an adult first.
Ask your parents to set up parent controls on the internet to help filter out nasty content.
Use YouTube Kids, or check with an adult before you watch any YouTube clips.
The following activities selected by our Cyber Ambassadors can help you learn more about internet safety:
Read more about

smart rules with @childnet.
Cyber Ambassadors and peers have been exploring reporting tools available for online issues, here's more guidance on reporting to CEOP.
Gain insight into the online gaming world and how you can support young people whilst they play and connect online. Here are some top tips on Online Gaming Tournaments.
Read the Secure online gaming guide to help parents/guardians support children and young people in the online gaming world.
Click and read Are you being Cyberbullied?on what to do if you come across cyber bullying.
For daily tips check out Twitter @cyber_Go_FISH and TikTok @Cyber.ambassadors, and search cyber ambassadors on YouTube.
Stay safe on the road
On dull days or during dark evenings wear bright clothes and put on fluorescent and reflective armbands. Put some reflective stickers on your bag, or use a cat eye keyring. You can buy all of these in bike shops.
When you are cycling out and about, make sure you always have a working front and back light!
When out with your friends pay attention to what is happening around you. When you are running, chatting or skipping, it's very easy for you to get distracted by the fun you are having. You might accidentally step or be pushed into the road just when a car is going past.
Stay safe when out and about
Stay with your friends, family or parents and never walk off alone. Never go anywhere with anyone unless it was planned beforehand.
If a stranger or someone you know makes you feel unsafe
Yell loudly and tell someone
Run to a place that has someone you can trust such as a school, friend's house, police station or shop
If you get lost whilst out and about
Stay put – your parents are most likely to go back to the places you have been to together in order to find you
When you call for your parents, call them by their real name – they are then more likely to hear your voice
If they don't return, try and find another mum and ask her for help. You can also ask a police officer or a person working in a shop.
Don't put up with bullying
If someone is being bullied and you don't do anything to help them then it will just continue and may get worse. However, hurting someone in return really is not an option.
If you are being bullied the best thing to do is tell a friend, tell a teacher, and tell your parents. It won't stop unless you do.
If you see someone being bullied they're probably very upset, so make sure they know that you and your friends don't like what is going on and ask them to join your group. You could also offer to help them to tell the teacher or their parents
Respect others
Sometimes people that look different, have different likes or follow a different religion are bullied or hurt by others. This type of crime is called a hate crime, and the police and the courts take this very seriously.
It is important that we all look out for each other, no matter what our skin colour, our abilities, our religion, or whether girls love girls and boys love boys. If you do get bullied or hurt for any of the above reasons, you must tell your parents or a teacher.
You may not understand why someone thinks the way they do or the beliefs they hold, but this should not affect the way you treat them.
Resources for parents
Hampshire Constabulary have put together a useful site at www.safe4me.co.uk with educational resources for teachers, professionals and parents to help them have the right conversations with children about how to stay safe.
Relevant topics for primary school age children include:
Cyber bullying
Anti-social behaviour
Drugs
Introduction to the police