6 March: Justice Week 2021 – Youth Commission working with CPS
06 March 2021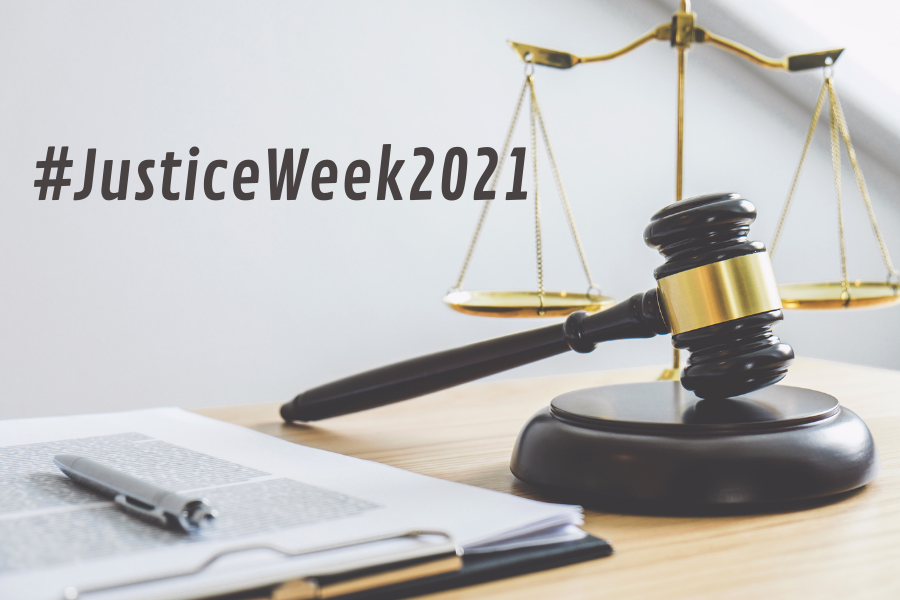 Recently members of the Youth Commission got the opportunity to meet, once again, with Alun Morgan (District Crown Prosecutor), Elizabeth Cox (Senior Crown Prosecutor), Lucy Linington (Senior Crown Prosecutor) and Beth Sparks (Inclusion and Community Engagement Manager) from the Crown Prosecution Service (CPS) to learn about and discuss the topic of county lines.
This type of crime – where gangs and organised criminal networks move drugs around the country using dedicated phone lines to take orders – falls into our priority area of exploitation, as the success of these networks relies on the exploitation of vulnerable people. It also has close links to our priority area of serious violence.
Shocking scale of County Lines crime
During the session, many of our members were really taken aback by the sheer scale of this type of crime – with nationwide profits estimated to be worth £500 million and individual lines making profits of £800,000 per year! We also learnt that many thousands of children and young people across the country are being criminally exploited by those involved in county lines. Another topic of discussion was the close ties between county lines activity and serious violence which includes knife and gun crime, acid attacks, and even murder.
We also discussed two recent real life case studies from the Hampshire area. The first case was about an investigation that ran from 2020 to early this year. This investigation was into a person suspected of holding two drug lines that were used to supply class A drugs. We discussed all the evidence in fascinating detail and learnt about how the police can download and analyse contents of mobile phones, and how they can decipher the meaning behind specific texts and language by consulting a Drugs Expert Witness. We also heard about the topic of cuckooing – where criminals take over the home of a vulnerable person to use as a base for drug dealing and other illegal activity. This case also involved the police executing search warrants at multiple addresses, and discussed the specific evidence that was key to proving the suspects involvement in the supply of Class A drugs, which included drugs worth roughly £1400, multiple mobile phones and SIM cards and lists of names and telephone numbers that were related to drug deals.
The second case we discussed was about an investigation that ran for several months in 2018 and 2019 and resulted in 19 suspects being charged with various different offences. This case was predominantly linked to Basingstoke, however it was not solely limited to Hampshire and had links to both Luton and London. The entirety of this investigation was based around text messages found through the police downloading and forensically examining mobile phones and the analysis of cell site data to establish the locations that the phones were being used. Our members were quite surprised to hear that just one of the suspects involved in this case had over 100 wraps of crack cocaine in their possession alone!
Eye-opening and fascinating ongoing partnership
Overall this session was incredibly eye-opening for those who attended and, as with all the other CPS sessions we've been to, absolutely fascinating for all of our members. Youth Commission member Leah said "I thought it was really surprising to see how much money county lines can make annually and I also found it interesting that they presented text messages that were recovered from some of the phones used for the lines". Another member, Ralua said "ten out of ten for sure, really interesting and interactive.
Lucy Linington, CPS Wessex Senior Crown Prosecutor, said: "As part of an ongoing partnership, CPS Wessex and the OPCC are working together to provide insight and education for members of the Youth Commission.
"This is an ongoing commitment which to date has produced three workshops delivered virtually by CPS Wessex prosecutors. The themes covered so far have been hate crime, knife crime and county lines, all of which have been topics requested by members.   The sessions have been interactive and informative, with fantastic engagement by members who demonstrated a real understanding of the issues facing the criminal justice system and society as a whole.
"The members were able to offer different perspectives and views which was of great benefit to prosecutors whose focus is to deliver justice.
"These sessions are scheduled to take place throughout 2021 and will, without question, provide an education of a different kind to prosecutors lucky enough to be involved in such a rewarding and enjoyable project."
Important to listen to the younger community
Joanne Jakymec, CPS Wessex Chief Crown Prosecutor, said: "I am incredibly proud of our work with Hampshire OPCC's Youth Commission, particularly because I recognise how important it is to listen to the concerns of our younger community members.
"At a time when children and young adults are experiencing the effects of county lines, knife crime and child exploitation, it is vital that our prosecutors understand the concerns and issues faced by them.
"The feedback we receive from our partnership with the Youth Commission directly influences our quality of casework and ensures that we are agile in our decision making."
The Youth Commission members thank Alun, Elizabeth, Lucy and Beth for taking the time to speak to us, and we look forward to the upcoming session about exploitation.
Maddie Davis, Youth Commission member – Hate Crime team and social media lead
Hampshire and IOW Youth Commission