Youth Commission smash target
04 October 2016

Congratulations to members of the Youth Commission, who have already beaten their target of 1,700 responses to their 'Big Conversation', over three months ahead of the consultation closing. 

The 'Big Conversation' is designed to reach out to young people under 25 to find out their concerns and ideas related to policing.
The Youth Commission members have been volunteering their time at events across the Hampshire Constabulary region, including Victorious, Boomtown, and Freshers' events in Basingstoke, Southampton and Portsmouth. While not always eligible to vote in the election of the Police and Crime Commissioner, young people are still having their say on the policing issues that affect their lives.
Young people from across the region have been suggesting ways that their top concerns could be tackled: ideas covering everything from teaching cyber safety in schools to stricter social media age limits, to increased support and counselling for mental health sufferers, and increased funding for rehabilitation options instead of criminal sentences to support substance misusers.
Tayah Winslade, Youth Commission member from Havant, said: "I feel it is of most importance to hear from the youth of our society, because it gives more of the population an insight into the difficulties in our society from a youth's point of view."
Alison Romaine, Youth Commission member from Fareham, said:
"Creating dialogue with young people through a variety of channels – surveys, events, fresher's fairs, social media polls and workshops – gets us to the root of the problems and it's where the best ideas sprout from."
Nadine Croll, Youth Commission member from Camberley, said: "Hearing from young people about our four priorities is vital to our work. We didn't join the Youth Commission because we want to change the world to suit our own individual views. We did it because we want to create a safer future that suits and benefits us all."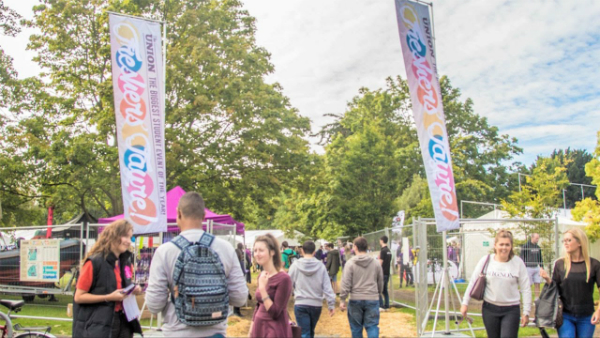 Hannah Curl, Youth Commission member from Bishopstoke, said: "I think it's important to hear from young people about their issues because of how directly affected by them they are.  That's what makes it so important to get as many viewpoints from as many young people as we can, as our campaign topics affect so many people."
Jessica White, Youth Commission member from Totland Bay, said:
"I believe that by talking and listening to young people about what they believe is wrong in their community helps the older generations develop a better understanding of problems they may not even be aware of."
What's next?
Since beating their target, Youth Commission members have increased their target to over 2,000 responses by late December 2016. All the feedback and suggestions will then be used to inform future campaigns and projects to deliver on their four priorities.
For more information about the priorities, and to contribute to the Big Conversation, visit www.hampshire-pcc.gov.uk/youth-commission where you can find out more and participate in the consultation.