Safer Together Apart – Week 4 Building inclusive communities
06 July 2020
Welcome to Safer Together Apart!
After four weeks, our virtual #SaferTogetherApart event is coming to an end. During the last four weeks we highlighted some key issues currently affecting our communities, and provided useful advice, tips, and links to further information.
If you have missed any of it, you can catch up here:
Week 1: Protecting children and older people
Safer Superhero activity pack for children
Top tips for older people from Neighbourhood Watch
Crime prevention tips from Hampshire Constabulary
Online boxing session with professional boxer Hannah Rankin
Week 2: Staying safe from fraud and scams
Latest Coronavirus scams
Staying safe while working from home
Staying safe when shopping online
Dealing with doorstep crime
Simple steps to protect yourself and others
Recognise the signs of Domestic Abuse
Helping children cope with Domestic Abuse
How employers can support their staff
Working with perpetrators
Dispelling the myths around Domestic Abuse
Help available for vicims
Week 4: Building inclusive communities
Recognising hate crime and how to report it
Third Party Reporting Centres
Youth Commission work on hate crime
Supporting employees affected by hate crime
Representing diverse communities
Day 5 – Representing diverse communities
In order to build inclusive communities, it's important that organisations reflect and represent all the communities they serve.
Action for Equality, Inclusion and Diversity
The Police and Crime Commissioner and his team are committed to being accessible to and inclusive of all of the communities and people we serve and have developed a five-point action plan for Equality, Inclusion and Diversity.
Read the full commitment statement here.
Hampshire Constabulary are running a number of initiatives to ensure its workforce is as diverse as the community it serves, and that more diverse voices are heard.
Young people advisory group
One of those initiatives is a drive to form a young people advisory group to complement the already existing Independent Advisory Group.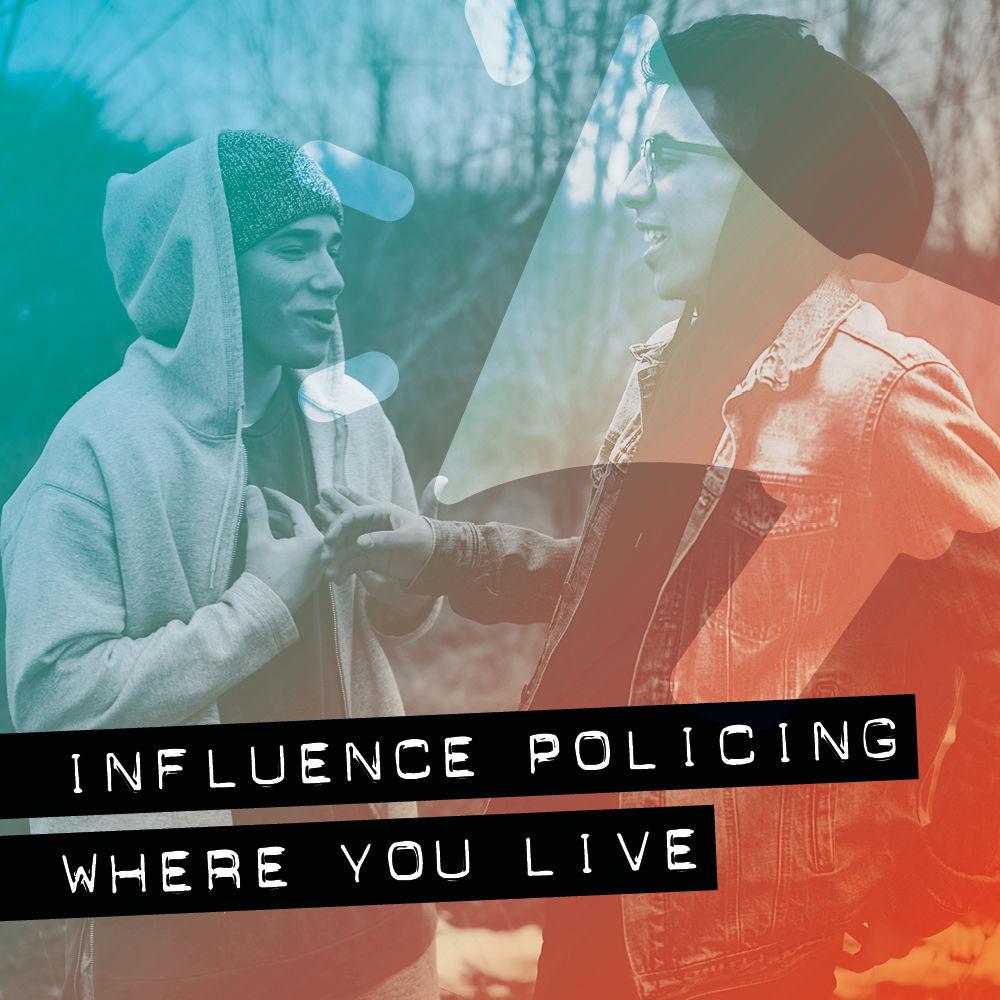 Any young person between the age of 18 and 25 can apply, and young people from diverse backgrounds are particularly encouraged. The role will be to challenge and advise on issues such as stop and search, arrest and custody issues, critical incidents and ASB and crime which has an unequal impact on communities, such as hate crime.
For more information on this role click here. 
Positive action programme
Another initiative run by Hampshire Constabulary for a number of years is the Positive Action Programme.
Positive Action is based on legislation laid down in the Equality Act 2010 and is a recruitment tool that allows the Constabulary to get candidates from underrepresented groups to the same level as mainstream candidates and join the force. As Aleks Drapala, positive action co-ordinator at the Constabulary explains, positive action is not just for people from different racial backgrounds – it covers all nine protected characteristics: age, disability, gender, marital status, pregnancy, race, religion and belief, and sexual orientation.
Watch the video to hear why is it important, what the most common barriers to joining the police are, and how the team works with candidates to overcome them:
Day 4 – Helping employers support their employees
Hate crime doesn't just happen to people in their private lives. Hate crime can also happen to people in the workplace – for example by being assaulted by a customer, or by being bullied by a colleague.
Employers must take all reasonable steps to protect employees from discrimination and harassment and support them if they become a victim or witness of hate crime.
The Safer Hampshire Business Partnership, Hampshire Constabulary, the Office of the Police and Crime Commissioner and Enterprise Rent-a-Car Ltd have worked together to create an employers' guide to hate crime, designed for businesses who want to ensure their managers and employees are supported appropriately should they become a victim of or witness a hate crime in the workplace.
There are three guides available with targeted information for employers or HR leads, for line managers, and for employees, covering topics such as record keeping, confidentiality, reporting and signposting to appropriate report.
Download the Business Crime Guide: Supporting employees affected by hate crime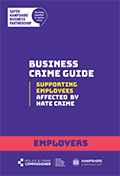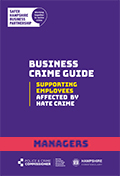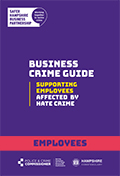 Day 3 – Youth Commission work on hate crime
The purpose of the Youth Commission is to make young people part of the solution to tackling crime and improving policing, rather than being seen as part of the problem.
Every year our Youth Commission members consult with young people across Hampshire and the Isle of Wight about their concerns and thoughts on crime. The summary reports and recommendations then help shape decisions about policing and crime.
Hate crime is one of their current priorities, and their initial findings from this year's Big Conversation suggest that:
Young people see education and raising awareness about hate crime as key to tackling it
Some also suggested tougher legislation and punishment
Only very few people would actually report a hate crime
The Youth Commission were on Unity 101 FM today at 3pm, to discuss hate crime. Listen to the interview by pressing play below. A transcript of the interview is also available.
Find out more about the Youth Commission here.
Head over to the Youth Commission's Instagram account @hantsyc or Twitter account @HantsYC to see how they are promoting inclusive communities to young people!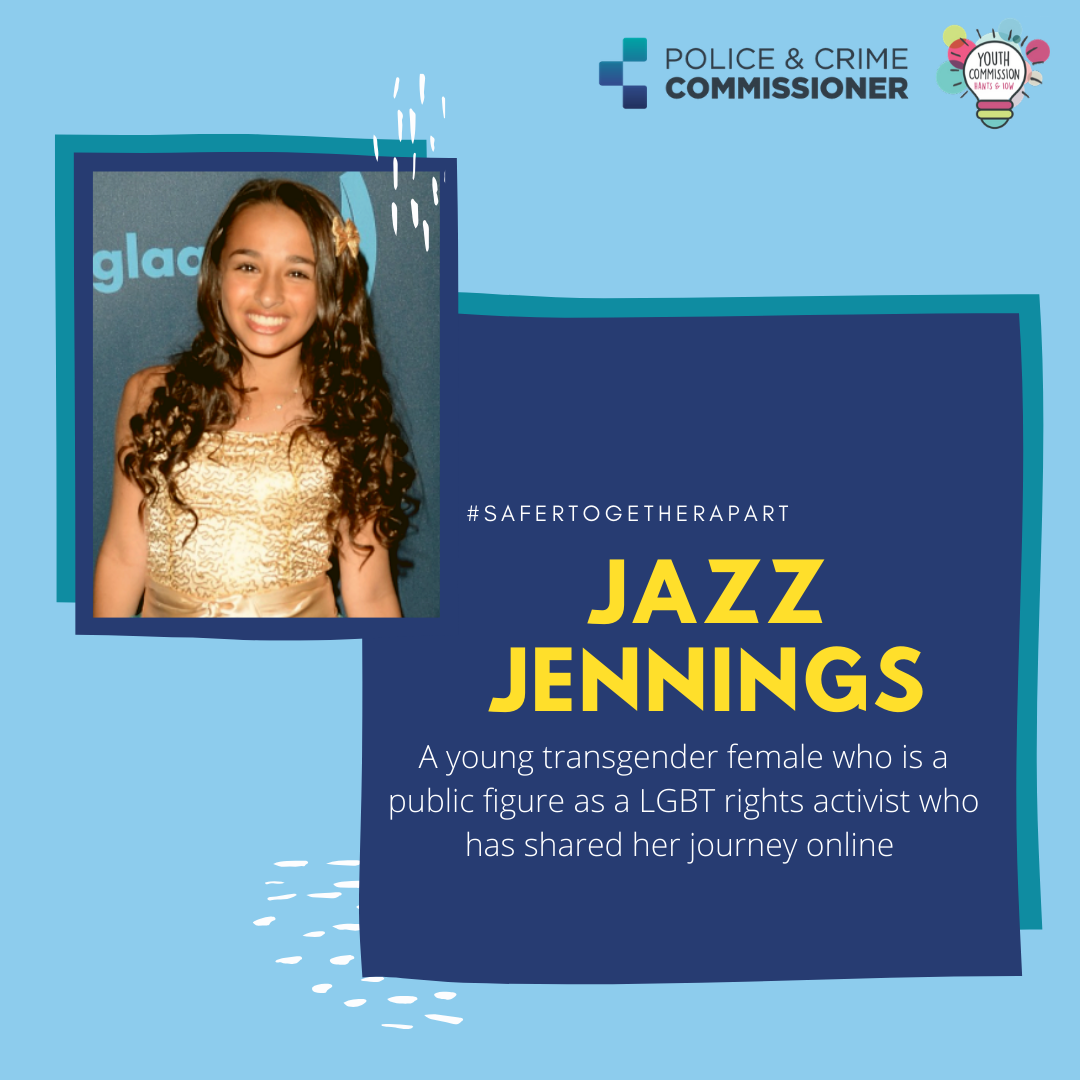 Dawn Tracey from Y-Services, one of our partners who provide services for young people, have put together a little video about PRIDE and how they have supported young LGBT+ people during lockdown.
Day 2 – Third Party Reporting Centres – supporting hate crime victims in the community
Not all victims are comfortable with reporting their experiences directly to the police. Possible reasons for this may include:
Lack of awareness of ways to report hate crime
Victims find visiting police stations intimidating or daunting
Victims believe the police won't believe them or take them seriously
Individuals are unaware they are victims of hate crimes
Lack of support to help victims make a report, e.g. interpreters
Victims fear being outed in terms of their sexuality or disability
Third Party Reporting Centres (TPRCs) overcome these barriers by providing an alternative to directly reporting to the police, without which a number of hate incidents and crimes would never be reported or recorded.
Sam Waddington, Southampton Hate Crime Network co-ordinator, explains what a Third Party Reporting Centre is and what you can expect when seeking their advice and support:
There are now more than 70 TPRCs in Hampshire and the Isle of Wight – including all Citizens Advice Bureaus, some libraries, and many organisations right within the heart of those communities affected by hate crime.
You can find contact details for national TPRCs in the hate crime guide, and download a full list of local TPRCs here.
An even easier way to find your nearest TPRC is through the 'Love Don't Hate' hate crime reporting app. The free app can be downloaded from Google Play and the Apple AppStore
Local hate crime networks
Both Portsmouth and Southampton have now established hate crime networks – groups of organisations working together to tackle hate crime in their city. They provide hate crime training to other organisations, work with schools on educating young people about hate crime, and run joint awareness campaigns to increase reporting.
Southampton Hate Crime Network
Portsmouth TPRC Network
Day 1: What is a hate crime – and how can I report it?
The impact of a hate crime on a victim can be very personal and long lasting.  Any crime lowers the quality of life for a victim but a hate crime attacks a person's core sense of identity and belonging within society. Hate crime victims have higher levels of depression, stress and anger, and for longer than victims of other types of crime. This can leave an individual, families and even communities feeling detached and isolated from society and potentially make them even more vulnerable to being victimised.
In its most basic definition, a hate crime is "any criminal offence which is perceived by the victim, or any other person, to be motivated by hostility or prejudice based on a person's actual or perceived race, religion/faith, sexual orientation, disability and gender identity".
Race (e.g. skin colour, ethnicity, citizenship)
Religion (e.g. faith, atheists, targeting religious premises)
Sexual Orientation (e.g. gay, bisexual, pansexual)
Gender Identity (e.g. transgender, agender, demi-gender)
Disability (e.g. learning needs, mental health, physical impairment)
A hate crime can manifest itself as:
Physical abuse or violence
Verbal abuse or threats
Sexual abuse
Offensive calls or texts
Written/printed abuse (including offensive mail or e-mail)
Indirect attacks
Harassment, exclusion or isolation
Damage to property
Online abuse
You can report a hate crime to the police:
In emergencies, call the police on: 999
If you are deaf, hard of hearing or have a speech impairment, a text phone is available on: 18000
Pre-registered users can also text us on: 999
The non-emergency number to call is: 101
The non-emergency number for Deaf people/ Speech Impaired people is: 07781 480999
Or you can report a hate crime to a third party reporting centre (TPRC). There are national TPRCs and local TPRCs, and a full list can be found in the hate crime guide or here.
Please note that during the current pandemic many of the centres only operate a telephone service.
Download the hate crime guide.