Office of the PCC receives national transparency award again
03 March 2021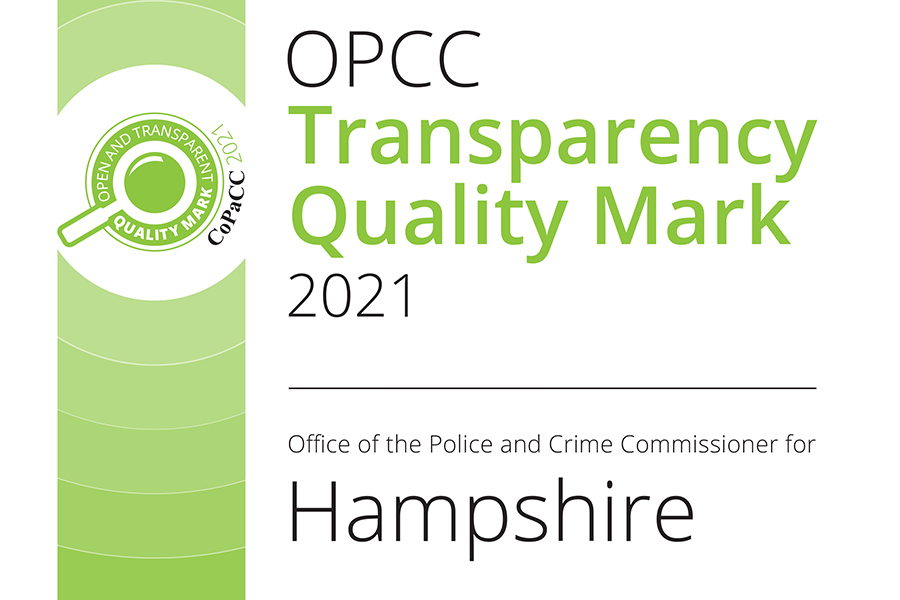 The Office of the PCC has again been awarded the CoPaCC Open and Transparent Quality Mark for 2021, demonstrating that this website provides clear information on the performance and activities of the PCC.
CoPaCC is an independent organisation which monitors police governance by comparing Police and Crime Commissioners and the work of their offices.
The assessment uses the Home Office's 2013 publication Guidelines for PCCs on publishing information, based on the 2011 Elected Local Policing Bodies (Specified Information) Order, as the basis for scoring each disclosure requirement – i.e. that the information both exists and is timely.
CoPaCC adds a further criteria for assessment, 'ease of use', which considers how easy is it for a member of the public to find the information disclosure. This means it's not sufficient to just make the information available; it should be easy to identify where the information can be found and simple to navigate.
It's no longer acceptable to 'tick the box' of technical and legal compliance but then hide the required disclosures through unclear jargon and complex navigation; clear, non-technical language and simple navigation should be the aim to ensure true public transparency.
Every year since 2013, CoPaCC has assessed how offices of police and crime commissioners (OPCCs) fulfil their statutory obligations for transparency as required by the statutory transparency factors contained in the Elected Local Policing Bodies (Specified Information) Order, based on the information delivered through the OPCC websites. The Hampshire PCC website has received this award several times when assessed.
Grant Thornton, the police assurance provider, sponsors CoPaCC's Open and Transparent Quality Mark analysis and the associated awards. Paul Grady, Head of Police for Grant Thornton, commented that: "Transparency is an essential part of the democratic process. For the public to be able to gauge how successful their PCC is in delivering their electoral mandate, they need access to information that is accessible, easy to understand and fit for purpose. Grant Thornton is proud to once again be supporting these Transparency Awards and we congratulate all those who have been successful in meeting the standards required."
Bernard Rix, CoPaCC Chief Executive said: "For my part, these OPCCs have all demonstrated that they are transparent in what they do, meeting relevant legal requirements. They present key information in an accessible format on their websites. I was particularly gratified to see, after seven years of assessments and awards, such high standards delivered."