New hate crime guide for businesses launched by Assistant Police and Crime Commissioner
21 June 2019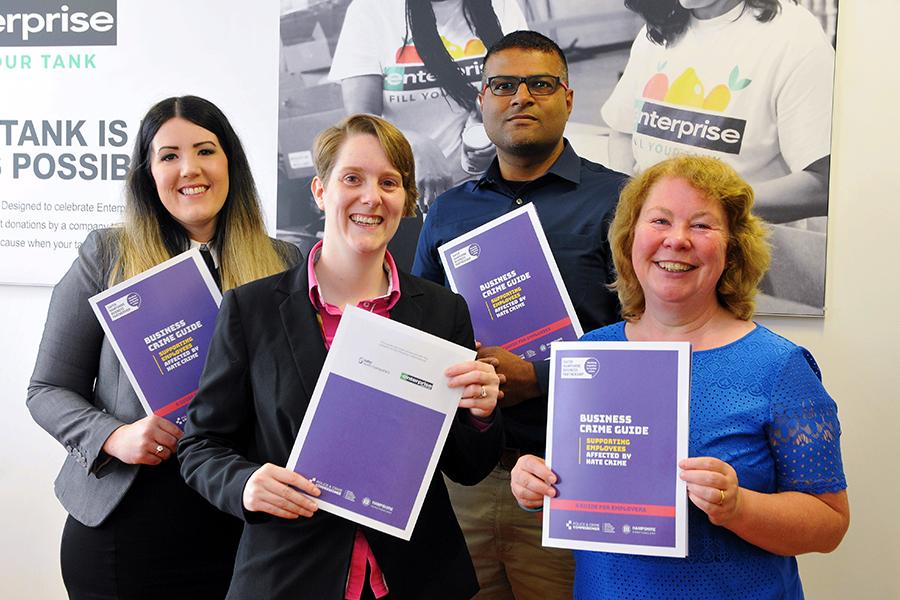 The Safer North Hampshire Partnership, Enterprise Rent-a-Car Ltd, and the Assistant Police and Crime Commissioner for Hampshire, the Isle of Wight, Portsmouth and Southampton have launched the new 'Business Crime Guide: Supporting employees affected by hate crime'.
The guide, which is endorsed by the Safer Hampshire Business Partnership, is the latest in a series designed to support businesses, managers and employees in dealing with crime in the workplace, and is available to download for free from the Police and Crime Commissioner's website. The collaborative project has seen businesses, local authorities and crime experts work together to provide comprehensive advice accessible to all businesses in the Hampshire Constabulary policing area and beyond.
Assistant Police and Crime Commissioner Enzo Riglia said: "Any crime lowers the quality of life for a victim, but a hate crime attacks a person's core sense of identity and belonging within society. We know that hate crime victims have higher levels of depression, stress and anger, and for longer than victims of other types of crime. If such a crime is taking place in the workplace, where victims may not have the opportunity to avoid the perpetrator, it is absolutely vital that they can feel confident to report the incident to their line manager and rest assured that the organisation will deal with it appropriately and offer the right support. This guide will help businesses of any size do just that."
Georgina Crockford from Enterprise Rent-a-Car Ltd, who provided a valuable business perspective on the content of the guide, said: "At Enterprise, we are committed to providing an inclusive environment where employees and customers alike feel valued, supported and respected. Our culture is based on strong values and we strive to mirror the communities in which we operate. We wanted to be part of setting up this support network because we believe that diversity is about equality, fairness and creating a better society. Through this project, we aim to share our own best practice and work with other businesses to help develop a widespread culture that completely removes hate crime from the workplace."
Karen Evans from Safer North Hampshire said: "It has been a privilege to work on developing this guide and we hope that it will provide businesses of all sizes with information and resources in order to enable them to support staff, clients and customers who experience hate crime. Hate crime is never acceptable and this guide will help to increase awareness of what constitutes a hate crime, how to report incidents and the support available."
In the last three years, the Police and Crime Commissioner has invested more than £100,000 in initiatives that tackle hate crime and support hate crime victims. There are now more than 60 independent TPRCs across the Hampshire Constabulary policing area, many of them embedded in and led by the communities affected by hate crime and offering dedicated support and advice to victims. Hate crime is also one of the PCC's commissioning themes, meaning organisations and communities are actively encouraged to apply for grant funding from the Commissioner's Safer Communities Fund for hate crime related projects.