The Hampshire and Isle of Wight Local Criminal Justice Board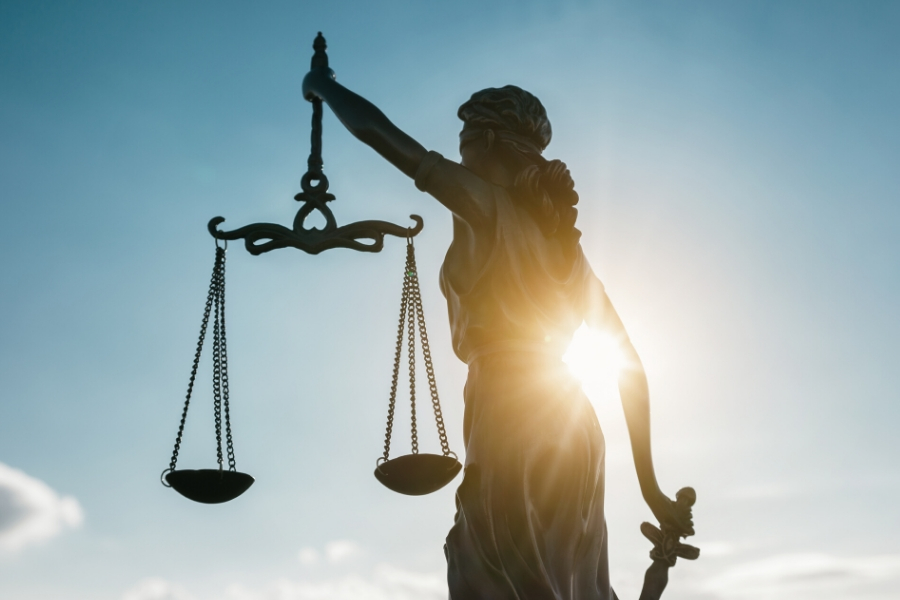 The Hampshire and Isle of Wight Local Criminal Justice Board (LCJB) brings together agencies with responsibility for delivering criminal justice services for communities in Hampshire and Isle of Wight with a common purpose, specific aims, clear direction and shared accountability.

About the LCJB
"Working together to deliver a fair, effective and efficient criminal justice system in Hampshire and the Isle of Wight."
The criminal justice landscape is complex and multi-faceted and no single agency is responsible for the system as a whole.  It is vital that criminal justice agencies are unified in their ambition and work together in the most efficient and effective way possible, to improve outcomes both for victims of crime and people who offend.
By working together, we can ensure a better shared understanding, enable cost savings through more efficient ways of working and provide a more joined-up and effective criminal justice system that is better able to focus on justice for victims and offenders.
Channel 4 documentary 'Crime and Punishment'
Over four years ago the Hampshire and Isle of Wight Criminal Justice Board started the conversations with the production company, 72 Films, to develop the documentary, Crime and Punishment, the second series of which is currently being broadcast on Channel 4. We agreed to allow access to cameras across the entire system to provide a unique insight into the complexity and challenges we face every day. There is no doubt this series will create a debate at a time of tight resourcing and greater demand faced by the justice system than ever before. As a board we would like to reassure the public that while you will see the challenges, we all have the common goal of delivering justice for victims and we are collectively focussed on securing better outcomes for them and to keep our communities safer.
If you have watched the programmes and would like to pass your comments to the Local Criminal Justice Board, please email lcjb@hampshire.pnn.police.uk
Chief Constable Olivia Pinkney
Chair of the Hampshire and Isle of Wight Criminal Justice Board
The role of the CPS in prosecuting Child Sexual Abuse cases.
Hampshire Constabulary's role in investigating Child Sexual Abuse cases.
The second series of Crime and Punishment focusses on the multi-agency approach to justice and gives a unique insight into the workings of the system. The programmes are impactful and thought provoking, often generating debate about the dilemmas and challenges faced by partners and staff working across the system, and vitally gives the audiences, including our local communities, seldom-seen viewpoints from victims and offenders.
The COVID pandemic has inevitably had a big impact on the criminal justice system, but staff working across all criminal justice agencies continue their unwavering hard work and determination to get justice for victims in extremely challenging times.
When the pandemic hit, partners from across Hampshire, Wiltshire and Dorset, with representatives from police, crown prosecution service, courts, prison, probation, youth offending and victims and witness support came together to form a Wessex Criminal Justice System Recovery Group to collectively tackle the challenges.
All partners across the system have responded to and managed increased workloads and changed demands, quickly adapted their services so they could still be delivered remotely adhering to the restrictions and ensuring they had COVID safe working environments, and have taken approaches to ensure cases continue to be progressed, but there have been unavoidable delays in some cases. This is being taken seriously by the whole criminal justice and priority is being given to high harm cases through collaborative work, ensuring the most serious cases and those with vulnerable victims and witnesses are flagged and prioritised.
The Wessex Recovery Group continues to meet regularly to monitor and respond to the changing demands and is focussed on embedding some vital modernisation in the system, as well as moving resources around to where they are needed most at any given time to ensure justice for victims and the wider safety of the public.
Ensuring victims receive the right support is crucial to them in having the strength to pursue a case through each part of the criminal justice system and there are a number of vital local services across the area that the PCC has funded to ensure essential support is available for victims of crime and the vulnerable.
Victims have the right to support as any stage, not matter how long ago the incident occurred and whether they have reported it to the police. If would like any support, the Victim Care Service provides confidential emotional and practical support for anyone impacted by any crime and includes specialist sexual crime case workers who are able to provide an enhance support.
Changes to the probation service
More than £300 million worth of extra funding is helping to more than double the recruitment of probation officers, from the usual annual intake of 600 trainee probation officers to 1,000 last year with plans to recruit a record 1,500 this financial year. This will mean staff can keep a closer eye on the most dangerous offenders and ensure many more take up the opportunity to reform their criminal ways.
Unifying the service will ensure there is better and more consistent supervision of offenders and closer working with the police, NHS and local authorities. The service will work in 12 regions across England and Wales and a new, specialist National Security Division will be specifically tasked with the enhanced monitoring of terrorists, serious organised criminals and very high-risk offenders.
A refresh of the national standards for probation will ensure staff meet face-to-face with all the offenders they supervise at least once a month, with more frequent meetings for higher-risk offenders. For the first time, the standards also set an expectation that probation staff will visit offenders' homes to protect children, partners and other family members from domestic and sexual abuse. In some cases, such safeguarding visits will be joint with police and social services.
There will also be extra investment in tackling the drivers of crime and getting offenders to ditch it for good. Charities and companies have been awarded nearly £200 million to provide and signpost vital support services that help reduce reoffending, such as employment, mental healthcare and housing advice. With reoffending accounting for 80% of all recorded crime, these services will help to prevent thousands of people becoming victims each year and save some of the £18 billion annual cost of repeat offending.
The supervision of low- and medium-risk offenders and delivery of unpaid work and behavioural change programmes will now be carried out by the public sector Probation Service, alongside the supervision of high-risk offenders which was already the responsibility of the public sector.
More than 7,000 staff from private sector Community Rehabilitation Companies will come together with 3,500 probation officers already in the public sector in the new Probation Service.
The criminal justice process
Click to view the low-resolution poster below, or download the high-resolution pdf for printing here.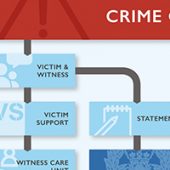 Vision, purpose, and members of the LCJB
The LCJB's vision is to deliver in partnership, a fair, effective and efficient Criminal Justice System, focusing on the service given to victims and witnesses of crime, prevention and rehabilitation of offenders in order to make Hampshire and the Isle of Wight a place where people will feel safe to live, work and visit.
The purpose of our LCJB is to deliver measurable outcomes that enable excellence in service delivery to all local residents in order to raise public perception to both be safe and feel safe. This is achieved by:
influencing at a national level
challenging and holding each other to account with honesty, energy and transparency
developing positive relationships across the CJS to add collective value and unblock perceived and real issues within the system
being ambitious and innovative for the people we serve.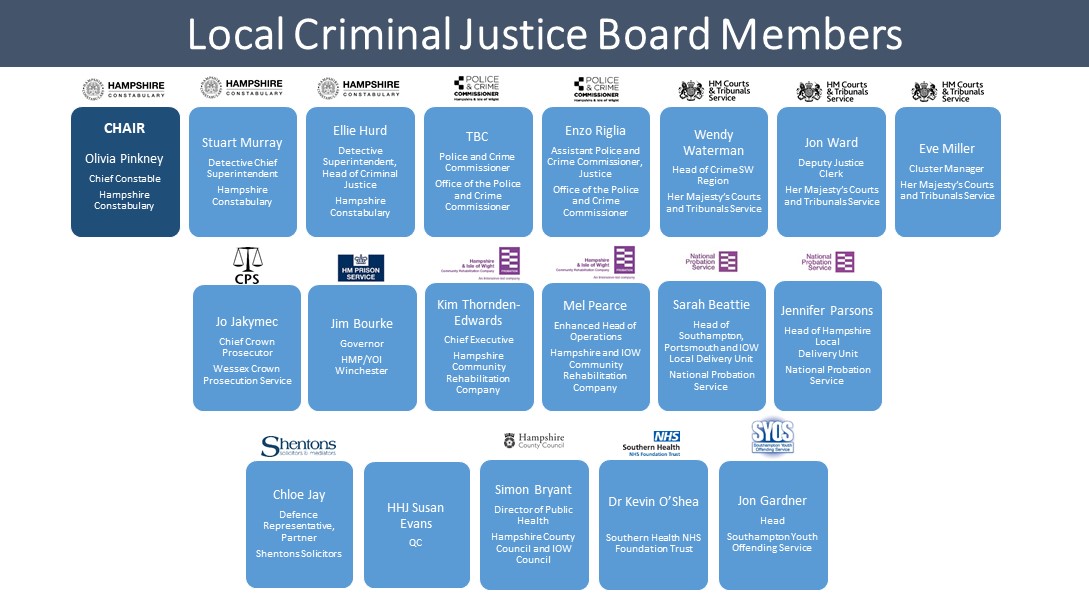 Click the image to view the members of the LCJB
LCJB members accessible version

Our priorities
Improve the service delivered to Victims and Witnesses
Reduce re-offending and reduce crime
Deliver an effective and efficient criminal justice system
Through monitoring and measuring performance meaningfully and collectively, the LCJB will know whether the plan is working. Effective collaborative working by criminal justice agencies across the LCJB sub-groups is essential to deliver the priorities.
The LCJB is also committed to communicating the work that is on-going within the criminal justice system to promote justice and provide a better understanding to the residents of Hampshire and the Isle of Wight.
Annual reports and progress review
Criminal Justice Workforce Ethnicity (Spring 21)
This infographic illustrates the ethnic representation across criminal justice in Hampshire and the Isle of Wight, using local data where available.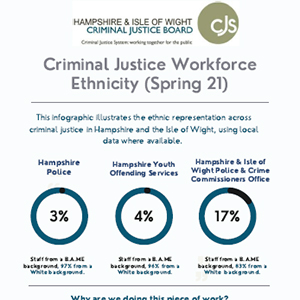 Why are we doing this piece of work?
We recognise the benefits of having a diverse workforce and acknowledge that reflecting our community demographic is important.
We are embracing our responsibility to understand diversity.
We want to demonstrate transparency and accountability within our own workforce in order to build trust with our local communities.
Hampshire Police: 3% of staff from a B.A.ME background, 97% from a White background.
Hampshire Youth Offending Services: 4% of staff from a B.A.ME background, 96% from a White background.
Office of the Police and Crime Commissioner for Hampshire & Isle of Wight: 17% of the staff from a B.A.ME background, 83% from a White background.
Crown Prosecution Service Wessex: 7% of staff from a B.A.ME background, 93% from a White background.
Courts (National): 19.6% of staff from a B.A.ME background, 80.4% from a White background.
Judiciary (National 2019): 7% of staff from a B.A.ME background, 93% from a White background.
National Probation Service South Central Region (Hampshire): 5% of staff from a B.A.ME background, 95% from a White background.
Hampshire Community Rehabilitation Company: 5% of staff from a B.A.ME background, 95% from a White background.
HMP Winchester Prison: 5% of staff from a B.A.ME background, 95% from a White background.
Hampshire & Isle of Wight 2011 Census: 7% of the population is from a B.A.ME background, 93% from a White background.
Notes
Where staff have not disclosed their ethnicity, this has been excluded from the graphics.
White includes all-white ethnic groups.
The acronym B.A.ME stands for Black, Asian and Minority Ethnic groups.
Community Payback Scheme
Community Payback, previously known as Community Service, is an alternative to a prison sentence for people who have committed a crime.  The Ministry of Justice are keen to increase this type of community sentence and are recruiting a number of roles to support the scheme, such as co-ordinators and supervisors.
You can find out more about the scheme and the available roles on the MOJ Community Payback website.