21 June: World Wellbeing Week guest post from Maddie Davis
21 June 2021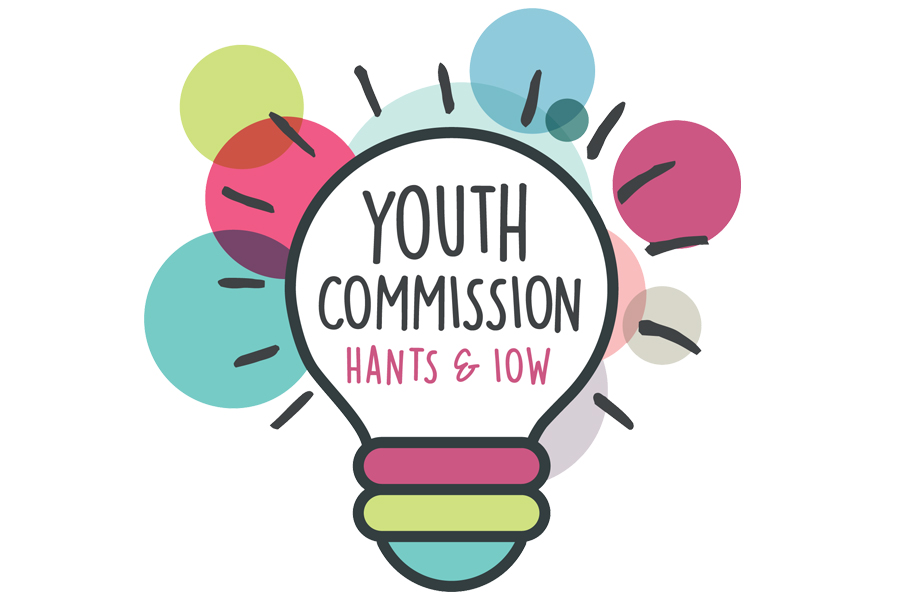 Youth Commission member Maddie Davis has written about her experience of joining and working with the Hampshire & Isle of Wight Youth Commission, and how it helped her own wellbeing, during times when her mental health was dangerously low.
In late June 2019 I was sitting in a hospital bed, attached to a drip and waiting for a mental health assessment, flicking through my phone trying to keep myself busy when I got a notification. It was an email from Hampshire Alerts – something I'd signed up to a while ago and had practically ignored ever since (I'm rubbish with emails). I was that desperate for something to do that I actually opened the email, and I'm so glad I did. It said that applications had opened for the Youth Commission and had a little description of what that was and how to apply. I'd never heard of the Youth Commission before but decided that I'd give it a go – I was desperate for something to do with my time and it sounded like a chance to do something positive for once. I started writing my application right there and then, I was convinced that I wouldn't get in but it passed the time while I was waiting to get out of hospital. I didn't quite finish it in hospital but I picked it back up a few weeks later and submitted it.
A few weeks later I got an email – "I am pleased to inform you that you have made it through to the next stage of the process"! I couldn't believe my luck – somehow I'd convinced these people I was good enough to meet in person!? I was convinced it must have been a fluke, but I went along to the taster evening and had a great time – and sure enough a little while later I got an email offering me a place! I went to my first meeting and got put with the hate crime team. I must admit that dragging myself to that first meeting was really hard – I had a panic attack on the way there and nearly didn't go, but I'm so glad I did. I've never really fit in anywhere (I'm autistic and have since learnt that I also have ADHD) so I was terrified that this would be yet another place that I'd feel left out and excluded. Thankfully it seemed that all the new members were just as nervous as I was and the day was really good fun, I met loads of new people and came away from it feeling really positive.
Since joining the Youth Commission my mental health has been up and down – I've been back to the hospital for more lifesaving treatment after suicide attempts, I've been sectioned and admitted to psychiatric units, been homeless for a short period, and I've had some of the worst periods of physical and mental illness that I've ever had. I've very very lucky that the Youth Commission – and more specifically Lynne, the Youth Engagement Manager, have been absolutely amazing. Through all of the ups and downs the Youth Commission has really been the one constant in my life, it's provided some much needed stability and a real sense of positivity and purpose when everything else was awful. When I attended meetings I wasn't 'Maddie the suicidal chick', or 'Maddie the patient'; my ideas were valued and I was somewhere where I had something to give. When you live with mental illness or chronic physical illness it's easy to feel like you're just taking all the time – treatment, help when you're in crisis, help with physical things like walking or even getting out of bed – and that you have nothing to offer the world. The Youth Commission was somewhere where I wasn't taking anything, in fact it was quite the opposite!
Since getting the right treatment, both my mental and physical health has got way better and I've been able to do way more with my time – a lot less taking and a lot more giving. Not that there's anything wrong with taking treatment and help when you need it, but it feels nice not to need it so much anymore! I am currently starting up my own business with my partner helping other businesses plan for and recover from crises, campaigning with a mental health charity, working in care and lots of other bits and bobs. I've moved away from Hampshire now, and one of the things that I'm the most gutted about (and have actually shed some tears over) was leaving the Youth Commission, and if I ever move back the first thing I'll do is reapply to be a member. Whatever activism and campaigning and essentially anything I go on to do from here it's because of the foundations laid for me by the Youth Commission.
In treatment, even before things started really getting better, we talked so much about creating a meaningful existence – a life worth living – and without fail I always talked about the YC when that topic came up. Sometimes it was the only protective factor I had. It sounds silly now but there were points that I'd say to myself "I can't kill myself today because I promised Lynne I'd make these Canva graphics for the Instagram account". Realistically those graphics could have been made by someone else, but I said I'd do them and I couldn't do that if I was dead! There were points when that was honestly the only thing keeping me alive. I'm not going to say that the Youth Commission saved my life because it's way more nuanced than that, but it was definitely a cornerstone of my recovery and helped me save myself. I am so grateful for just how much the Youth Commission has helped turn my life around, and so very glad I signed up for it.
Maddie Davis
Youth Commission member