Out of Court Disposals Scrutiny Panel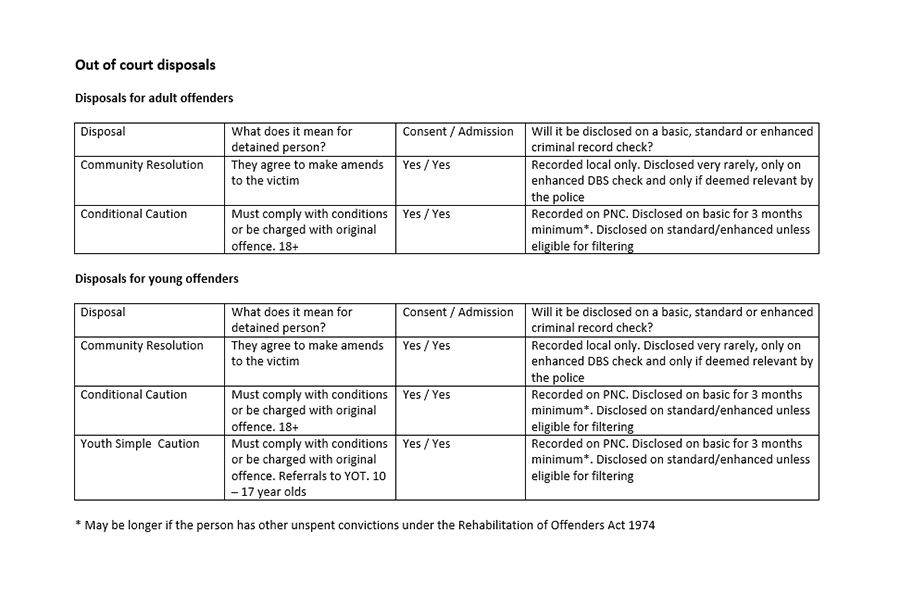 The Out of Court Disposals Scrutiny Panel (OOCDSP) is a bi-monthly meeting that occurs at the Kings Worthy Court. The panel members review a dip-sampled selection of cases where the outcome was an out of court disposal.
Out of Court Disposals (OOCDs) are responses to crime that the police can administer locally without having to take the matter to court. These disposals are a valuable tool for the police when tackling low-level crime and can represent an effective response to offending that focuses on the needs of the victim.
After discussing each case, the panel members are asked to grade them by their agreement of the outcome. The grading consists of:
The disposal was appropriate and consistent with Hampshire Constabulary policies, the CPS Code for Crown Prosecutors and the Victim Code;
The disposal was appropriate, with observations from the panel noted;
Inappropriate use of out of court disposal;
The panel fails to agree on the appropriateness of the disposal.
There have been panel meetings since April 2018. Previous themes of the cases include youth community resolution, domestic abuse, specialist departments (e.g. child abuse), young black, Asian and minority ethnics (BAME), adult BAME and sexual offences.
The purpose of OOCDSP is to:
Map out the current OOCD landscape to understand gaps and issues;
Ensure that the right person makes a suitable outcome for the case;
Ensure that the victim's views are also considered.
An Outcome Review is produced after every panel meeting. This outlines the thematic and specific observations from the cases and an evaluation of the outcomes. This review is sent to an Inspector from Criminal Justice and Custody to give their operational feedback.