Out of Court Disposals Scrutiny Panel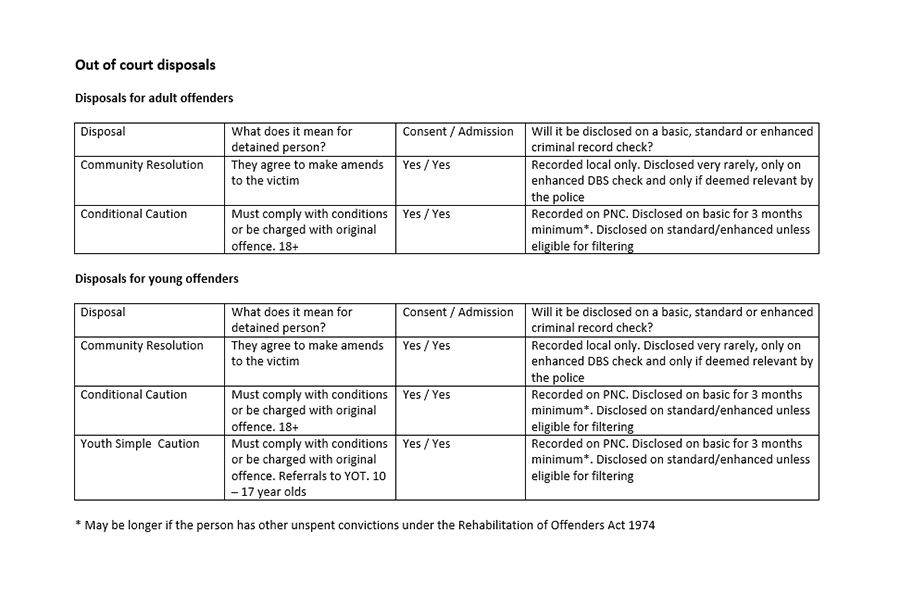 Out of Court Disposals (OOCDs) are an important tool in addressing early stages of offending behaviour. They allow Police to deal quickly with low level offending without recourse to the courts.  They can maximise the use of officer time – achieving a satisfactory outcome for the public. They also provide intervention and  support to potential offenders at the early stages in criminal behaviour, diverting them into rehabilitative services to help reduce escalation of offending.
The panel discuss each case and agree a grade for the case. The grading consists of:
The disposal was appropriate and consistent with the out of court disposals framework, Hampshire and Isle of Wight Constabulary policy, the CPS Code for Crown Prosecutors and the Victim Code;
The disposal was appropriate, with observations from the panel noted;
Inappropriate use of out of court disposal with learning identified;
The panel fails to agree on the appropriateness of the disposal.
The panel has been meeting since April 2018.
The purpose of panel is to:
Examine the appropriate use of OOCD by Hampshire and Isle of Wight Constabulary
Feedback learning for continuous improvement
Ensure that the victim's views are considered