Council Tax Leaflet 2022-2023 Copy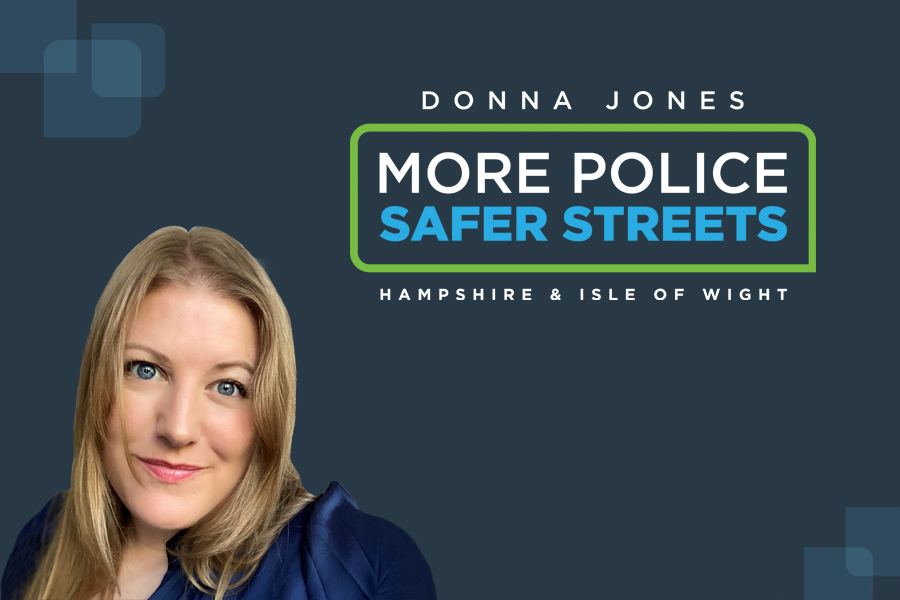 Investing in Policing to Meet Local Needs and Cut Crime
As your Police and Crime Commissioner I am committed to ensuring your police precept is spent wisely and delivers best value for money. I am focused on driving efficiencies and reducing waste in public spending. Every penny saved will go towards employing more police officers and reducing bureaucracy.
This year you will see an increase in police officers meaning more crimes being investigated and your community being safer. Additional funding will go into improving the 101 call handling system as well as a change in how calls are managed, meaning crimes reported will be given feedback.
My commitment is to increase the visibility of the police; to tackle the crimes that matter to you most such as, Anti-Social Behaviour, scams and fraud, as well as an increase in resource for rural crimes. Tackling serious violence and knife crime will remain a top priority.
Thank you for your continued support of Hampshire Constabulary.
Donna Jones
Police and Crime Commissioner
Total Cost of Policing 2022/23
Where the Money Comes From
The PCC's overall budget of £411million is made up of 59% funding from the central Government grant and 41% is from the policing element of your council tax.
A Day in the Life of Hampshire Constabulary
Illustrative figures from December 2020 to November 2021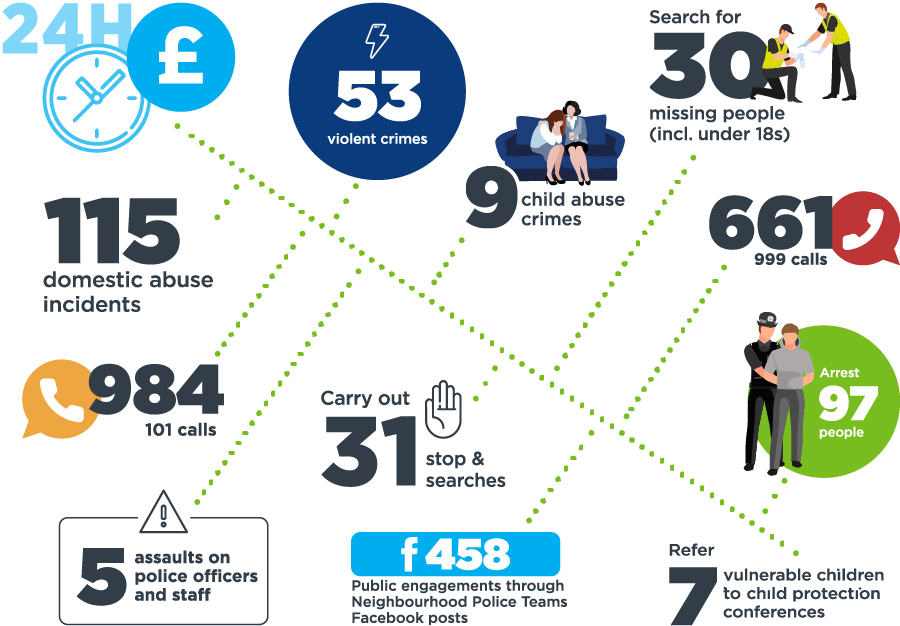 Contribution to Policing by Council Tax Band
| Band | Total you will pay for policing this year |
| --- | --- |
| A | £157.64 |
| B | £183.91 |
| C | £210.19 |
| D | £236.46 |
| E | £289.01 |
| F | £341.55 |
| G | £394.10 |
| H | £472.92 |
Council tax contribution to policing for 2022/23, listed by band
Investing in Policing
This year the 4.4% increase in your police precept will provide an additional £7million for policing services. I will spend this money on recruiting more police officers to tackle and prevent crime, and to improve 101 call handling.
Last year there were over 120,000 reported crimes. As your Police and Crime Commissioner I take every crime seriously. I will challenge Hampshire Constabulary to investigate and solve more of the medium and lower level crimes that matter to you. Since April 2021, the force has arrested 2,000 more people, many of these are for high harm crimes including sexual offences, rape and violent crimes. For this reason I have set up a Violence Against Women and Girls Task Group, to bring partners together to tackle these crimes more efficiently.
Preventing Crime
I am committed to diverting young people away from crime and the criminal justice system. In order to do this, I will be spending £1million extra to fund specialist services in the voluntary sector to stop the cycle of criminality. I fund 70 local projects, which cover:
Tackling the root cause of crime
Supporting young people and their families
Preventing violent crime
Supporting victims of crime
Reducing and preventing crime is delivered in partnership with the third sector. My Police and Crime Plan 'More Police, Safer Streets' sets out how I will work with partners to tackle the crimes that matter to you and cause the most harm. This includes creating an Anti-Social Behaviour Taskforce. Work also continues in partnership to tackle serious violence and knife crime, through the Violence Reduction Units in Hampshire, Portsmouth, Southampton and the Isle of Wight.
To find out more about the projects I fund, and how to apply for funding visit my funding page.
If You or Someone You Know is Affected by Crime
Contact the Police and Crime Commissioner