New cyber safety programme to help secondary pupils follow the right digital path
18 June 2021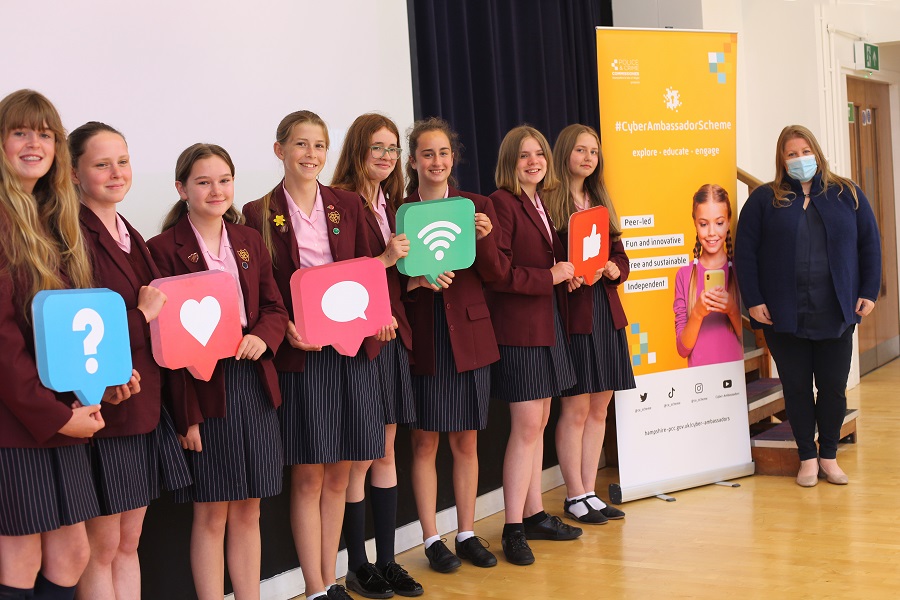 With the increase of social networking sites, online activity and messaging apps, cyberbullying and other risks related to the online world are on the increase. To help combat this Police and Crime Commissioner, Donna Jones, has today (Stop Cyberbullying Day) launched a new programme designed to help secondary pupils to stay safe online.
Pupils at Portsmouth High were among the first to find out about the new Pathfinder programme which aims to enhance both young people's online skills and knowledge through five new and exciting modules. It explores issues such as sexting, grooming, fraud, fake news, and the impact of social media on wellbeing.
The Pathfinder programme is the newest element of the Commissioner's Cyber Ambassador Scheme, which sees a small group of pupils skilled up in a school and then pass on this learning and offer support to their peers. The scheme operates in primary schools as well as secondary with primary pupils taking on the 'Cyber Critters'.
Commissioner Jones, said: "It is important that children and young people know how to stay safe online. Sharing tips and ideas with our friends, peers and family is the start of learning how to stay safe. The Cyber Ambassador scheme aims to do just that. The new Pathfinder programme has been developed based on what young people have told us they want from cyber-safety education and is delivered through a peer to peer approach. Young people in particular, spend a lot of time on devices for school work, socialising and gaming. We want them to do that in a positive and safe way by being aware of the risks and how best to mitigate them.
"It was great to meet the new year 8 Cyber Ambassadors at Portsmouth High School especially as they are the first pupils to try the new Pathfinder programme. I also met with year 10 and 12 Cyber Ambassadors about the award winning online safety projects they have been delivering."
Elizabeth, year 8 Cyber Ambassador, said: "As a Cyber Ambassador, I am looking forward to teaching younger children about being confident, safe and sensible online while also having fun."
The session at Portsmouth High was a special workshop created to mark Stop Cyberbullying Day. Around one in five children aged 10 to 15 years in England and Wales (19%) experienced at least one type of online bullying behaviour in the year ending March 2020, equivalent to 764,000 children. Nearly three out of four children (72%) who had experienced an online bullying behaviour experienced at least some of it at school or during school time.
Deputy Head Teacher, Heather Trim said: "The dynamic and ever changing nature of cyber safety means that education has to be current and on-going and young people are best placed to identify current trends. We are delighted to continue working with the Commissioner's Cyber Ambassador Scheme and being able to use the new Pathfinder material."