Hundreds learn how to safeguard victims of modern slavery
29 October 2020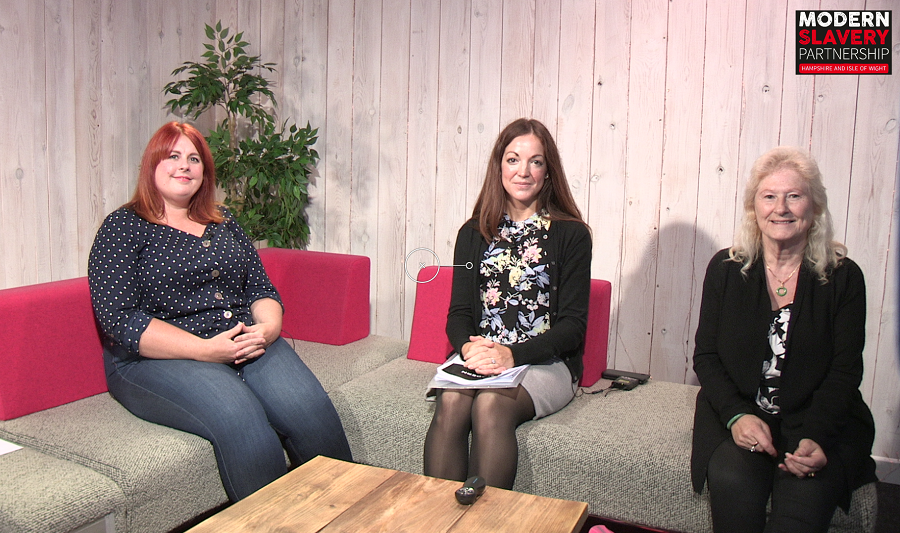 Hundreds of professionals from across Hampshire, Isle of Wight, Portsmouth and Southampton have come together online to learn how they can identify and safeguard potential victims of Modern Slavery.

The four webinars were run by The Modern Slavery Partnership as part of awareness raising efforts surrounding Anti-Slavery Day 2020. Kate Davis Modern Slavery Partnership Co-ordinator, Lynne Chitty from Love 146 and Ally Davies from Barnardo's National Counter Trafficking Service led two sessions as an introduction to modern slavery and human trafficking in adults. Kate was joined by Neil Connolly from Hampshire Council's Willow Team to host the two introductory sessions for child practitioners.
The events focused on raising awareness and developing an understanding of the forms of slavery occurring in Hampshire and the Isle of Wight, how to identify victims, the legislative framework and local processes. The sessions also included the single victim pathway that the Partnership developed earlier this year to enable a simpler and more effective way of accessing help for victims.
Alan Hagger, Chair of the Modern Slavery Partnership and Head of Commissioning at the Office of the Police and Crime Commissioner, said: "It was great to see so many organisations come together as part of the webinars to learn about modern slavery. It clearly shows how multi-agency cooperation and a commitment to learn and work together will help to protect people at risk of trafficking, exploitation and slavery.
"Modern Slavery is happening in our communities. While it can be hard to spot it could be happening at places we visit or work in like nail bars, car washes, farms, factories or in residential properties.
Potential cases referred to Hampshire Constabulary increased from 144 in 2018 to 195 in 2019.
Sexual Exploitation, Labour exploitation and Criminal Exploitation (such as cannabis cultivation and county lines) are among the most common types of modern slavery happening in Hampshire. As a partner in the Modern Slavery Partnership the Office of the Police and Crime Commissioner is currently recruiting for a Modern Slavery Support Worker who will work with sex workers (initially in Southampton) to develop longer-term support that would protect sex workers (and their families) from being exploited as modern slavery victims and enable and empower them to report crime, build trust in support services and bring those who seek to exploit them to justice.
To find out more about visit the Modern Slavery Partnership website.
If you need help, advice or information about any modern slavery issue you can contact the Modern Slavery Helpline on 08000 121 700.