Hate Crime revealed as young people's top concern at Youth Conference
22 November 2021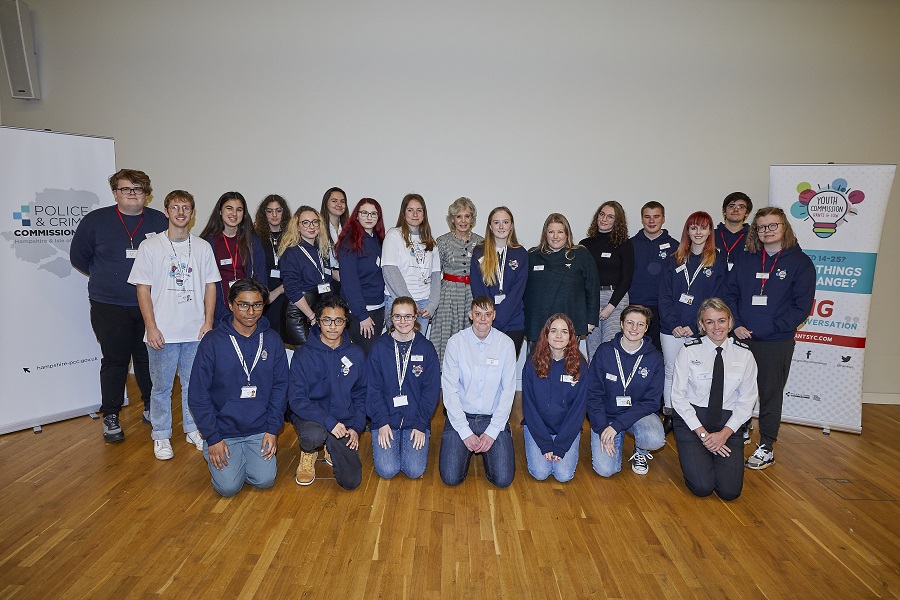 Police and Crime Commissioner, Donna Jones, has welcomed her Youth Commission's recommendations on how young people would like hate crime, serious violence and exploitation tackled in the future.
Hate Crime came out as the top concern for young people in the Youth Commission's Big Conversation survey, with 40% of the 2,000 young people taking part selecting it. Serious violence came second and exploitation third. Other issues such as substance misuse, mental health support and sexual violence and female safety were also raised as key concerns.
At the conference on Saturday 20th November the Youth Commission put their recommendations on how these issues could be tackled to the Commissioner, Hampshire Constabulary and partner agencies that work with young people. The recommendations set out how young people would like to see organisations work together to make improvements in the support, education, and advice that is available for young people.
The recommendations include:
Equality, diversity and inclusion training and unconscious bias training should be introduced as a compulsory part of police training, the school curriculum, and workplaces generally
More education on the consequences of violence and carrying a knife – through projects like the Basingstoke Peace Project
Ensuring trusted adults, such as parents, carers and teachers, have the knowledge and skills to have conservations with young people about exploitation
Police and Crime Commissioner, Donna Jones, said: "I would like to thank the young people who have contributed to the development of these recommendations, including members of my youth commission who have given up their free time to consult with their peers, and those young people who have shared their ideas and experiences.
"All too often we hear about crimes committed against young people.  I want to support them to reduce their vulnerability, and prevent them from becoming victims or drawn into criminal behaviours.
"The sharing of these recommendations, alongside the Youth Commission on groups such as the Child Exploitation Board and the Violence Reduction Unit, will ensure that the voice of young people is not only heard by decision makers and those delivering services, but actually helps to shape the work that partners do to keep young people safe."
Within the Recommendation Report some of the Youth Commission members explain what they have learned and achieved over the past year working on the key topics.
Youth Commission member, Ewan Ebbs, aged 16, said: "Focusing on hate crime, we have delivered virtual presentations to teenagers and young adults in the hope that we can bring to light the mental health challenges and damage that can be caused, both long and short term, from actions associated with this topic. I hope our work can encourage more people to report instances of hate crime and to speak out to others on their experiences, thus encouraging others to do the same."
Caitlin Smedley, aged 19 said: "Serious violence is important to address because it affects a lot of young people, their futures and their families. Our team is making a difference by giving educational sessions to young people about knife crime and also creating social media content on our pages about resources and websites that are available for help like 'no knives better lives'."
Ben Frankland, aged 18, said: "The most difficult characteristic about exploitation is that it often seems 'invisible', it happens in all manner of ways from peer pressuring to sexual exploitation, and so it is often overlooked as an issue to be prioritised by the police and more generally in society. Despite the pandemic we've educated many young people about what behaviours to look out for in their friends, and how to do their best to avoid being exploited themselves. In a challenging time, it's been a real privilege to help the Youth Commission!"