Peace Project
In July and August 2020, the Youth Commission and Hampshire Cultural Trust worked in partnership to raise awareness of knife crime and promote positive activities for young people.
"The Youth Commission identified violence as one of the topics we wanted to tackle this year and being a resident in Basingstoke I was concerned about the number of knife related issues in the area. I wanted to start an awareness project with young people so made contact with local organisations, who were supportive of this initiative. I'm passionate about preventing further knife crime and am delighted that young people working with Ashwood Academy and Basingstoke Youth Offending team have started this sculpture and look forward to showing it to the community" James Bowman, Serious Violence team mentor.
A series of positive, creative sessions with local artist Jono Retallick, gave young people a safe space for discussion, as well as opportunities to learn new skills, and value their voice and contribution within the final artwork. Working with young people they designed a piece of art that incorporates their personal reflections on knife crime and represents peace. Residents from the Basingstoke YMCA hostel added their tiles, and the launch took place there in November 2020.
To read more about the project please see the Basingstoke Peace Project 2020 report.
The sculpture
Named 'reveal/conceal', the sculpture is made up of 144 tiles created by the young people that reveals the words and marks of their individual thoughts, concerns and also their strengths. These were then cast by the artist to create a final sculpture.
The sculpture is based at Basingstoke Voluntary Action, a central location in the community, and used as the basis for a workshop on knife crime that will tour schools.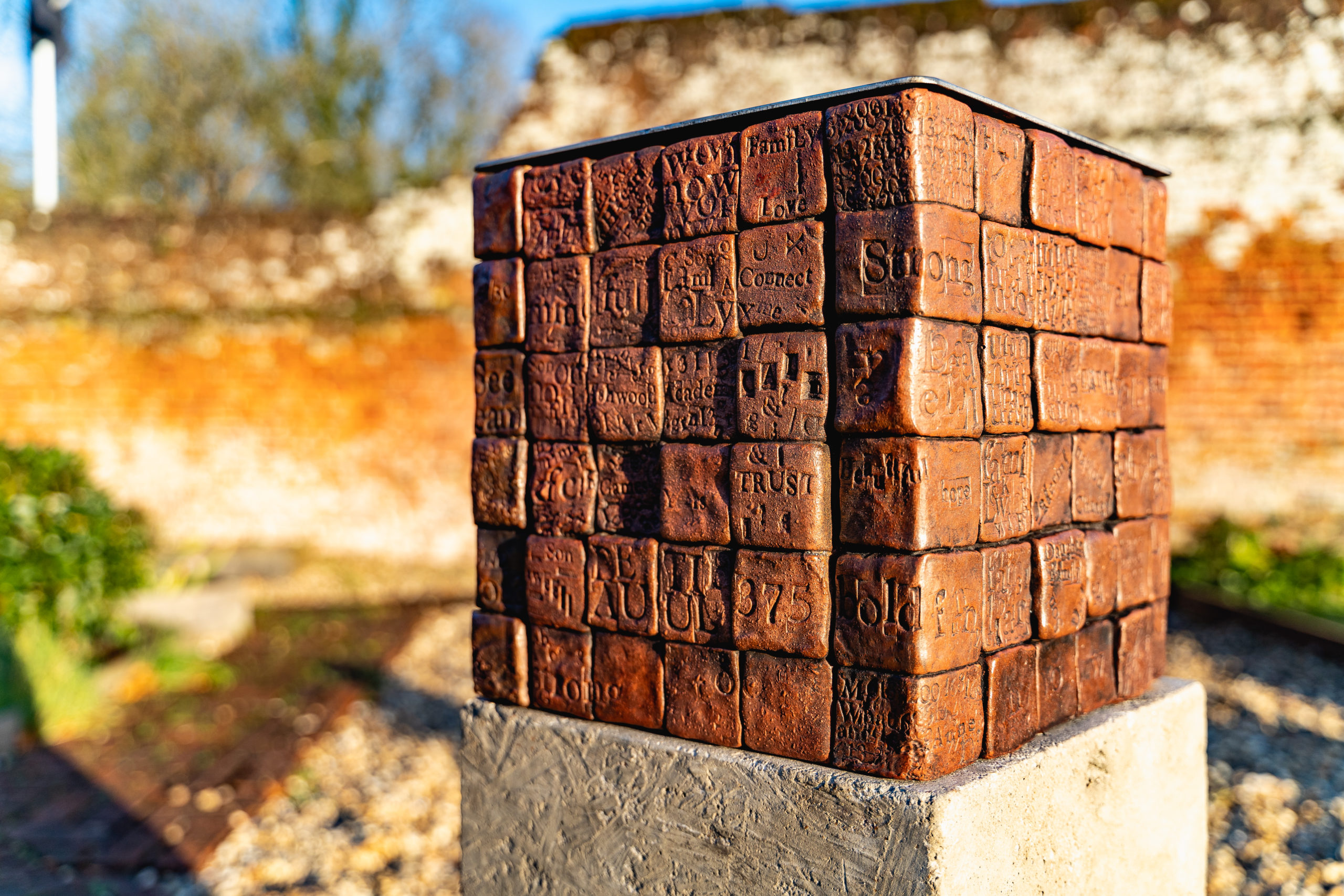 The project model
Utilising art, small groups of young people at risk of, or already involved in, knife crime, work with trusted adults and peer mentors, who engage young people in a conversation about their lives. They imprint their words from those discussions on the tiles, whilst a workshop on the consequences of knife crime runs in parallel. Relevant materials are available for participants to take away along with details of local positive/diversionary activities.
When restrictions allow, a launch event by those that took part, with young people and wider members of the community, can also include partners who offer services for activities, employment and practical skills, such as first aid to stab wounds.
The product of the work can be then added to by further groups, and used as the focus of further work with wider groups of young people across the area.
How can you get involved?
We piloted this project with a view to inviting partners to take this model and roll the project out across the rest of Hampshire, Isle of Wight, Portsmouth and Southampton.
The model can be adapted according to your needs and level of funding available to you. Please contact the Youth Engagement manager if you would like advice on how to set up your own project.
This sculpture project is the legacy of James Bowman, 1994-2020