Gold Award scoop for Youth Commission campaign
13 November 2019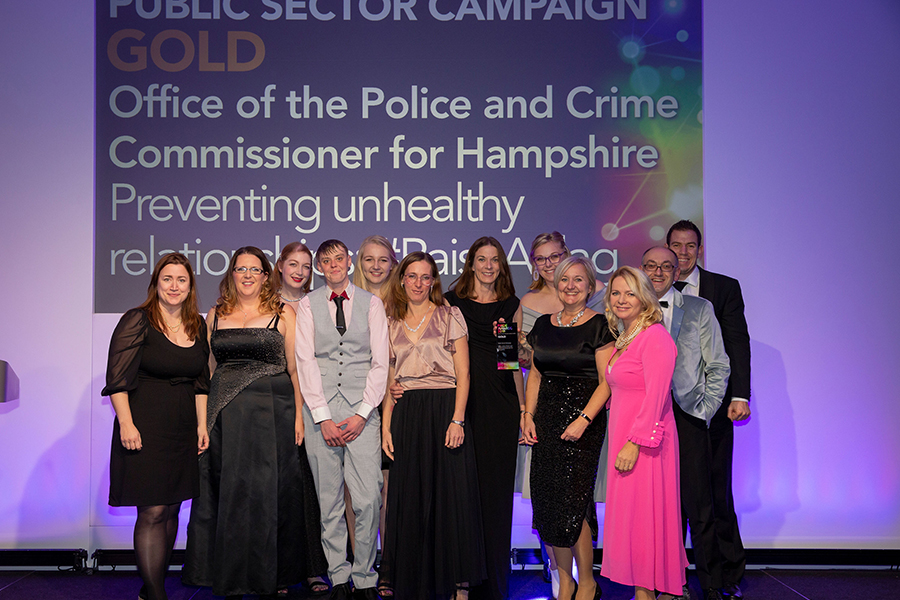 #RaiseAFlag campaign crowned best Public Sector Campaign by CIPR
The Police and Crime Commissioner's Youth Commission has won Best Public Sector Campaign at the South of England and Channel Islands CIPR (Chartered Institute of Public Relations) PRide Awards 2019 for its #RaiseAFlag campaign.
The #RaiseAFlag campaign sought to raise awareness of what an unhealthy and healthy relationship looks like and enable those who are in one to see the warning signs and 'raise a flag' to get support. In addition the campaign aimed to improve how professionals work with and support young people who come to them for help.
The campaign included:
Workshops with young people, in particular those vulnerable to experiencing an unhealthy relationship
A submission to a Government consultation on Relationships and Sex Education and Personal Social, Health and Economic (PHSE) education
A DVD training tool for professionals working with young people based on the personal experience of a young person
Flag raisings across the Hampshire Constabulary area to raise widespread awareness
An alternative version of the 12 Days of Christmas song and signposting to help on social media.
The judges' comments on making the award were: 'This creative campaign about a sensitive subject affecting young people really impressed the judges.  Following substantial research, the idea of red flags for unhealthy relationships and green flags for healthy relationships was developed and implemented across a wide range of platforms and media. For the 2018 FIFA World Cup, the theme was extended to include a football reference: 'Don't get cornered by an unhealthy relationship – Raise A Flag'. The excellent results on a small budget, along with the delivery by young people themselves, made this campaign really stand out.'
On the award success Youth Commission member Gabrielle Day, aged 24 from Portsmouth, said: "I'm so grateful for being recognised for the time and hard work that we've put into our campaign. It's overwhelming for me as it's an area close to home which I am very passionate about. I am glad that this has also been recognised as a subject of importance. I look forward to continuing working with young people and raising awareness about this subject, and many more."
Office of the Police and Crime Commissioner Volunteer Casey Taylor, aged 27 from Southampton, said: "We were one of six that were shortlisted in this category; when we were announced as the winner it was such a positive feeling that all our hard work and the hours we put into this campaign have paid off, and to be recognised for it was a huge sense of achievement of how powerful this campaign was. It feels so good knowing that I played an active part in making the #RaiseAFlag campaign so successful and it was a real privilege to be able to be up there at the awards ceremony and see us bring home the Gold award."
Youth Commission member Julia Angeles, aged 19 from Havant, said: "We created the #RaiseAFlag campaign because young people told us that they think more needs to be done to raise awareness of the signs of an unhealthy relationship. We want anyone who is in a relationship that leaves them feeling uncomfortable, sad or afraid to be able to recognise the red flags of an unhealthy relationship and to access the help they need."