Deputy Police and Crime Commissioner Terry Norton supports Crimestoppers' Most Wanted campaign in Portsmouth
22 October 2022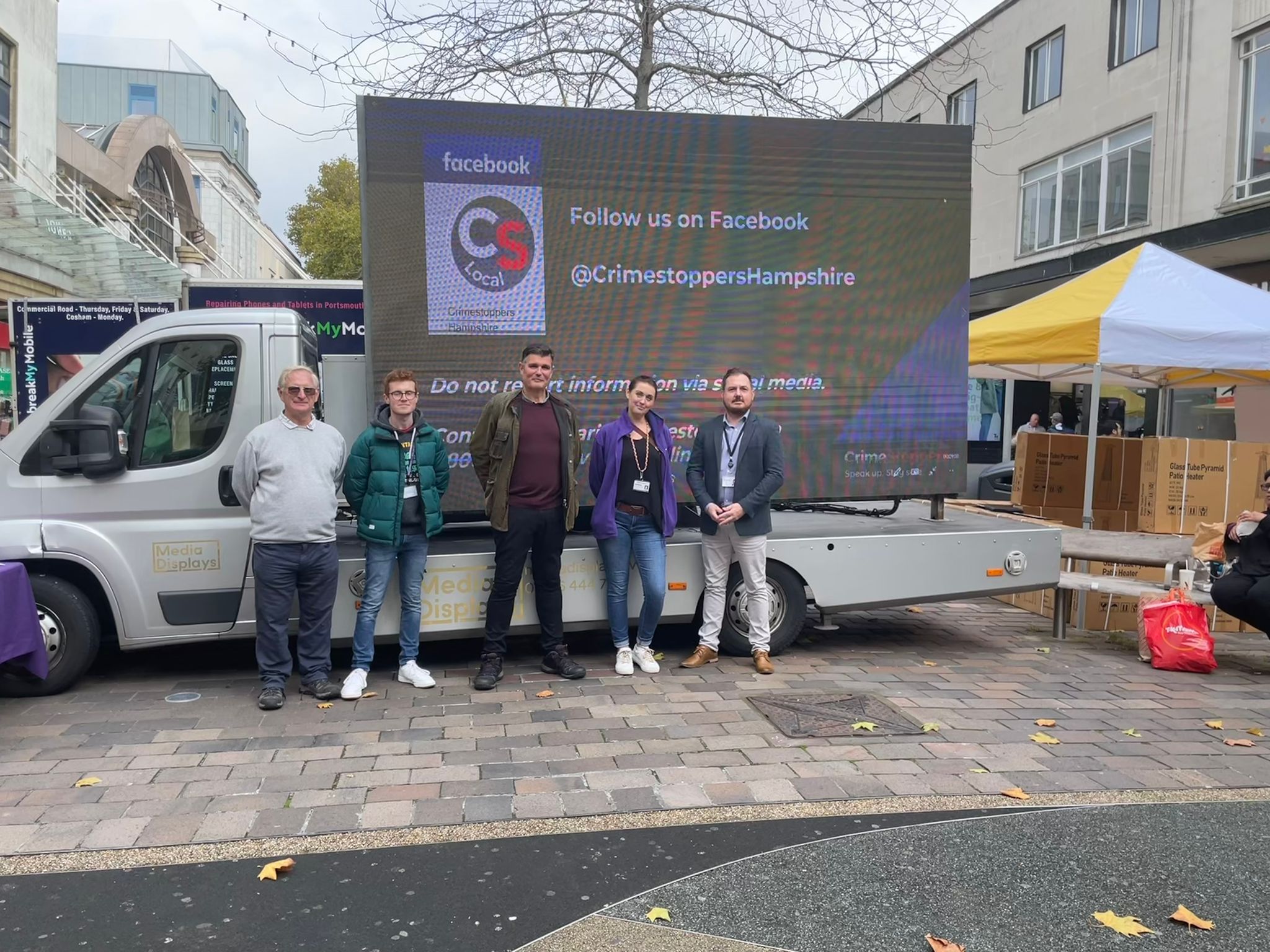 Deputy Police and Crime Commissioner Terry Norton visited the Crimestoppers' Most Wanted visit in Portsmouth on Saturday 22 October.
An important annual event, Terry met with Emily van der Lely, Regional Manager for Crimestoppers in Hampshire, to discuss the outstanding suspects.
Faces were displayed via digital van on Commercial Road in Portsmouth all day, to raise the public's awareness on a variety of people wanted for firearms, burglary, fraud, serious assault and breaches of restraining orders.
The Crimestoppers ad van was touring four locations in Hampshire: Portsmouth, Southampton, Eastleigh and Basingstoke.
Deputy Commissioner Terry Norton said: "Hampshire is a safe county, but there are still people who are wanted by the police. Each crime has a victim and it's important they get justice.
"Crimestoppers is a really important independent crime fighting charity which guarantees everyone who calls them remains 100% anonymous. We know that people want to help fight crime and this promise makes it easier for people to pick up the phone.
"The Commissioner and I are both advocates for ensuring the public have easy ways to report crime and identify offenders to help the police. Crimestoppers is another welcome avenue and it was a pleasure to spend time with the team and experience all the work they are doing to identify those wanted by the police to make Hampshire and the Isle of Wight safer."
For more information, visit the Hampshire pages and, should you recognise any of the suspects and have information on their potential whereabouts, please contact Crimestoppers 100% anonymously – either by calling 0800 555 111 or giving information via their website using a non-traceable online form.