Is there a change in the amount of funding coming from Government?
The amount of funding the Commissioner receives from Government for policing and to keep communities safer will broadly remain the same this year as it was last year.
How much of the money will be spent on policing?
In 2018/19 of the £315 million available to the Commissioner, 98.3% is to be allocated to policing.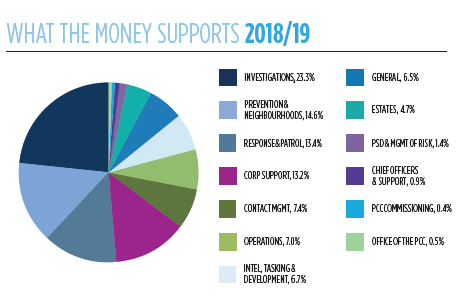 Within policing it is up to the Chief Constable to determine how resources are allocated and which incidents are investigated.
The Constabulary is facing an increase in demand and a shift to more complex and resource intensive work, such as investigating cyber-crime, child sexual exploitation and modern slavery – these are sometimes referred to as 'hidden crimes'.
The demand on our police service and the work they do to keep us safer should not be underestimated in terms of volume or complexity.
If there is a shift toward 'hidden crimes' will we see less police on our streets over the next year?
Neighbourhood policing is valued by, and a priority for, communities and remains a core part of the overall police service. The council tax increase of £12 per band D household enables the current levels of neighbourhood policing to be maintained in the coming year. It also provides the breathing space to review how best the Constabulary can continue to serve its communities at a local level in the future.
Will there be any reductions in services?
Even with the additional funding being raised through the council tax there is still a need for the Constabulary to adapt the way it operates in order to meet changing demand and to be more efficient.
Decisions on individual reductions are based upon the professional judgement of the Chief Constable.
This year savings have been identified that have been assessed as having minimal impact on service delivery to the community and police personnel. These are areas where there are currently vacancies being held; where the specific work can be, or already is being, delivered in alternative and more effective ways, or where through collaboration capacity can be reduced while retaining a strong capability that is comparable to other forces.
The Commissioner regularly challenges the Chief Constable to ensure that the impact of any changes are fully understood and that the greatest risks of harm continue to be addressed as priority.
Why can't reductions be made to back office costs to protect the frontline?
Since 2010 over £80 million of savings have been made by the Constabulary, this includes reducing back office costs through shared support services, seeking improved effectiveness and efficiency through joint operational units and taking advantage of technological advances. However with the vast majority of the Constabulary's costs relating to officers and staff (over 70%), regrettably it is impossible to avoid reductions to police personnel.
How much will be spent supporting the work of the Commissioner?
Less than 1% of the overall budget, and almost all of this is spent on what is mandated, by Government for Police and Crime Commissioners to deliver.
Is this more than last year?
Apart from minor adjustments, for inflation for example, the Commissioner's budget will remain the same as the previous year. As is good practice all costs are being reviewed to ensure the work of the Commissioner and his team meets the statutory requirements, as set down in law, and remains as efficient as possible. While figures nationally are still being finalised it is anticipated that Hampshire will remain one of the lowest cost per capita for any Police and Crime Commissioner's office.
There are some pressure points for the Commissioner's budget:
There are some new mandatory requirements that all Police and Crime Commissioners need to meet.
The Commissioner is committed to ensuring adequate grant funding is available for vital services that support the vulnerable and victims, and work with offenders.
Some ongoing projects that contribute to the delivery of the Police and Crime Plan do not have a sustainable funding source.
If any additional resources are required to support the identified pressures these will be subject to formal and transparent decisions to request the release of funds from reserves. All decisions taken by the Police and Crime Commissioner are subject to scrutiny by the Police and Crime Panel.
If you want to read further, you can download the Reserves Strategy.
What is the money that goes to the Commissioner spent on?
It is important that the Constabulary is able to focus on policing - identifying threats and risks, protecting the community and pursuing those who wish us harm.
The Commissioner looks beyond policing - he seeks to help prevent crime and offending, to support the vulnerable and those who have been victims of crime. His work addresses the needs of victims beyond the immediate policing of the crime, helps police officers to be effective in their role, and ensures that as many police officers as possible are released to the frontline.
He does this in a variety of ways including:
investing in new technology to free up officer time and to improve the way the constabulary engages with the community
facilitating collaboration with partners - sharing accommodation with local authorities and Hampshire Fire and Rescue Service, sharing support functions with Hampshire County Council, Joint Operations Unit and ICT structure with Thames Valley, and working with NHS organisations and local authorities to jointly commission services
consulting and engaging with the public to hear their views, opinions and ideas so that their needs can be used to guide his work and challenge and inform the Chief Constable around police performance
Find out more about the Commissioner's role
Why do other police forces seem better off than Hampshire Constabulary?
The allocation of national funding for each policing area is worked out using a formula. At present Hampshire is disadvantaged by this formula and it has been independently calculated that as a result it is underfunded by £47.8 million a year compared to the national average.
What is the Commissioner doing to secure fairer funding?
Since being elected the Commissioner has lobbied hard on behalf of the residents of Hampshire, the Isle of Wight, Portsmouth, and Southampton for fairer and sufficient funding for policing and for those aspects of his work beyond policing.
The Commissioner and Chief Constable jointly submitted their case for fairer funding to Government in Autumn 2016, and since then the Commissioner has taken every opportunity to reinforce this with Ministers and local MPs.
Michael Lane said:
"Last year I had a private meeting with the Home Secretary on issues of importance for Hampshire, Isle of Wight, Portsmouth and Southampton. This included reinforcing the case for a fairer national funding formula and outlining the specific pressures and challenges for the Hampshire Constabulary area, as well as celebrating innovation and changes being delivered alongside continuing efficiencies.
"A key ministerial colleague remains the Minister of State for Policing and the Fire Services.  I am always keen to ensure that the Minister is in touch with the priorities and challenges for the people I represent, and hears what will enable the best operationally effective policing and interventions, beyond policing, which reduce demand and support those with vulnerabilities and victims of crime. These are good professional conversations where I am able to hear of government priorities and Home Office initiatives to inform me as I press for the appropriate funding for my area to keep our communities safer. The increasing need to engage with those delivering at regional, national and international levels to ensure the local impact is included in their thinking and plans is driven by and responds to today's realities for threats and risk of harm.
"The national formula funding review was paused following the terrorism, criminal acts, fire tragedy of earlier this year, and during the general election period, and it has not yet resumed. In September 2017 the Home Office sought additional evidence from Police and Crime Commissioners recognising the demand pressures policing was facing and changes to both volume and complex crimes. I made a local submission, in which I reinforced the case for national fairer funding, but also supported a national response by Police and Crime Commissioners and Chief Constables to the Home Office for an uplift to recognise specific increased demand pressures.
"The funding settlement for 2018/19 from Government showed recognition of the pressures on policing and police related demand. It was progress but is not the end of the journey. The easement are however short-term measures. In the longer term, I plan to continue to fight for a nationally fairer funding formula. I know that there are pressures on government, but I continue to believe that this is the most appropriate way for the long term future."