Southsea policing team on the move
22 September 2016

Hampshire Constabulary Southsea Neighbourhood Policing Team officially moved to Southsea Fire Station on Thursday 22 September by staff who are co-located on the refurbished station.
The Neighbourhood Policing Team moved from Southsea Police Station to Southsea Fire Station as part of the wider programme of collaborative working and sharing of fire and police buildings across Hampshire, the Isle of Wight, Portsmouth and Southampton.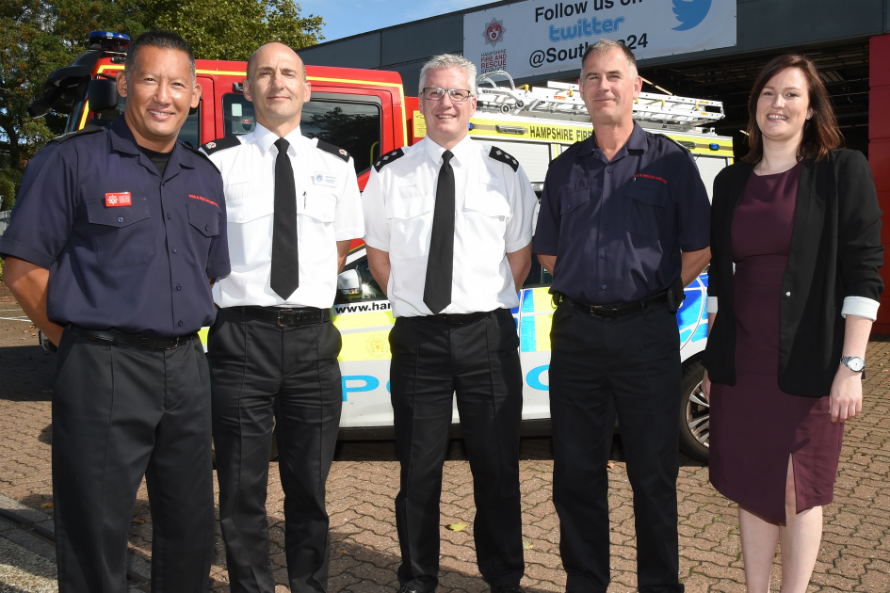 The Police and Crime Commissioner commented on the move, "Hampshire Constabulary and Hampshire Fire and Rescue Service are successfully working in partnership in many co-locations around the force area. This partnership approach is another example of how we can work more effectively and efficiently together."
Chris Carter, Chairman of Hampshire Fire and Rescue Authority said: "We are delighted to welcome our colleagues from Hampshire Constabulary to Southsea Fire Station. This is another example of Hampshire's pioneering approach to collaborative working, sharing community facilities to create more efficient and effective public services.
"Bringing the teams together will benefit the community by promoting closer working and allowing us to support residents in a more integrated way."
The new police office at Southsea is not open to the public, but the Neighbourhood Policing Team will continue to be out working within the local community as they always have been and can be contacted in the usual way via 101, email portsmouth.south.police@hampshire.pnn.police.uk, or call 999 in an emergency.
Police Estate Changes
Southsea's front counter service ceased in 2012, with front counter services now available at Portsmouth Central. The closed police station will be decommissioned and sold as part of the Commissioner's Estate Change Programme.