Sculpture unveiled to promote peace and raise awareness of the consequences of violence
06 August 2021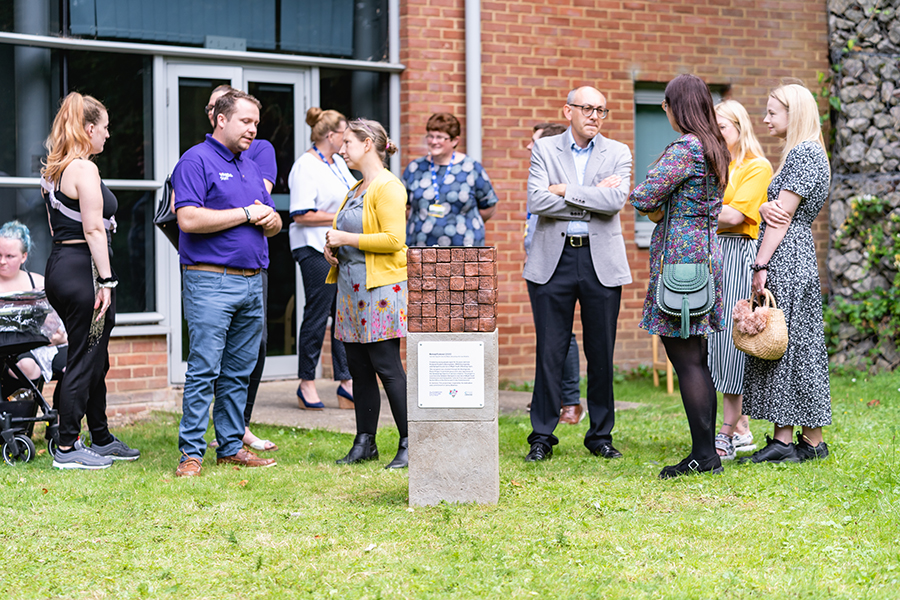 Reveal/Conceal, a sculpture created by young people at Ashwood Academy, Hampshire Youth Offending and YMCA Basingstoke, has been unveiled and is now on public display in the Atrium at The Orchard, Basingstoke.
The sculpture was created through the Basingstoke Peace Project to promote peace and raise awareness of the devastating impacts of serious violence. The project is a partnership between Hampshire and Isle of Wight Youth Commission and Hampshire Cultural Trust (HCT) and is supported by the Office of the Police and Crime Commissioner.
Within Hampshire, Basingstoke is an area facing a high level of knife crime, the Youth Commission has been working closely with the Violence Reduction Unit to both identify the drivers of violence, and interventions that could help prevent young people taking a path that leads to violence.
The Basingstoke Peace project aimed to raise awareness of the consequences of knife crime and promote positive activities for young people.  HCT developed a series of positive, creative sessions with the aim of giving young people a safe space for discussion, as well as opportunities to learn new skills and value their voice and contribution within their final artwork. Artist Jono Retallick worked with young people to design a piece of art that incorporates their personal reflections on knife crime and represents peace.
Named 'Reveal/Conceal', the sculpture is made up of 144 tiles created by the young people that reveals the words and marks of their individual thoughts, concerns and also their strengths. These were then cast by the artist to create a final sculpture.
Police and Crime Commissioner, Donna Jones, said: "The impact of knife crime and serious violence is devastating and far reaching. It is not just the victim and offender whose lives are destroyed, friends and family are left reeling and local people feel unsafe in their community.
"We need more projects like the Basingstoke Peace project that work with young people to prevent them from following a path that leads to violence. With the sculpture now on public display, I hope that many will visit and take the time to read and reflect on the thoughts and feelings the young people involved have shared through this piece of art. Thank you to Basingstoke Voluntary Action for hosting the sculpture and to all those involved in its creation."
Basingstoke and Deane Borough Council's Cabinet Member for Communities, Planning and Infrastructure Cllr Simon Bound said: "It is important that we talk openly about serious violence and knife crime and understand the life changing consequences this has for victims and their families to tackle this important issue.
"The Basingstoke Peace Project has allowed young people in the borough to talk about their worries and given them the opportunity to think about this complex and emotional issue in a different way, through the creation of this important piece of public art, which I hope will inspire other young people to think about our collective role as a borough in tackling knife crime."
Deborah Neubauer, Head of Community at HCT, commented: "Arts and creative learning can have such an impact in helping to prevent the violence which unfortunately can become a part of so many young people's lives. This project intervened at an early stage, giving young people the opportunity to express themselves creatively, to learn in a safe and trusted environment and to showcase the work they have produced to their peers."