School cyber safety project to roll out
24 October 2018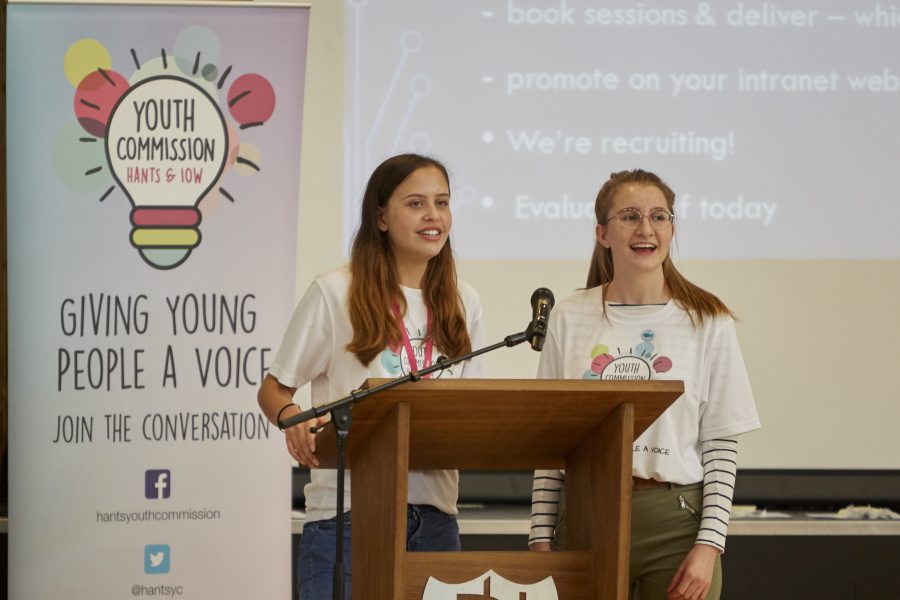 School pupils across Hampshire Policing Area will be able to benefit from a Cyber Ambassador scheme.
In 2017/18 the Commissioner's Youth Commission piloted the peer led Cyber Ambassador Scheme with seven secondary schools and nine primary schools after a survey highlighted cyber safety as a big concern for young people:
96% of 12-15 year olds felt that the internet can be a bit risky
One in 12 say they have been contacted by someone they did not know
One in three 12-15 year old's say that they have seen hate speech online
The Cyber Ambassador scheme enables skilled-up, informed pupils to educate and offer advice and support to their peers on staying safe online.
Members of the Youth Commission designed the materials and delivered the training to schools in the pilot scheme. For secondary schools this covers issues such as sexting, cyber stalking and grooming.
Primary Schools learn how to stay safe and defeat cyber sea monsters Selphire (selfies) Meanataur (cyberbullying), Angler (searching), Info-Eator (privacy) and Bi-Diphorus (befriending).
The Commissioner has now agreed to roll out Cyber Ambassadors following overwhelming positive feedback for the pilot. Evaluation of the project found that the flexibility of the scheme made it easy for schools to implement and it successfully met the cyber needs of students. Peers educating peers proved a powerful approach, particularly for secondary level students.
Sophie Smith, 23, Youth Commission ambassador, said: "For many young people, social media is an extension of themselves and an expression of their identity. The Cyber Ambassador project has utilised that, by empowering young people to be part of the solution, rather than diminishing their ability to adapt to a continually advancing online world. It has been incredibly rewarding to see what the cyber ambassador project has achieved as well as its potential to reach more young people in the future. I feel privileged to be a part of that process"
Schools that took part in the pilot are:
Secondary:
Wildern School, Eastleigh
Portsmouth High School, Portsmouth
Purbrook Park, Havant
Mill Chase School, East Hants
Westgate, Winchester
Sherfield School, Hook
John Hanson School, Andover
Primary:
Pilgrims' Cross Church of England Primary School (Aided) Andover
Bosmere School, Havant
Vigo Primary School, Andover
Halterworth Community School, Romsey
Medstead Primary, Alton
Portsmouth High School, Portsmouth
Cowes Primary School, Isle of Wight
Newchurch Primary School, Isle of Wight
Nettlestone Primary, Isle of Wight