Police Commissioner's priority to make our streets safer highlighted with Island visit
29 September 2023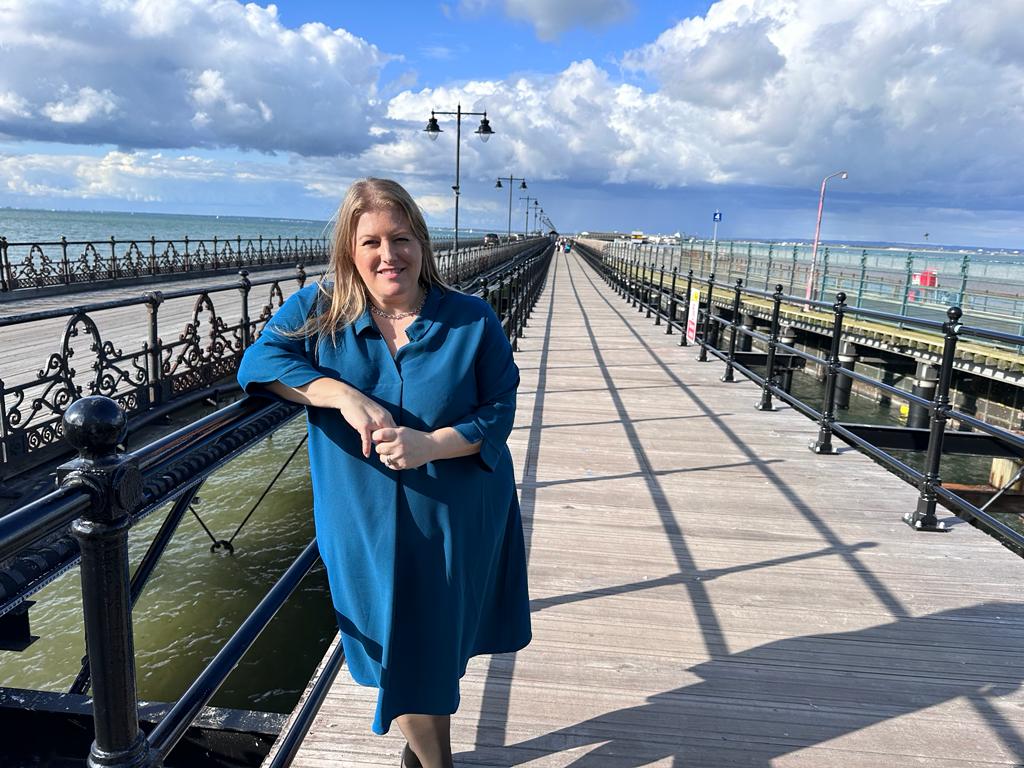 The Police and Crime Commissioner, Donna Jones, has visited a number of crime fighting initiatives on the Isle of Wight as part of a wider partnership working to make communities safer and increase public safety.
The visit on Friday 22 September 2023 comes after the Office of the Police and Crime Commissioner was awarded more than £730K by the Home Office in the fourth round of the Safer Streets funding to help tackle anti-social behaviour (ASB), and violence against women and girls (VAWG) for the 'Solent Stands Together' bid across Hampshire and on the Isle of Wight.
The funding, totalling £50M, was announced by the Home Secretary in July 2022 for communities across England and Wales to make the streets safer for all.
The Hampshire and Isle of Wight amount of £733,551 is supporting the Solent Stands Together partnership which is a co-ordinated approach by five local authority areas – Portsmouth, Gosport, Fareham, Havant and the Isle of Wight.
PCC Donna Jones said: "More police and safer streets has been my pledge and my promise to communities across the two counties since being elected as your Police Commissioner.
"I've invested in a range of transformative crime prevention initiatives that are making a difference to women and girls on our streets, in our communities, and in our public places because they should all be safe spaces that can be used by everyone without fear of violence or intimidation.
"The Solent Stands Together partnership is a fantastic example of coming together with a common aim to tackle violence against women and girls, and ASB because these behaviours must be called out and stamped out with long-term initiatives that have lasting positive effects for change."
The cash injection has built on the work carried out in the previous funding round to ensure women and girls living, visiting and travelling between these areas in the Solent have a consistent offer of support, response, and service.
Thanks to the funding secured by the Police and Crime Commissioner, the organisations are delivering a number of initiatives:
A Mentoring in Violence Prevention (MVP) programme in schools that addresses unhealthy attitudes towards women and girls
A We Stand Together, Safe Space Network with 50 safe spaces for women and girls to walk into if they feel unsafe
A Community in Motion project training up to 500 professionals working in night time economy venues
The You Project which engages marginalised women working in the sex industry with an outreach and trauma-informed service
Situational measures such as CCTV, upgraded lighting, and removing offensive and demeaning graffiti
On the Isle of Wight, the MVP programme has been delivered in three secondary schools and, having also run under the Safer Streets 3 funding round, is widely regarded as a best practice model.
Under Safer Streets 4, a further 10 venues on the island have received safe space network training to add to the 15 venues across Portsmouth and the Isle of Wight that benefited in the Safer Streets third round.
A virtual session is available to anyone on the Island working in night time economy venues including street pastors, bar staff, taxi drivers and bus drivers, as well as training professionals through knowledge and awareness around sexual violence.
As part of the Safer Streets 4 programme, Ryde Interchange received additional security measures with secure cycle storage and security shutters. As the Interchange has a transport link to Portsmouth, the installation of an interactive trail will connect the two sites and increase natural surveillance, while the additional security features will help secure the area.
During her visit, the Police and Crime Commissioner met students and peer mentors enrolled in the MVP programme at Medina College in Newport, heard about Safe Space training, met staff from night time economy venues, and visited Ryde Esplanade to see its situational measures.
PCC Donna Jones added: "This visit was a fantastic opportunity to witness how working in partnership we can all make a difference, how we can embrace real change in our communities, and how we can come together to stand firm against these crimes."
Councillor Karen Lucioni, Isle of Wight Council Cabinet Member for Regulatory Services, Community Protection, Waste and ICT welcomed the funding: "The challenges we face as an Island are just as great, if not more than some communities on the mainland. I am delighted that a number of innovative local initiatives have been supported focusing on vulnerable groups and helping to keep our residents and visitors safe. I look forward to seeing performance outcomes and visiting the projects."
The Police Commissioner is now working towards the fifth round of the Safer Streets Fund with the government announcing in July this year a £60M pot available to reduce crime and improve public safety across England and Wales.