Police Commissioner funds domestic abuse practitioners across both counties to tackle perpetrators
31 July 2023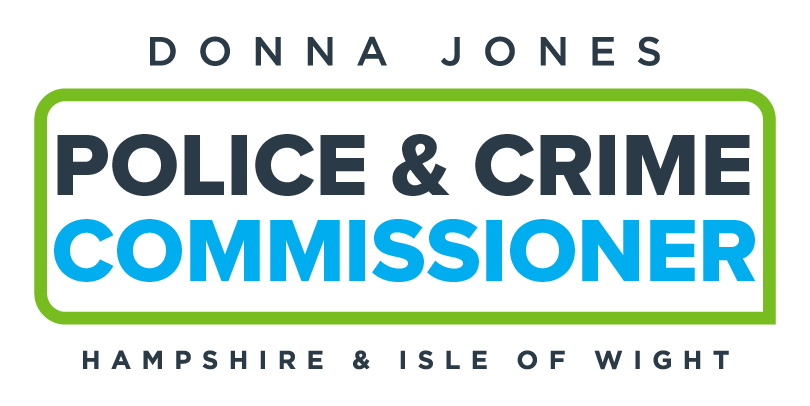 Police and Crime Commissioner Donna Jones has reaffirmed her commitment to reduce violent crime and reoffending rates by providing more than £350,000 to tackle domestic abuse perpetrators in Hampshire and on the Isle of Wight.
Working in partnership with the four local authorities plus the Hampton Trust and Stop Domestic Abuse, the money will be spent on recruiting domestic abuse practitioners to work alongside the police as part of Project Foundation.
Project Foundation is an innovative scheme which brings together Hampshire and Isle of Wight Constabulary and specialist domestic abuse perpetrator practitioners to identify and manage the most dangerous perpetrators of physical and sexual violence in the community by offering them pathways to try and help change their behaviour as a long term solution to protect victims.
The project's focus is on perpetrators whose abuse has occurred in a family setting where children are present and where police have not been able to bring a charge.
The Project Foundation Practitioners will help the police identify which perpetrators need intervention to stop offending by analysing existing police and partnership data. The practitioners will then support Police with engagement activity to motivate perpetrators to access local support services that can help reduce the risk of re-offending.
Police officers will make unannounced visits to perpetrators, offering them diversion through behavioural change programmes as well as any relevant support to alcohol, drug, mental health or financial issues they face to stop the cycle of abuse. They will also seek to identify any new relationships where someone could be at risk and put a plan in place to protect them.
The project was originally piloted in 2021 for 12 months in Southampton and Eastleigh and funded by the Home Office. A recent HMICFRS PEEL (police effectiveness, efficiency and legitimacy) inspection hailed Project Foundation as innovative practice to reduce re-offending of domestic abuse perpetrators.
Whilst the decision to roll-out the Project Foundation methodology for identification to the whole of Hampshire and the Isle of Wight was made in 2022, specialist practitioners were limited to the pilot areas. To ensure the project is implemented Hampshire and Isle of Wight wide, PCC Donna Jones has provided the extra funding required for the project to span all four corners of both counties for the next two years; 2023-2025. The money will recruit Project Foundation Practitioners; specialists who engage and motivate individuals to access support, leaving frontline police officers to focus on tracking, disruption and enforcement activity.
Police and Crime Commissioner Donna Jones said: "I'm delighted to be funding this pioneering project which will ensure a consistent and robust approach to those repeatedly committing domestic abuse.
"As part of my Police and Crime Plan, I committed to working with partners to prioritise and reduce domestic abuse, rape and serious sexual offences. These crimes cause significant harm, they devastate lives and cause ongoing misery to victims and their families if not stopped.
"A lot of perpetrators have alcohol, drug, mental health or financial problems and offering them a pathway to fix these issues helps them change their behaviour.
"This is about working with perpetrators when police cannot bring a charge to help them make better choices which will reduce reoffending in the long run."
OPCC Commissioning Manager, Lisa Allam led on the implementation of the project, she said: "Project Foundation is an excellent example of a multi-agency response to those who commit domestic abuse. In order to prevent future victims and safeguard families, we need to tackle the root cause of the offending behaviour.
"We have a wide range of services that can offer individuals the help and support they need to turn their lives around – Foundation Practitioners will be that crucial link between the Police and those services, offering non-judgemental advice and support.
"However, for those who are not willing or able to address the causes of their harmful behaviour, the police are there to safeguard victims and children, deploying appropriate enforcement tactics."
The money, totalling £359,183 over two years will ensure a consistent approach to tackling domestic abuse perpetrators across the whole of Hampshire and the Isle of Wight.
The practitioners will be aligned to the Constabulary's new District Priority Crime Teams, aligning with the force's new model of relentlessly pursuing criminals and supporting victims announced by Chief Constable Scott Chilton in June 2023.
Hampton Trust's CEO, Chantal Hughes, said: "We are delighted that the Police and Crime Commissioner has made funding available to build on the early success of Project Foundation. Individuals using abusive behaviours in their relationships are resistant to take responsibility for their actions and to understand the impact of their abuse.   Project Foundation offers a multi-agency response to tackling domestic abuse."
"Hampton Trust will employ Foundation Practitioners to work alongside the police and maximise opportunities to engage domestic abuse offenders.  We will use a trauma informed approach to motivate individuals to access specialist support services, including behaviour change programmes.  Placing victims and children at the centre of the work, Project Foundation will ensure those who do not engage are closely monitored to prevent further reoffending and reduce future harm."
Operations Director for Stop Domestic Abuse, Rachel Windebank, said: "Stop Domestic Abuse's vision is a world without domestic abuse. We are dedicated to protecting and supporting victims of domestic abuse and as a part of this we are committed to providing interventions and support to those that use abusive and unhealthy behaviours in their intimate partner relationships.
"We welcome this funding from the Police and Crime Commissioner and it will support our continuing ambition to improve and expand local services. We are committed to partnership working to ensure that there is a co-ordinated response model to domestic abuse and look forward to continuing to work with Hampshire and Isle of Wight Constabulary and Hampton Trust."
Detective Chief Inspector David West, said: "A victim may have suffered for years before having the confidence to report their abuser, so it's enormously important that policing responds when Domestic Abuse is revealed, by providing effective ongoing help for victims and interventions for the perpetrators."
"We know that a large number of Domestic Abuse cases are not prosecuted due to the incredibly complex nature of the circumstances that have usually occurred in the privacy of a home."
"Project Foundation is an opportunity to tackle Domestic Abuse, beyond the criminal investigation through the disruption of harmful behaviours, holding perpetrators accountable for their actions whilst encouraging them to take part in behaviour change programmes to reduce their offending and increase the safety of victim-survivors."
"The funding committed by the Police and Crime Commissioner for Hampshire and the Isle of Wight, Donna Jones, is a much welcomed boost to this activity and I am sure that this will continue to have a positive impact on tackling serial and repeat perpetrators of Domestic Abuse within our local communities.
"The new funding will also allow for the Constabulary to work with local partner organisations and practitioners to ensure better engagement and a more consistent approach to victim safety, looking at ways we can maximise our efforts around disruption and diversion tactics and ensuring that those committing these offences recognise and understand that their behaviours are not acceptable within society, and will certainly not be tolerated within Hampshire and the Isle of Wight.
"We cannot solely rely on the criminal justice system to prevent re-offending, this is why it is important to educate and engage perpetrators through our diversion programmes with local commissioned services – which will be heavily supported by the new funding stream – working with perpetrators to understand their behaviours and the grave consequences of their actions; so that they can begin to change.
"However we are absolutely clear that we do not tolerate any form of domestic abuse or violence at all. Perpetrators of Domestic Abuse will be found, stopped and brought to justice."