Police and Crime Commissioner Donna Jones supports "back to basics"
11 August 2022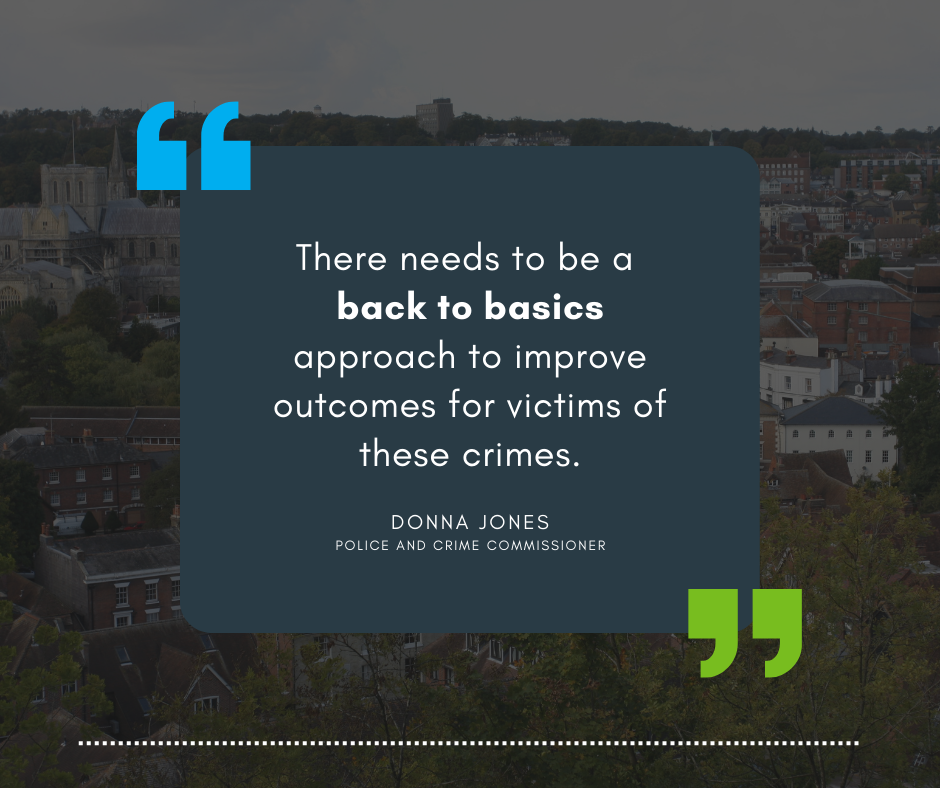 Donna Jones, Police and Crime Commissioner for Hampshire and the Isle of Wight has said: "I agree there needs to be a back to basics approach to improve outcomes for victims of these crimes," in response to the Her Majesty's Inspectorate of Constabulary and Fire & Rescue Services (HMICFRS) review published today (August 11).  
The review has made two recommendations for police forces in England and Wales to ensure they are conducting burglary, robbery and theft investigations effectively.
Inspectors found that:
forces are missing opportunities to identify and catch offenders, from the moment a member of the public reports the crime to the point where a case is finalised;
police are not doing all they can to help victims when they report crimes – in 71 percent of the burglary reports examined, police personnel did not give victims any advice on crime-scene preservation during the initial call;
forces lack investigative capacity and capability to effectively tackle burglary, robbery and theft, often because of the national detective shortage and inexperience; and
investigations are not being appropriately or thoroughly supervised, with a third of cases examined having insufficient evidence of proper supervision.
The recommendations for forces are:
Improving crime scene management
Ensuring proper supervision so that investigations are conducted effectively
Responding to the report, Police and Crime Commissioner Donna Jones said: "I know from my contact with the public that they are not always getting the service they expect.
"Burglary and theft are not minor crimes. They make people feel unsafe. They have long-lasting impacts on people and risk having a knock-on effect in wider communities if they are not dealt with.
"HMICFRS has made two recommendations to forces which are underpinned by a back to basics approach in terms of carrying out thorough investigations which I fully support.
"The review also rightly mentions the police's responsibility for managing offenders in the community, and reducing reoffending rates by those who have previously committed these type of crimes.
"The report specifically highlights a positive scheme being used in Hampshire which uses electronic monitoring for offenders released on licence who have served sentences of 12 months or more for robbery, burglary or vehicle crime.
"In addition, the review cites the work of my office which has funded support workers to work with ex-offenders to help them break their cycle of offending.
"I am pleased Hampshire has been recognised in the report for these crime reduction initiatives.
"However more needs to be done.
"Part of my police and crime plan outlines how I am making sure the Constabulary are identifying opportunities to roll out 'days of action' to apprehend prolific offenders, keep victims of burglary and theft updated, and ensure all domestic burglaries are thoroughly investigated."