Police and Crime Commissioner announces 50 more police officers for Hampshire and Isle of Wight Constabulary
27 January 2023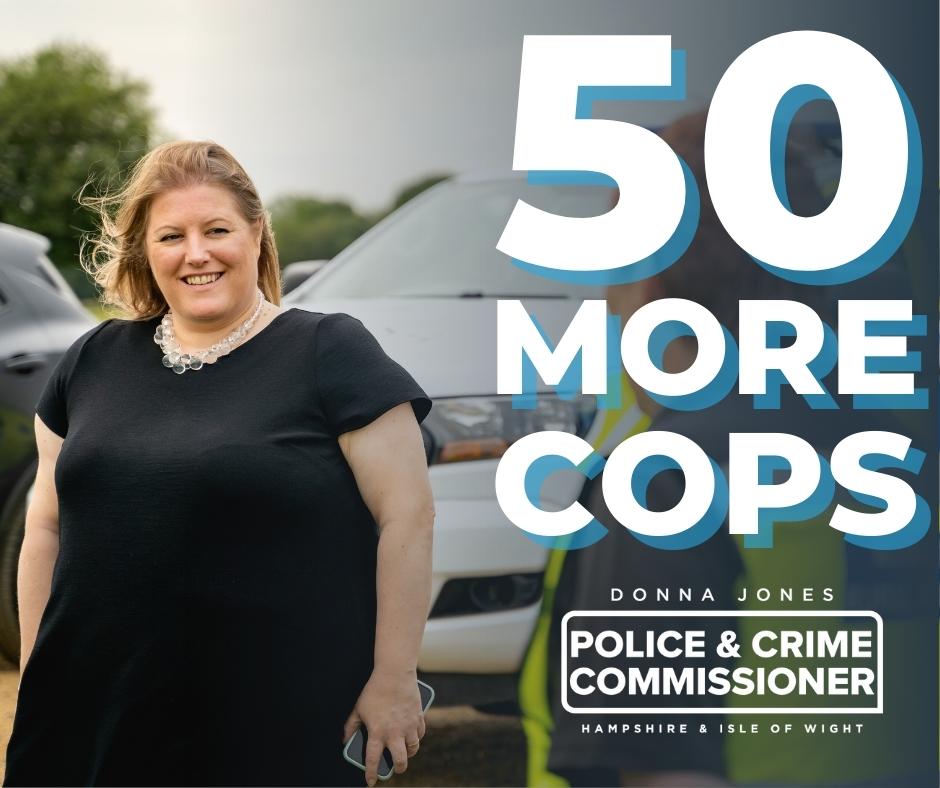 The Police and Crime Commissioner, Donna Jones has announced she will fund 50 extra police officers for the force to improve police visibility.
The announcement has come after the Commissioner gained support from the Police and Crime Panel for her 2023/24 budget.
The Commissioner's number one priority since being elected has been to increase police officer numbers.
She said: "When I became Commissioner in May 2021, the public told me they wanted more police officers on their streets. The force pledged to recruit an additional 498 officers as part of the government's National Police Uplift Programme but I wanted to go further which is why I promised another 102 on top of that, bringing the total to 600 by the end of March 2023.
"With this year's budget, I am able to increase the number again bringing the total additional officers for Hampshire and Isle of Wight Constabulary to 650 by March 2024.
"I want to be clear and reassure people this increase is not filing vacancies left by those who have retired or left. This is a net increase.
"To date the force has recruited more than 550 additional officers which means they are on track to have recruited 600 by March 2023. With my pledge and your support, the Chief Constable will be able to recruit another 50."
The Commissioner's proposal to improve police visibility with the extra funds followed an extensive consultation with local residents.
Receiving more than 8,400 responses from the public, the majority of people told the Commissioner 'improving police visibility' was their top priority.
Listening to these concerns, the Commissioner proposed an increase in the police precept of the council tax by £1.25 per month or £15 per year, based on Band D properties, which has been supported by the Police and Crime Panel.
This is an increase of just 6.34% which is below the rate of inflation, and it will raise an additional £12.29 million for Hampshire and Isle of Wight Constabulary in 2023/24.
Police and Crime Commissioner, Donna Jones said, "I would like to thank the Police and Crime Panel for their support of my annual budget 2023/24. The additional funding through the precept will allow me to recruit an additional 50 police officers.
Responding to the public's call for more police visibility, she said: "This budget will allow for continued investment in your police force, in the issues that matter to you outlined in my Police and Crime Plan 'More Police, Safer Streets' and in terms of recruitment programmes, it will ensure Hampshire and Isle of Wight Constabulary is one of the country's best performing forces.
"As your Commissioner, I will do everything I can to improve police visibility."
Chief Constable Olivia Pinkney said: "I am pleased the Panel supported the Commissioner's budget, which will enable 50 extra officers and put the new chief constable in the best position to deliver on his plans for the future of Hampshire & Isle of Wight Constabulary."
Key takeaways
At the end of last year, the Government gave PCCs the option to implement a council tax increase of up to £15 (per year – based on a Band D property) to pay for policing.
The government announced the Police Finance Settlement in the autumn of 2022 which provided £246.9million Hampshire and the Isle of Wight Constabulary (HIOWC) which is just 1.8% or £4.35m extra cash, which is significantly below inflation.
61% of households across Hampshire and the Isle of Wight are in properties in Council Tax bands A-C and therefore a precept increase of less than £15 per year for the majority
The PCC's 2023/24 budget ensures there is significant investment to enable 'More Police, Safer Streets', and increase police officer numbers by 50 (£3.1m)
The budget will enable continued investment in the police estate, police officer pay, utilities and fuel to ensure the force is operationally effective and provides a modern and safe working environment for police officers and staff to be able to do their job