PCC's calls to mandate CCTV in taxis gets the green light in Fareham
05 September 2023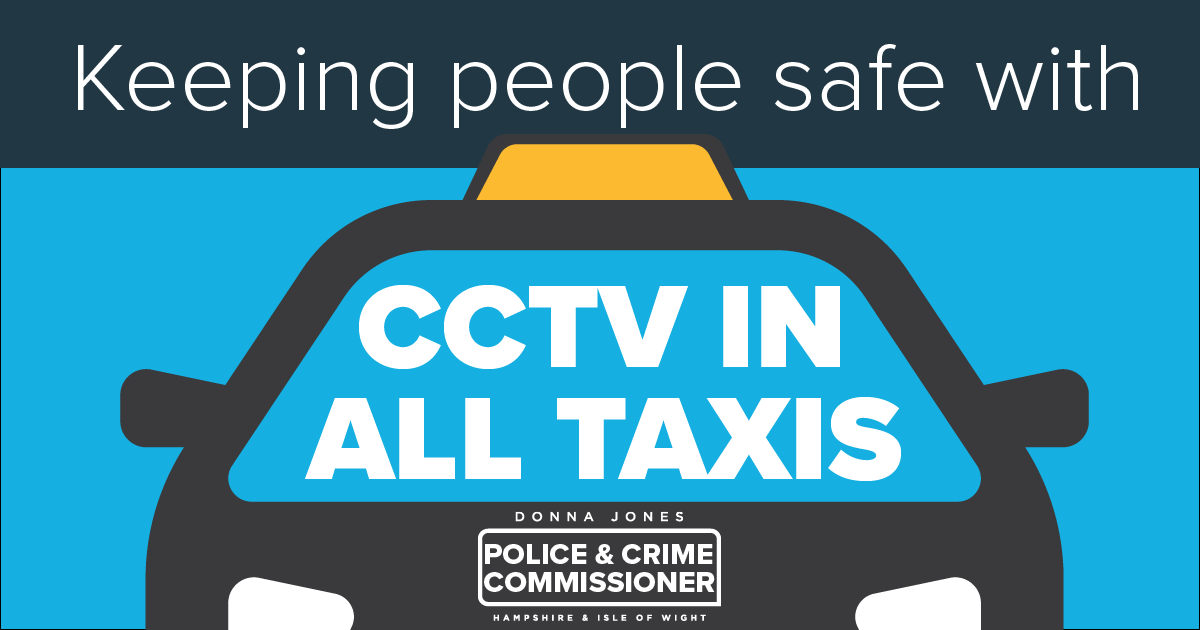 Fareham Borough Council has pledged to introduce mandatory CCTV in taxis and private hire vehicles following a call from the Police and Crime Commissioner, Donna Jones.
It's the second Borough Council to respond after the PCC called for all licencing authorities across Hampshire and the Isle of Wight to introduce the move earlier this summer: "At the beginning of June I wrote to the Secretary of State for Transport, Mark Harper MP, to ask him to change national licensing guidance to mandate CCTV in taxis and private hire vehicles.
"This follows the conviction of a taxi driver in Southampton in May 2023 who was jailed for sexually assaulting a woman. The CCTV evidence in the taxi led to the conviction and prevented the victim from having to go through a trial due to the conclusive evidence.
"Portsmouth and Southampton City Councils licensing requirements for Hackneys and private hire already require CCTV to be fitted and I am calling for all councils in Hampshire and Isle of Wight to follow suit."
Fareham's Licensing and Regulatory Affairs Committee met on Monday 4 September 2023 and agreed that new taxis and private hire vehicles be fitted with CCTV, with a recommendation that existing drivers have until 31 December 2023 for installation.
Fareham Borough Council follows in the footsteps of Gosport Borough Council which recommended the changes there at the end of July.
Police and Crime Commissioner Donna Jones said: "I'm delighted that Fareham Borough Council has responded to my call for all councils in Hampshire and the Isle of Wight to mandate CCTV cameras in taxis.
"Keeping residents safe is my number one priority, and now another council has followed suit in showing its commitment.
"Nationally, I will continue to lobby the government to make sure passengers and drivers alike are afforded the maximum protection.
Cllr Joanne Burton, Executive Member for Health & Public Protection said:  "I am delighted the Licensing and Regulatory Affairs Committee has agreed that CCTV cameras will be installed in taxis and private hire vehicles licensed by Fareham Borough Council. The cameras will provide an additional layer of reassurance not only to those using taxis but also to taxi drivers, some of whom have already been threatened whilst at work."