PCC urges parents to engage with their children about the dangers of carrying a knife
13 November 2023
The Police and Crime Commissioner, Donna Jones, says education and early intervention are vital to clamp down on knife crime and stop young people getting involved in crime in the first place.

Her message comes at the start of Operation Sceptre today (13 November) which is a week-long anti-knife campaign run by all 43 police forces and British Transport Police.
PCC Donna Jones said: "Knife crimes, and particularly youth knife crimes, have been growing at a worrying rate across the UK over the last decade, and crimes linked to knives have a devastating impact destroying families and communities in a split second.
"We all have a responsibility to make sure knife crime is tackled head on, and we need to reduce the threat by aiming our concerted efforts at educating children and young people.
"Parents need to ensure they understand the risks, how to spot the signs and keep their children safe. Equally, children and young people need to understand the consequences of carrying a knife.
"Through my office, I deliver a Violence Reduction Unit with a multi-agency partnership that delivers projects for under 25s that steer them away from knife crime, serious violence and exploitation.
"I've also commissioned a pioneering drama scheme that's just begun in schools across Hampshire and the Isle of Wight that explores the risks and impact to children."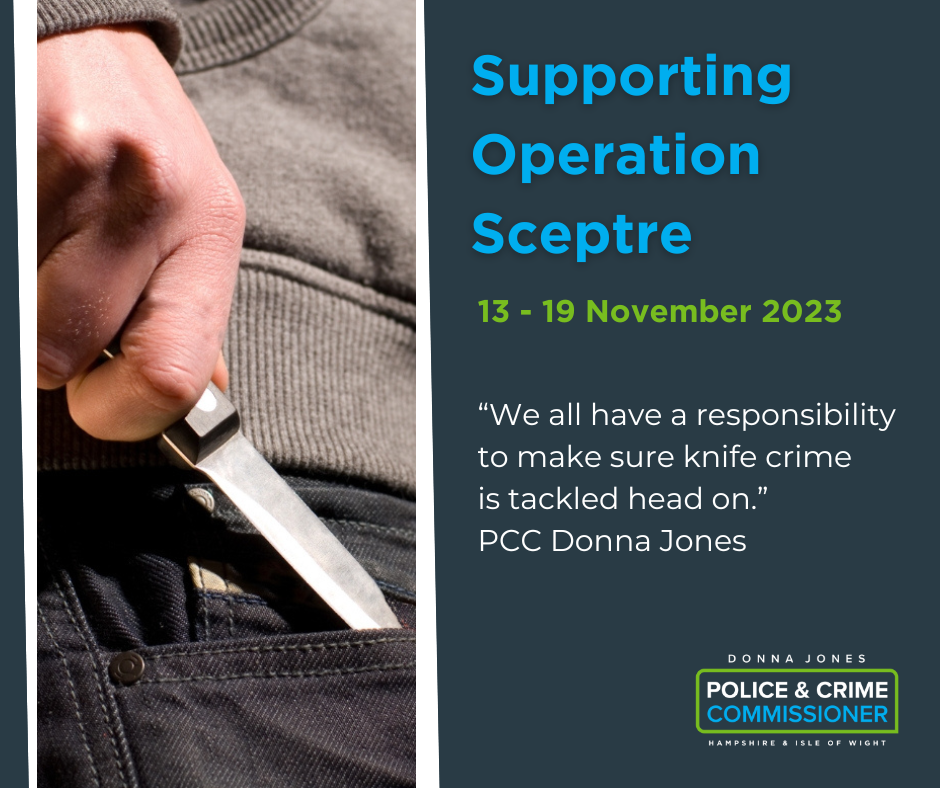 Operation Sceptre's week of intensified action will also focus on tackling the importation and supply of knives including the accessibility of buying knives online.
The National Police Chiefs' Council says it's becoming increasingly concerned about the wide range of knives which can be purchased online, and a "comprehensive picture of online retailers across the country" is needed to help in the fight against knife crime.
Knife surrender bins will be located in the following police stations across Hampshire and the Isle of Wight this week.