PCC speaks in Portsmouth as the country marks 999 Day and the selfless dedication of the emergency services
11 September 2023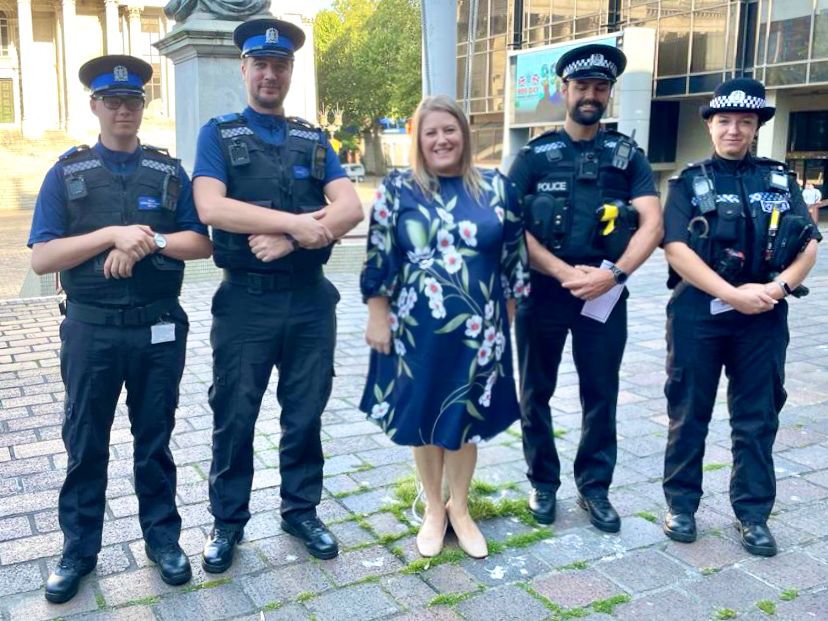 The Police and Crime Commissioner, Donna Jones, has publicly thanked the commitment of Hampshire and Isle of Wight Constabulary and all those who protect and serve the public.
The nation came together on Saturday 9 September 2023 to show its support for all emergency service and NHS heroes on National Emergency Services Day.
The Commissioner gave a speech during a service at the civic offices in Guildhall Square in Portsmouth where the 999 flag was also raised and a two minutes' silence was observed to remember all who have been killed as a result of their service to the country.
The national day of support was founded in 2016, and today approximately 2 million people work and volunteer across the emergency services and the NHS.
Other representatives from the emergency services as well as the Lord Mayor and Deputy Leader of the City Council were also at the event in Portsmouth.
Hampshire and Isle of Wight Constabulary's workforce totals nearly 5,600 with 3,292 officers as well as 2,111 police staff and 196 PCSOs.
PCC Donna Jones said: "It was an honour to address everyone at the ceremony because it is so important that we recognise the work of all those who are on the frontline keeping people safe and saving lives.
"The 999 flag is a symbol of our gratitude, respect, and unwavering support for the brave men and women who respond to our calls for help, irrespective of the challenges they face.
"Thank you for your dedication, your commitment, and the personal sacrifices you make every day to help others."
There are six main branches of the emergency services – Police, Fire & Rescue, Ambulance, NHS, maritime, and Search & Rescue.
PCC Donna Jones added: "Each and every day, communities across Hampshire and the Isle of Wight are being helped by those who have dedicated their lives to help others, and it is right that we never lose sight of this selfless commitment.
"The 999 Flag Raising Day isn't a symbolic gesture alone, it's also a call to action, serving as a reminder that the safety and security of our communities are collective responsibilities and that by working together we can all play an active role in preserving the peace."