PCC shines the spotlight on the outstanding dedication of volunteers and staff at annual awards event
06 April 2023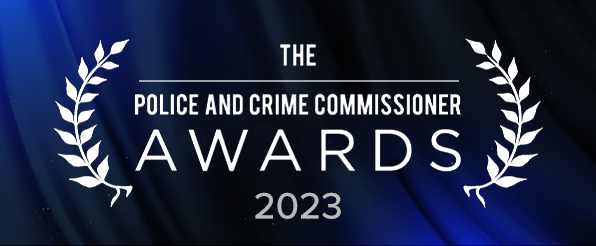 The Police and Crime Commissioner Donna Jones has thanked volunteers, staff and partners from across Hampshire and the Isle of Wight for their exceptional service and commitment at a glittering ceremony in Winchester. 
This year's Police and Crime Commissioner Awards, dedicated to recognising those who have helped make communities safer and have improved the lives of others, was held on Friday 31 March 2023.
It is the second awards event the Commissioner has held, bringing together volunteers, officers, and partners from across the two counties to thank them for the difference they make to policing, the criminal justice system, and to local communities.
The Commissioner was honoured to have Hampshire resident, naturalist, author and television presenter, Chris Packham, host the awards. A number of other guests presented awards including Deputy Lieutenant of Hampshire, Colonel Charles Ackroyd, Chief Constable Scott Chilton, Superintendent Patrick Holdaway, from the City of London Police, who leads the National Business Crime Centre, Special Superintendent Russell Morrison, and the Deputy Police and Crime Commissioner, Terry Norton. The Home Secretary, Suella Braverman, also paid tribute with a special video message.
Police and Crime Commissioner Donna Jones said: "Volunteers, partners and dedicated staff make a huge and significant difference to policing and I am so pleased that my Awards recognise and pay tribute to all those who make an enormous contribution."
"Congratulations to all the winners and nominees on the night who dedicate themselves to keeping Hampshire and the Isle of Wight safer for residents, businesses, and visitors. I applaud you all for your commitment and outstanding service."
The winners of this year's Awards are:  
Bobby on the Beat Award – PCSO Lianne McAllister

 

Business Crime Prevention Award – Brett Jones

 

Commissioned Service Volunteer of the Year Award – Jenny Johnston

 

Community Volunteer of the Year Award – Hampshire Search & Rescue

 

Cyber Ambassador of the Year Award – The Crescent Primary School

 

Independent Custody Visitor of the Year Award – Pauline Shorney

 

The Michael Lane Award in memory of James Bowman – Amber Manning

 

Police Recruit of the Year Award – PC Emma Warner

 

Police Special of the Year Award – Special Sergeant Daniel Van Gelder

 

Police Volunteer of the Year Award – Peter Macpherson and his dogs, Rocco and Molly

 

Rural Crime Fighter Award – PCSO Jasmine Sparshott

 

The Simon Hayes Award for Outstanding Effort in Reducing Offending & Reoffending – PCSO Collette Craddock

 

Supporting Victims of Crime Award – The Paragon Isle of Wight Team

 

Tackling Anti-Social Behaviour Award – Southampton West Neighbourhood Policing Team

 

The Police & Crime Commissioner's Special Recognition Award – Insp Korine Bishop

 

Youth Volunteer of the Year Award – Phoebe Butler

 
 Selected images, including all this year's Award winners, can be found here.