Over half a million pounds to target root causes of violence against women and girls
05 October 2021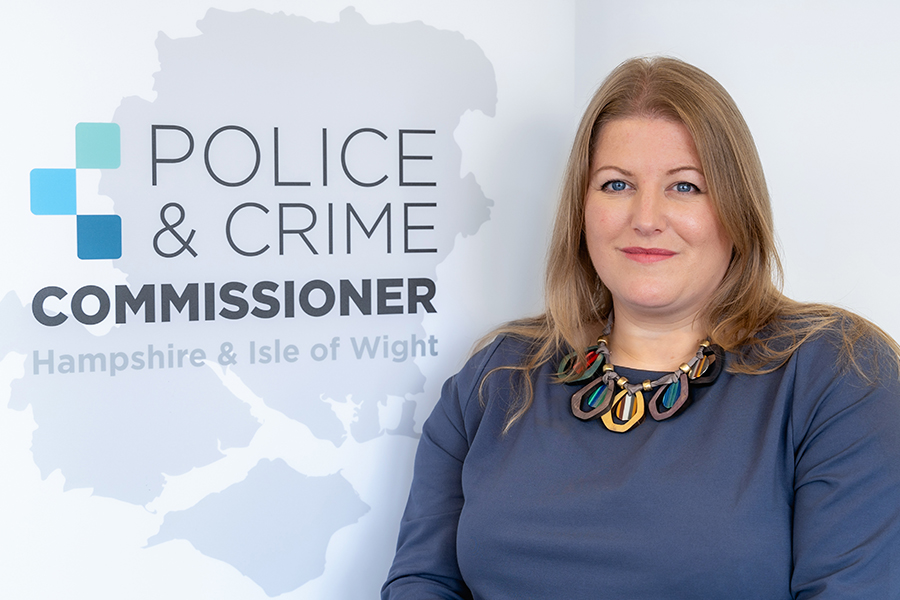 Police and Crime Commissioner, Donna Jones, working with Southampton, Portsmouth and the Isle of Wight councils, has successfully secured £648,755 of funding from the Home Office to tackle violence against women and girls.
The funding comes as part of the latest round of the Government's Safer Streets fund which was created to increase the safety of public spaces for all. Some crimes which take place in public places such as sexual harassment disproportionately affect women which is why this third round focuses on interventions to protect women and girls.
The funding will enable the delivery of interventions that target the root causes of violence against women and girls and emphasise changing attitudes and behaviours and challenging gender stereotypes. This includes education programmes in schools to combat unhealthy behaviours, and campaigns focused on student safety. The funding will also be used for physical interventions, such as CCTV and lighting as in previous rounds of the Safer Streets fund.
Donna Jones said: "Violence against women and girls has been an issue in this country for generations, but recent high profile cases mean it is very much at the front of our minds at present, and rightly so.  VAWG offences cause significant harm and distress to victims, their friends and family, witnesses, and wider society. It is crucial that we work together to stop these crimes happening in the first place – through better education and awareness; by challenging misogyny and hate in society; and working to change repeat offenders' behaviour.
"Through initiatives such as those being funded under Safer Streets and the work of my Task Group I want to ensure that everything that can done, is being done to tackle and prevent crimes of violence against women and girls."
Councillor Ian Stephens, Isle of Wight Council Cabinet member for community protection and digital transformation, said: "With the news of a successful Safer Street bid, we look forward to mobilising the schemes as outlined within our application. I firmly believe that the onus on keeping both women and girls safe in public places is the responsibility of all and does not rest with the individual alone. We have a vision to make the Isle of Wight a safer place for all within our communities, particularly women and girls who face higher levels of violence and harassment in public places. Through the work of this bid we hope to make positive progress in achieving that vision."
Councillor Dave Ashmore, Portsmouth City Council Cabinet Member for Community Safety & Environment, said: "I am delighted that Portsmouth is benefitting from funding under the Safer Streets 3 project to prevent crimes of violence against women and girls. Several key interventions are planned including the formation of a network of safe spaces in and around public places where we know that sexual crime is most likely to occur, having mentors in violence prevention working with schools and providing women with a reporting service to capture incidents that may otherwise go unreported."
Councillor Spiros Vassiliou, Southampton City Council Cabinet Member for Communities, Culture & Heritage at Southampton City Council comments: "Through our Stronger Communities Team and support from key local partners, charities and agencies, I strongly believe that the success of this application was from our unified desire to make our local areas safer. We are very pleased to be awarded a portion of this funding and will work at pace to deliver the key parts of this bid. This includes improving some physical aspects of the city, but also starting to work on education and information to help ensure the safety of women and girls in Southampton."
All of the interventions under Safer Streets will have a life beyond the initial funding period (the funding is to spend in the 21/22 financial year), by challenging underlying behaviours and by building local capacity. While these interventions are currently Southampton, Portsmouth and the Isle of Wight based, if successful they can be used to help other local authorities to tackle this widespread issue and improve safety in public spaces, primarily for women and girls.