New Year, new priorities for the Youth Commission
13 December 2022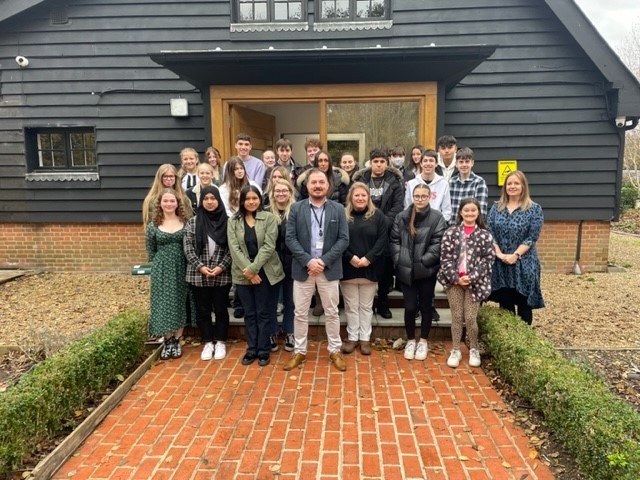 Improving relationships with the police, domestic abuse and staying safe on the streets are the three issues that the Police and Crime Commissioner's new Youth Commission members have selected as top concerns to consult on with their peers in the New Year.
Police and Crime Commissioner Donna Jones and Deputy Police and Crime Commissioner Terry Norton joined 28 new Youth Commission members at their first meeting on Saturday 3 December where they discussed the police and crime related issues that are concerning young people the most.  
The Youth Commission members, now at a total of 46, chose three issues to consult on with young people aged 14-25 through their Big Conversation which set for January 2023.
PCC Donna Jones said: "It was great to meet the new members of my Youth Commission last week. They all have different motivations for joining, some want a career in policing or criminal justice, others have personal experiences that are driving them and some want to give back to the communities they live in, but all showed great passion and purpose to make a real difference.
"The issues they have selected are hugely pertinent to the lives of young people and are areas I am also concerned about. I am really looking forward to the Big Conversation and the feedback from new members and their peers and how I, as Commissioner, can help to address their concerns."
Aaliyah, 17, from Southampton said: "The reason I chose relationships with the police as a priority is because it plays a vital part in how society views the police and the interactions between them and young people is what shapes the future regarding the mental health and stability of the youth. I believe that by being a part of this organisation, I can bring about positive and much needed change within communities."
Emily, 16 from Gosport said: "I chose relationships with the police as I believe there is so much potential in how positive interactions with the police can help us create a better and more community based society instead of the public vs police society it feels like we have currently. For me relationships with the police is where I believe I can create the most positive change!"
Izzi, 16, from Winchester said: "Relationships with the police is an important priority as it builds the foundations of trust within our community. People need to be able to feel supported and protected, as well as having positive communication with the police. It is a fundamental aspect to a thriving society and our relationship with the police needs constant attention, in order to improve it further. The young people that are a part of this organisation will strive to use our voices to make a positive impact on our local community".
Amber, 22, from Basingstoke said: "Unfortunately domestic abuse is a topic many young people can relate to, either as a victim or witness. Violence Against Women and Girls is a continuing priority however, we want it to be clear that domestic abuse, be it physical, mental, financial, sexual, or verbal, can be experienced by anyone and can come both from intimate and familial relationships."
Chloe, 21, from Hedge End said: "I chose safe on the street as I think it is an important subject as it helps protect people, especially women, to keep safe on the street from harassment."
The Youth Commission's Big Conversation will launch in the New Year. Ideas from previous Big Conversations have led to successful initiatives such as the Basingstoke Peace Project to raise awareness of the consequences of knife crime, the Cyber Ambassadors' online safety educational programme and the award winning unhealthy relationships campaign 'Raise a Flag'.