'More police, less crime and safer streets in Hampshire:' Home Secretary praises Hampshire and Isle of Wight PCC for getting the best police funding deal for residents
09 February 2023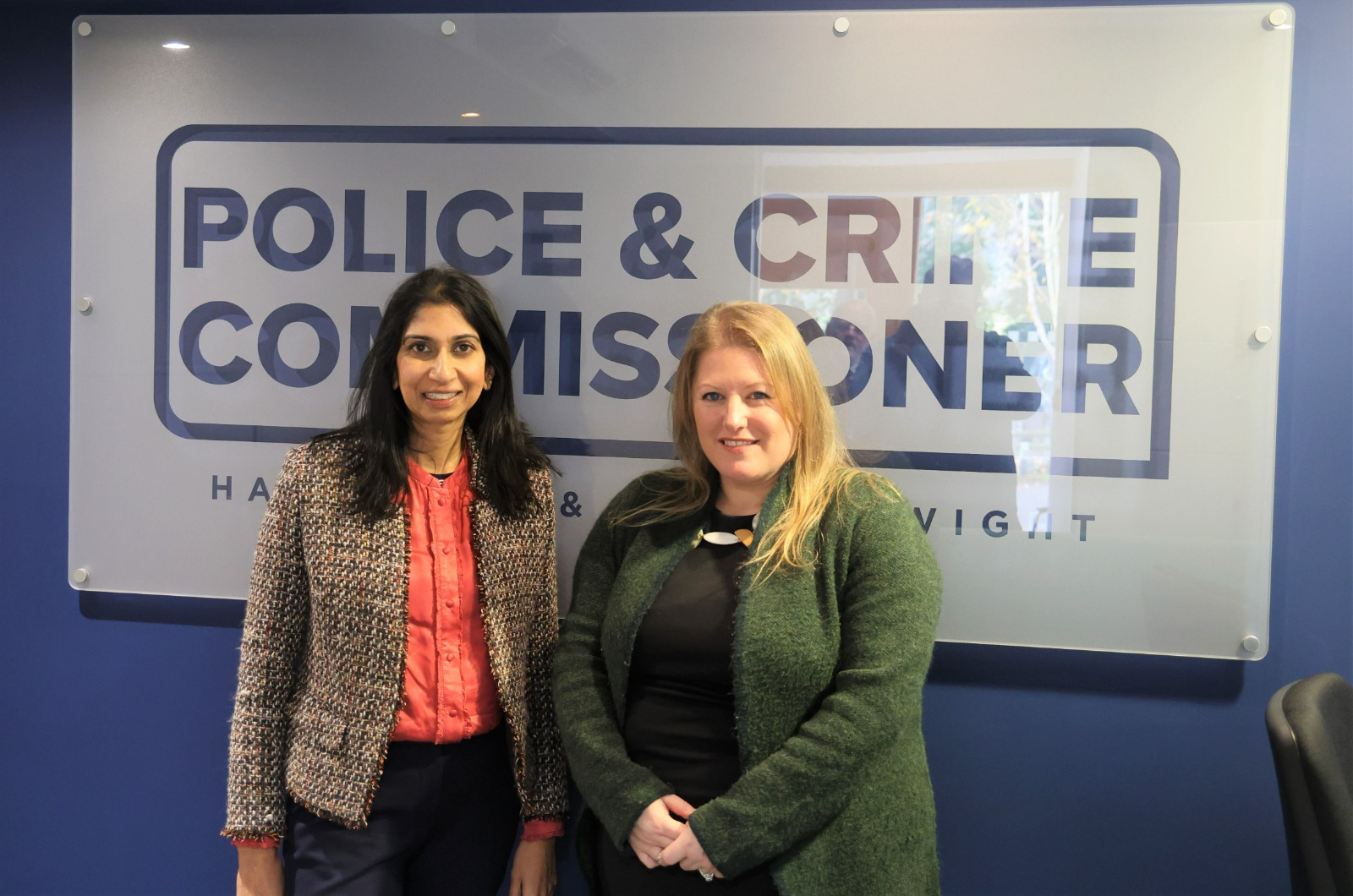 Police and Crime Commissioner Donna Jones has been praised in the House of Commons this week by Home Secretary Suella Braverman for making very good use of the police funding flexibility.
The comments came during oral questions to the Secretary of State for the Home Department on Monday 5 February.
Suella Braverman said: 'I am very pleased that the excellent police and crime commissioner in Hampshire, Donna Jones, has made very good use of the funding flexibility that I brought into force very recently by raising the precept.'
The Home Secretary went on to mention the Safer Streets funding the PCC has used in Hampshire and on the Isle of Wight, together with the work of her new Violence Reduction Unit, stating her budget plan 'will mean more police, less crime and safer streets in Hampshire.'
The comments come after the government announced the Police Finance Settlement in the autumn of 2022 which provided £246.9million Hampshire and the Isle of Wight Constabulary (HIOWC).
Hampshire and Isle of Wight Police and Crime Panel then supported the Commissioner's proposal to increase the council tax for Band D properties by £15 in order to fund 50 more police officers in addition to the 600 she already committed to in her Police and Crime Plan.
Speaking on the issue, PCC Donna Jones said: "Increasing police numbers and improving police visibility have been my top priorities since being elected in May 2021.
"I have ensured and will continue to ensure, Hampshire and Isle of Wight gets the best funding deals from the Home Office to invest in crime prevention initiatives which make streets safer, in addition to my ultimate goal of increasing police numbers.
"The public want more police on their streets and as Commissioner, I will continue to get the best funding deals available to be able to provide that for residents."
The Commissioner recently published her budget for 2023-24, outlining £426.8 million in government grant and council tax precept, compared to £409.9 million in the previous year — a £16.9 million cash increase.
Since 2020, the force has recruited more than 560 additional police officers and PCC Donna Jones has ensured Hampshire and Isle of Wight Constabulary is on track to reach 600 new officers by March 2023.
Furthermore, the Commissioner will deliver on her pledge to fund an additional 50 on top of the 600, by March 2024 after the public told her that improving police visibility was their top priority.