How police and the CPS can improve charge and conviction rates for rape
20 October 2021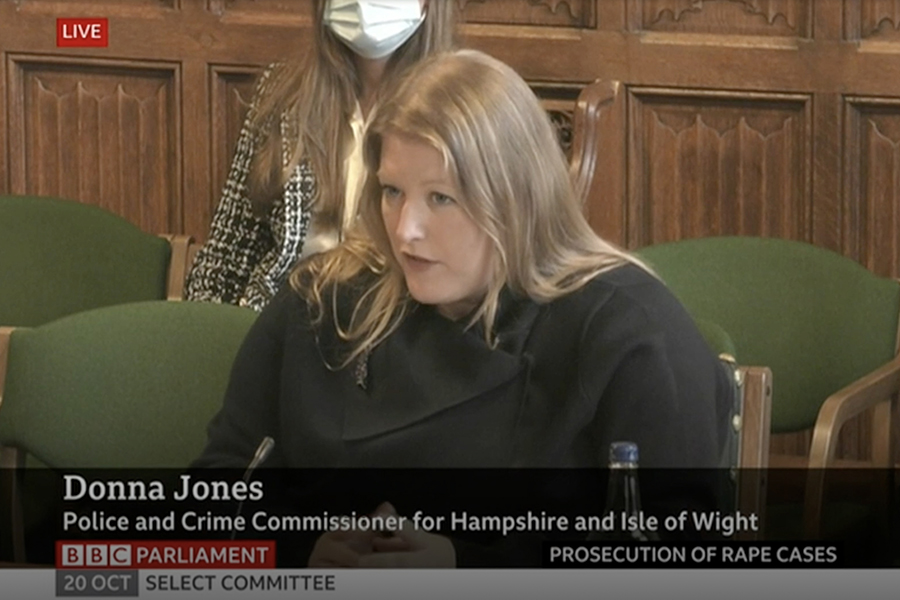 Donna Jones, Police and Crime Commissioner for Hampshire and the Isle of Wight and one of two Victims' Leads at the Association of Police and Crime Commissioners, has told a panel of MPs the Crown Prosecution Service should be less risk-averse when considering charging suspects of Rape And Serious Sexual Offences (RASSO).
Appearing before the Home Affairs Select Committee on 20 October, Mrs Jones said: "There needs to be a different approach. The police are judged on their rape prosecutions, while the CPS are judged on their rape convictions. And there you have the problem. Crown Prosecution Services across the country don't necessarily want to take cases unless they are quite belt and braces.
"Would it better to have a lower conviction rate, but to get more cases to court?
"Having spoken to a number of other Commissioners from all parties and all parts of the country this is a consistent problem.
"I feel, if you had a Crown Prosecutor in every custody suite in the country – not just for RASSO – you will see a significant improvement in the quality of charges and outcomes through court."
Mrs Jones was giving evidence alongside representatives of the National Police Chiefs Council and the College of Policing. She described a "perfect storm" over the last few years which had contributed to a drop in rape convictions – an increase in police workload from recording historical rape and sexual offences; additional work for investigating teams to comply with new rules on evidential disclosure when preparing cases; and a significant shortage of specialist rape investigators nationwide.
More needs to be done to encourage victims to want to proceed with police action, and to support them throughout the criminal justice process.
Mrs Jones, the elected PCC for Hampshire, said: "From the police's perspective, I think it's about making sure the case file quality is really strong when they go to the Crown Prosecution Service.
"Secondly, I think early charging advice is absolutely essential to keeping a witness with you on the journey. The prosecution are involved as early as they possibly can be to give the victim confidence that someone's taking them seriously.
"[It's] getting phones back to victims as quickly as possible. And for me also I think it would be saying to victims 'you don't have to be in the courtroom and face the offender if you don't want to'."
On that point, Mrs Jones explained she strongly supported more victims appearing virtually from remote evidence centres. This would assist victims in giving better accounts of what had happened.
But the ex-magistrate said: "As somebody who worked with HMCTS for 16 years… the technology is currently just not good enough. There needs to be some investment in HMCTS."