Heroes to be honoured as nominations open for the Police Commissioner's 2024 Awards
13 November 2023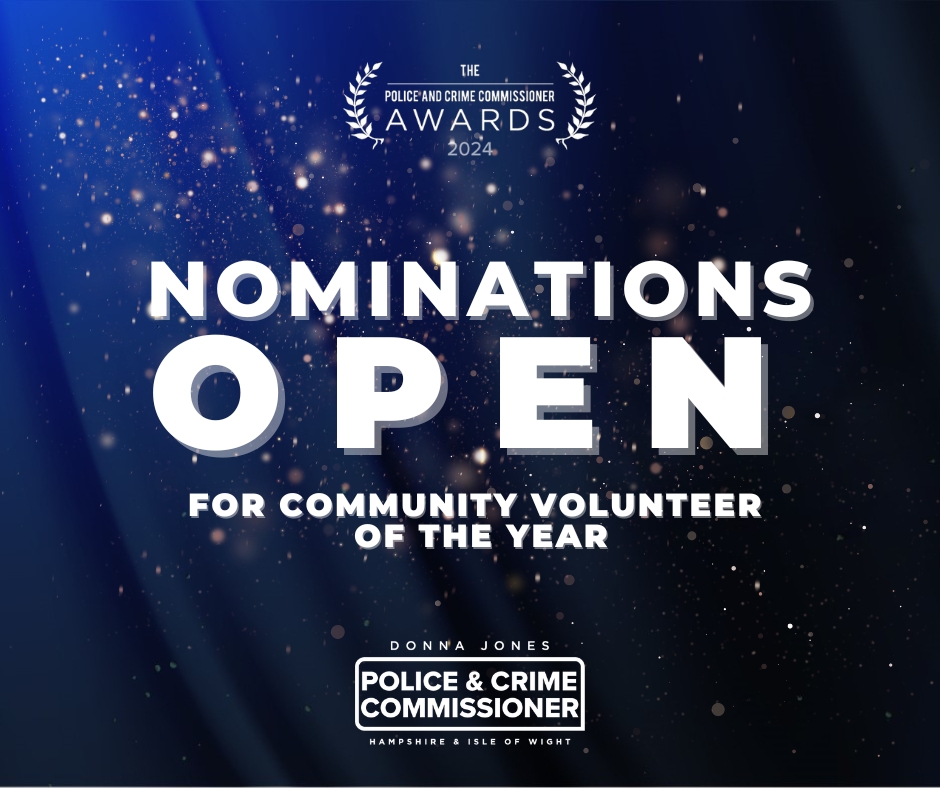 The Police and Crime Commissioner, Donna Jones, is to host her third annual award ceremony to celebrate the contribution volunteers and partners make to policing and to sustaining safer communities.

The 2024 PCC Awards will recognise volunteers and staff from across the public, private and voluntary sectors at a special awards night in March.
The Commissioner would now like to hear from the public to nominate a local hero for the Community Volunteer of the Year Award.
This Award recognises a member of the public who has worked to make their community safer, either in a formal volunteer role within an organisation or someone who volunteers on their own to help others. Nominations can be made via this online form.
Other awards on the night are for volunteers and staff who directly support policing as well as the Police and Crime Commissioner's Office. These are nominated from within policing, commissioned services, and partner organisations.
They include the Bobby on the Beat Award, Special Constable of the Year, the Business Crime Prevention Award, the Rural Crime Fighter Award, the Supporting Victims of Crime Award, the Youth Volunteer of the Year Award, and the Police Animal of the Year Award.
The Police and Crime Commissioner, Donna Jones, said: "These awards are about celebrating the dedication of our local heroes who make such a fantastic difference across our communities.
"Policing is supported by a huge network of hard-working individuals who give their time tirelessly day in day out, whether these are Special Constables, Neighbourhood Watch coordinators, Community Speedwatch groups, youth volunteers, victim support services or our business partners.
"They go above and beyond to support people and keep our communities safe and this public recognition is thoroughly well-deserved."
The deadline for public nominations for the Community Volunteer of the Year Award is 11 December.