Protecting Your Home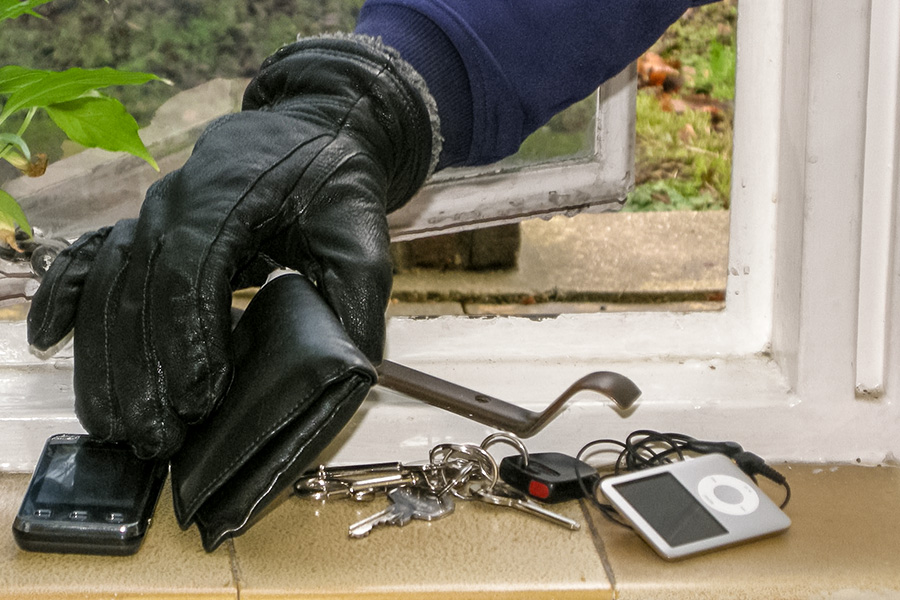 Having someone break into your home is distressing, victims of burglary not only have items they value taken from them they can also feel that their privacy has been invaded and no longer feel safe in their own home.
Lock
Keep front and back doors locked even when you are at home
Fit a door chain and spyhole for extra security
Close and lock all windows fully before you leave the house
Use window limiters to allow air in instead of keeping windows fully open, even when you're at home.
Lock back and side gates using a sturdy lock
Secure bikes at home by locking them to an immovable object inside a locked shed or garage
Ensure shed doors are strong and fitted with decent padlocks
In sight
If you go on holiday or are out after dark, leave low-energy lights on timers around the house to make it seem as though someone is home. (see more tips for this below)
Use sensor energy efficient security lighting
Allow a clear line of sight across your property and stop the garden being used as a hiding place by keeping shrubs and hedges pruned
Visible burglar alarms can make burglars think twice; get specialist advice and consult your insurance company.
Consider joining or forming a Neighbourhood Watch scheme
If you go away ask someone you trust to keep an eye on your property
Keep hidden
Keep your valuables, jewellery, cash, passport and deeds to your property in a safe.
Property mark valuables, tools and machinery. Take photographs and keep a note of any serial numbers.
Keep all keys, including car keys, out of sight and away from the letterbox
Keep dustbins and wheelie-bins away from fencing/gates as these can be used by thieves to climb into windows or used to escape
Break up packaging for electrical goods (TVs, laptops etc) and put it all in your recycling bin or box. Leaving it outside will alert a burglar to your new purchase.
For further advice
See below for our tips on avoiding distraction burglaries and for when you go on holiday.
Take the Home Security Challenge – 20 questions to improve your home safety.
Victim Support
Hampshire Constabulary
Head back to the Crime Prevention page to find more advice and tips.
FAQs
Distraction Burglary and Rogue Traders
Distraction burglary is where the offenders trick or dupe the occupant into letting them into their home or distract them allowing another person to gain access to the property and commit burglary
Rogue trading ranges from poor quality work and high pressure sales to organised crime gangs targeting the elderly and vulnerable on a daily basis, often demanding large amounts of money by threats and intimidation sometimes without even doing any work.
Ways to avoid falling victim to distraction burglary and/or rogue traders include:
Don't open the door to unexpected callers without checking they are who they say they are first – genuine callers will be happy to show identification and to have you check with the company/organisation they claim to represent (using a directory number not one they provide)
If you have a door chain put it on before opening the door
Keep your back door locked
Ask them to come back when someone else can be with you
Don't let them into your home (no matter how friendly they seem) and don't be tempted by 'today only' offers (this is pressure selling)
Direct people asking for help to a nearby place without letting them inside
Don't answer the door if it's dark and you can't see who is there
If you are wanting to find a trader use Buy With Confidence or a company/trader recommended by a family member or friend.
You can also talk to your local trading standards about how to set up a 'no cold calling' zone. Find your local team through the links below:
Going on holiday
Most recent burglaries are to unoccupied houses so don't give the opportunist a great time while you are away.  Remember to:
give a neighbour a set of keys and a contact number for you;
use delayed switches to put a couple of lights on every evening;
cancel milk and use Keep Safe to stop mail delivery;
as you leave look back and think… does my home still look 'lived in'?
be careful in your use of social media with photos and information about your holiday!