E-bikes making a difference in tackling anti-social behaviour on the Isle of Wight
19 May 2023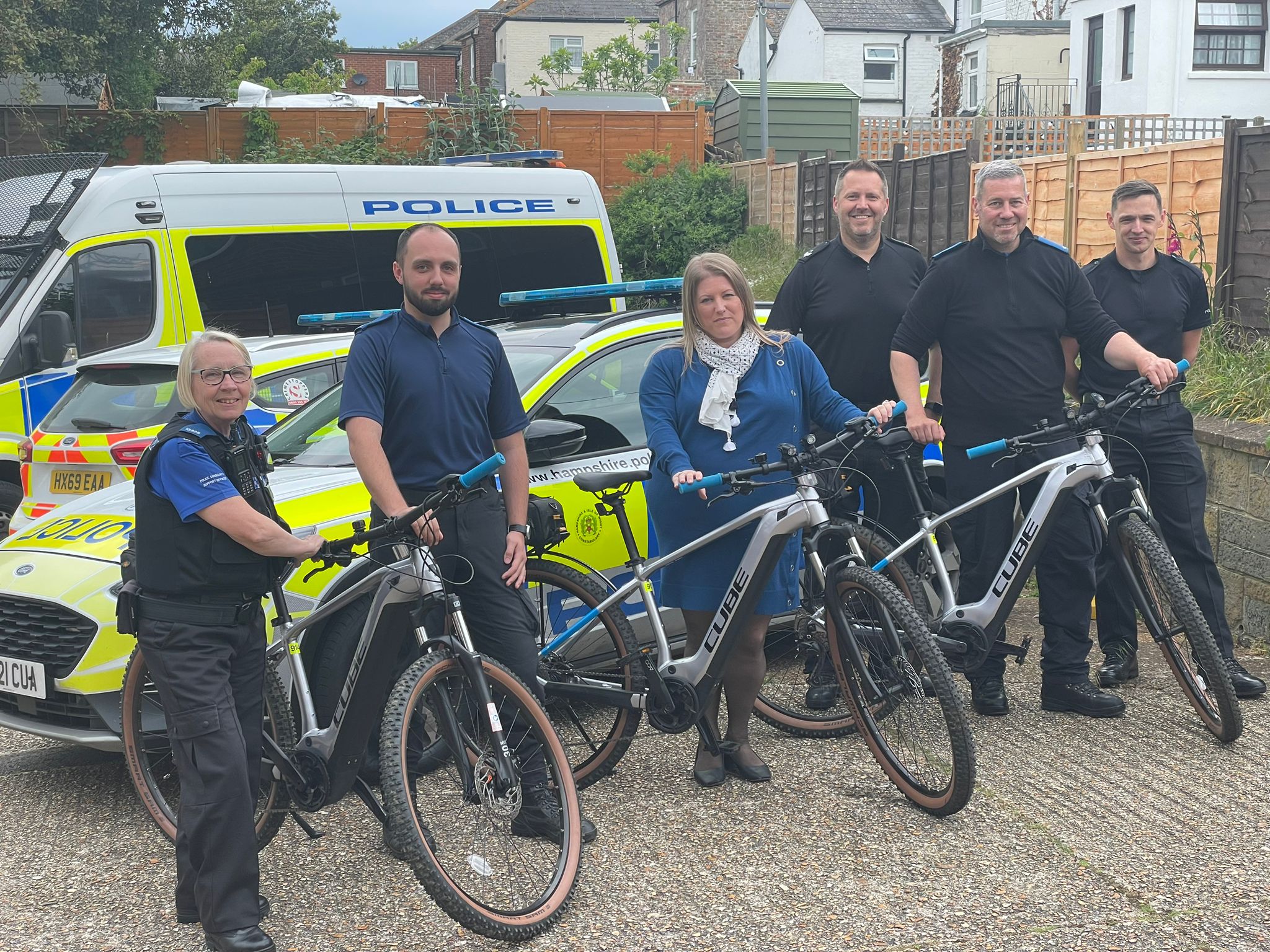 The Police and Crime Commissioner, Donna Jones, has witnessed first-hand how power assisted bicycles are helping to drive down anti-social behaviour (ASB) on the Isle of Wight.
The Commissioner provided the funding for four electric bikes for the South Wight Neighbourhood Policing Team (NPT) to target ASB in Sandown, Shanklin, Lake and Ventnor.
The bikes have been in operation since March and officers have already reported their positive impact with longer patrols, more than 600km covered, and a greater ability to target locations and individuals.
Since their introduction, the e-bikes have contributed to two arrests, three stop searches, increased intelligence gathering, and a dramatic rise in ASB hotspot patrols.
In a visit to meet the South Wight NPT today, the Police and Crime Commissioner praised the dedication of the officers: "I'm really pleased to see that these e-bikes are having such a positive effect because as Commissioner my pledge to keep families, communities and businesses safe means increasing the visibility of the police.
"These e-bikes are helping officers get out and about for longer and enabling them to cover more areas effectively so the public can feel safer.
"My ASB Taskforce fund enables local organisations to work together to tackle such criminality and my commitment to drive down anti-social behaviour won't stop."
Police Sergeant Benjamin Sharland, from South Wight NPT, said: "We're delighted to have already seen the benefits of the e-bikes as they can patrol our ASB hotspots more efficiently and they also have a greater visible presence in our towns.
"Physical patrolling can sap your energy especially as we welcome summer and the hotter weather so these e-bikes, with the speed and accessibility they offer, are invaluable."
"Public feedback has also been incredibly positive and officers are being stopped regularly while on patrol as people comment on the e-bikes and how they're contributing to covering more areas and ultimately catching more offenders."
The bikes are part of Operation Spider, which tackles ASB and associated crime such as drug-related activity and serious violence.
The Operation involves a number of agencies, including health and education partners, to tackle the symptoms of ASB and identify the root causes enabling additional support to be provided to young people involved in particular, to help divert them away from this type of activity.