Constabulary commended for relentless crackdown on County Lines
25 October 2023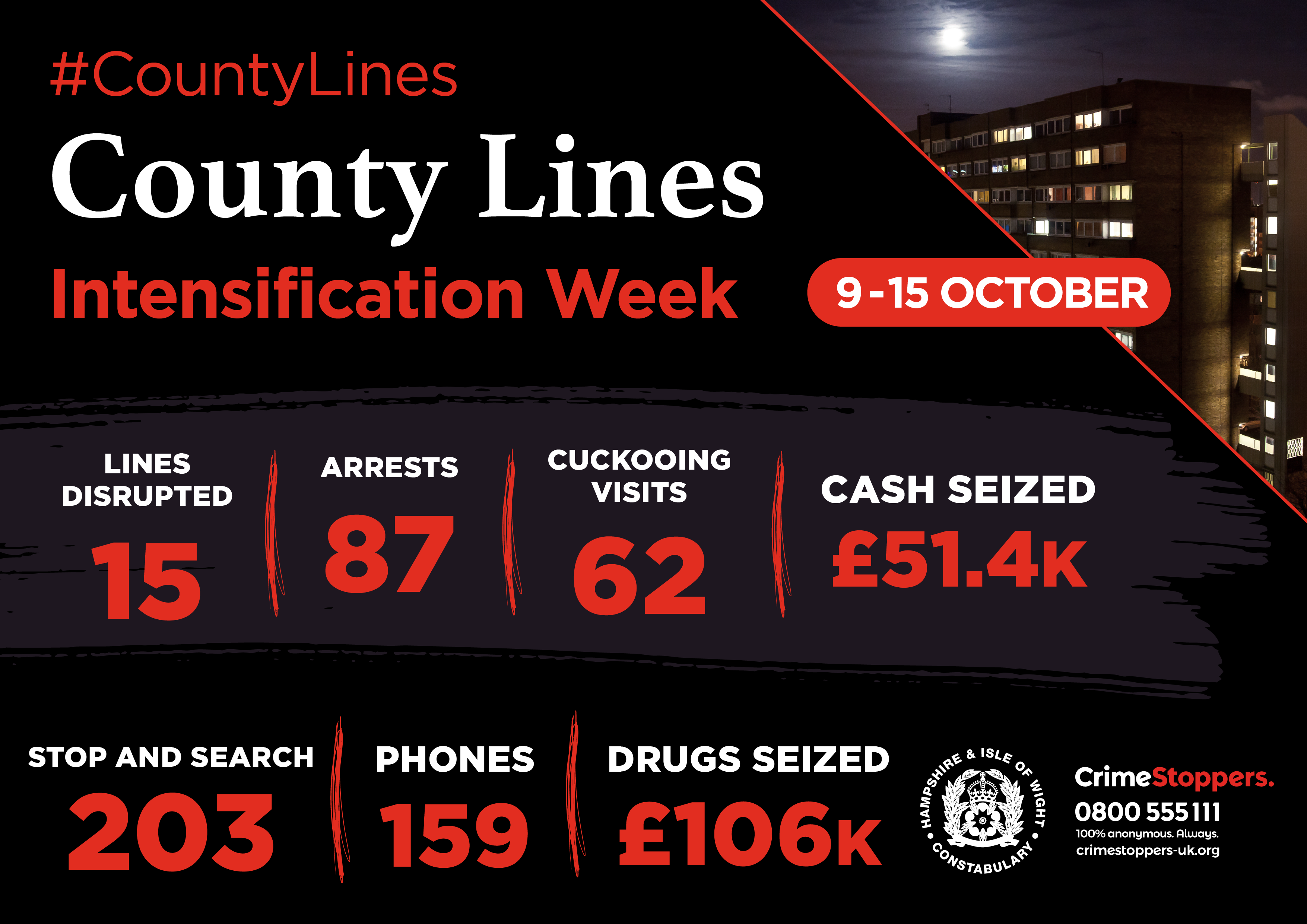 The Police and Crime Commissioner, Donna Jones, has praised officers across Hampshire and the Isle of Wight for their rigorous disruption of drug gangs across the two counties.
The County Lines Intensification Week, co-ordinated by the National Police Chiefs' Council (NPCC), ran from 9 to 15 October 2023.
Across Hampshire and the Isle of Wight, 15 County Lines were disrupted with 87 arrests, and the seizure of £51.4K cash and £106K worth of drugs.
There were also 203 stop and searches, 13 drug warrants executed, and 159 mobile phones seized.
PCC Donna Jones said: "County Line gangs are ferocious and destructive forces that sweep through our communities destroying everything in their path, so I'm really pleased that this unrelenting action across Hampshire and the Isle of Wight has sent such a clear message to these despicable criminals."
County lines refers to organised criminal groups (OCGs) who use phone lines to move and supply drugs, usually from cities into smaller towns and rural areas.
The OCGs exploit vulnerable people, including children, by recruiting them to distribute the drugs and these criminals can also use a vulnerable person's home as their base, known as 'cuckooing'.
During the week of action, Hampshire and Isle of Wight Constabulary visited 62 cuckooed addresses and 58 vulnerable people, including two children, were referred to support services.
Nationally, 250 county lines were taken down with 1,613 arrests and over 100kg of cannabis and £1.2M of Class A drugs were seized during the Intensification Week.
The County Lines programme was set up by the government in 2019. New Home Office statistics reveal that 1,700 lines have been taken down since April 2022 with 3,300 arrests and 4,100 vulnerable people referred to support services.
PCC Donna Jones says her message is clear: "I'm working hard to keep the public safe and help sustain thriving communities free from violence and exploitation, and I'm committed to making sure that this ruthless targeting of County Lines is a constant policing priority each and every day.
"We won't tolerate illegal drugs of any kind in Hampshire and the Isle of Wight and the Constabulary won't stop targeting these appalling criminals who ruin lives and neighbourhoods."