Communities across Hampshire and the Isle of Wight urged to take a stand against anti-social behaviour
04 July 2023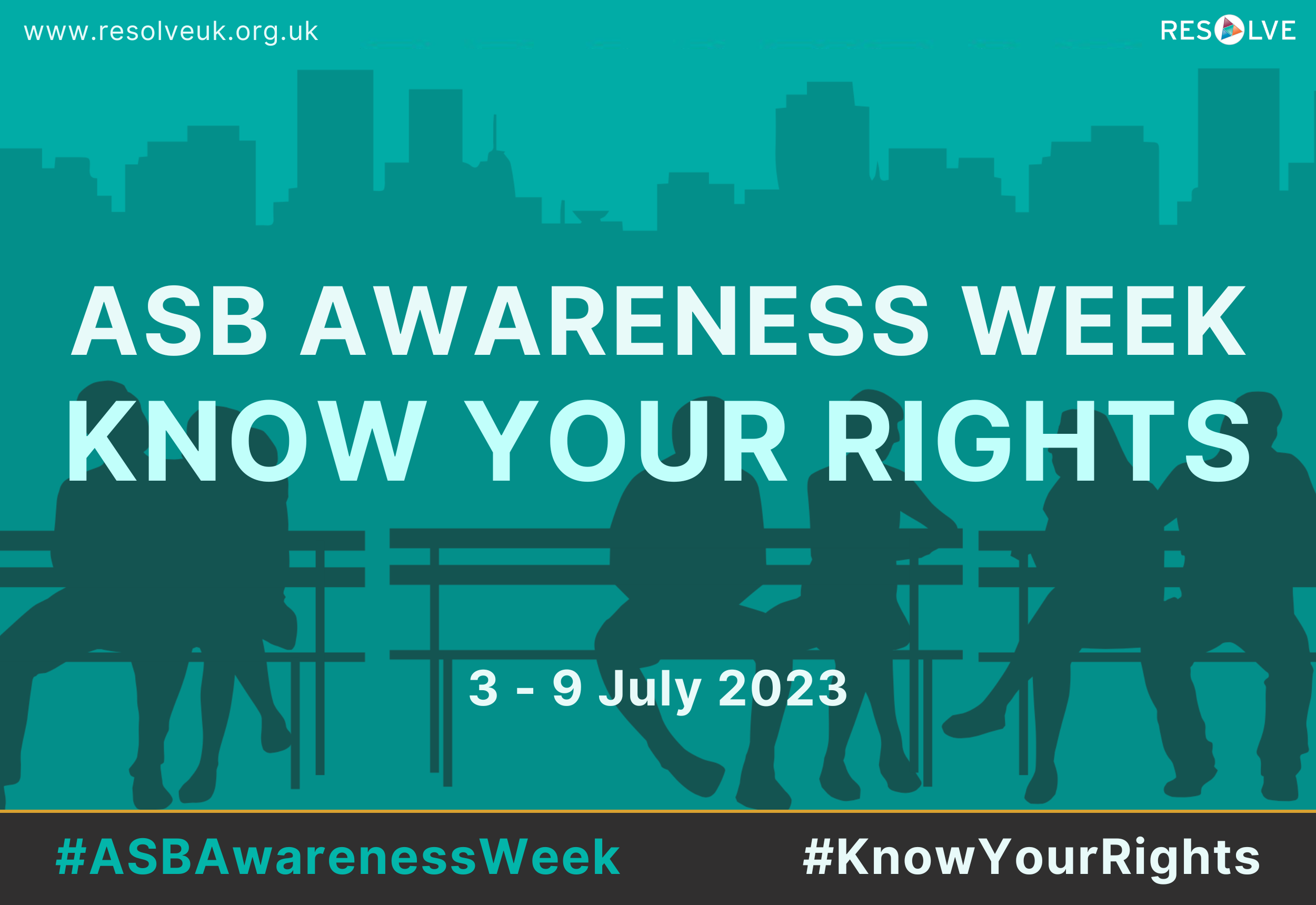 The Office of the Police and Crime Commissioner is showing its support for ASB Awareness Week which has started today. The national campaign, from 3 to 9 July 2023, aims to encourage communities to speak out against ASB and to highlight the actions that can be taken by those experiencing it.
#ASBAwarenessWeek has been organised by Resolve, the UK's leading ASB and community safety organisation, and features events across the UK involving police forces, councils, housing associations, charities, community groups and sports clubs.
The theme for 2023 is Know Your Rights, with a particular focus on the ASB Case Review which is a powerful tool for victims of ASB that only 6% of people know about. The ASB Case Review (formerly known as the community trigger) gives victims of persistent anti-social behaviour the right to request a multi-agency case review.
Recent YouGov research commissioned by Resolve found that almost 1 in 5 people have had to consider moving home because of the impact ASB was having on them and 1 in 10 have actually moved. Despite this, over half of those surveyed who were either a victim or witness of ASB did not report it.
The Deputy Police and Crime Commissioner for Hampshire and the Isle of Wight, Terry Norton, said: "The Commissioner, Donna Jones, and I are committed to tackling ASB as it destroys the lives of victims and communities and can be a precursor to more serious crime.
"Driving down anti-social behaviour is one of the Commissioner's key priorities in her Police and Crime Plan and the ASB Taskforce, which she created two years ago, takes action to prevent and combat ASB, because it's so important that residents and businesses don't suffer in silence."
Since the launch of the ASB Taskforce in July 2021, reports of anti-social behaviour have decreased. From 1 April 2020 to 31 March 2021, there were 37,325 incidents recorded in Hampshire and the Isle of Wight. That figure went down to 29,201 for 1 April 2021 to 31 March 2022, and the total declined even further the following year, 1 April 2022 to 31 March 2023, with a total of 22,418 ASB incidents recorded across the two counties.
Deputy Commissioner Terry Norton added: "The ASB Taskforce, which brings together the police, our Violence Reduction Unit and community safety partnerships, is continuing to have a real and measurable impact across our communities.
"The Commissioner and I want to do everything we can to support the Neighbourhood Policing Teams in tackling ASB and the Taskforce ensures that we all work together effectively so funds can be targeted where they are needed the most.
"Often young people most at risk of becoming involved in violence are participating in ASB so community based initiatives that divert and support young people are among the projects being funded."
Funding from the ASB Taskforce for programmes across Hampshire and the Isle of Wight include electric bikes on the Island so neighbourhood officers can greater target locations and individuals, youth outreach workers in Rushmoor, a youth outreach programme in Ryde on the Isle of Wight, and a beach sports programme for young people in Ryde.
Chief Executive of Resolve, Rebecca Bryant OBE, said: "It's vital that the challenge of ASB continues to be given the priority it needs so that people feel safe in their homes and communities.
"We're delighted that the Police and Crime Commissioner, Donna Jones, and her Deputy, Terry Norton, are supporting this hugely important campaign, as partnership approaches across communities are developed to deal with the growing challenges around ASB."
ASB incidents should be reported to the anti-social behaviour team at the local council, or to the police if members of the public feel they are at immediate risk or in danger.
For more information about #ASBAwarenessWeek, visit www.resolveuk.org.uk