Basingstoke and Portsmouth to receive share of £600,000 funding to make local streets safer
03 June 2021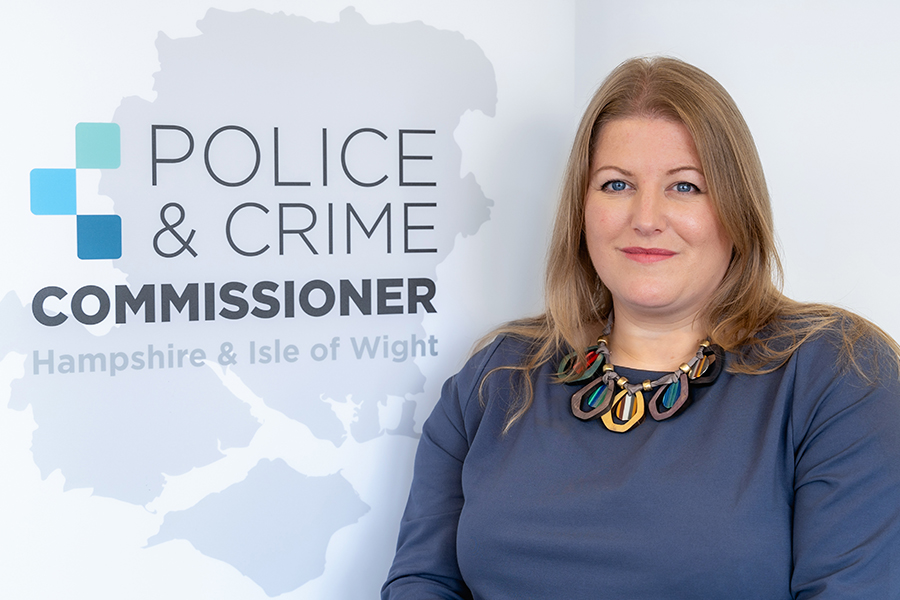 Hampshire and Isle of Wight's new Police and Crime Commissioner Donna Jones has together with local partners secured a total £600,030 of Government funding to help make local streets safer as part of the second Safer Streets funding round.
The Safer Streets Fund is a Government initiative designed to reduce acquisitive crime by providing Police and Crime Commissioners and local authorities with funding to implement proven crime prevention measures in the areas worst affected by burglaries and robberies.
The PCC's office and local partners submitted separate bids for a number of areas:
£275,179 has been allocated to Basingstoke (Eastrop)
£324,851 has been allocated to Portsmouth (Charles Dickens ward).
Police and Crime Commissioner Donna Jones said: "Over the last year people have told me that they don't just want to see crime going down, they also want to feel safer. Improving street lighting and CCTV coverage, assisting residents with security systems for their properties, and generally making it harder for criminals to commit burglaries and robberies in some of the worst affected residential areas will achieve that.
"The Safer Streets fund is a great Government initiative and I am really pleased that together with partners in those affected areas we were able to secure this essential funding."
In Basingstoke, the project will focus on security systems for residents to help prevent shed and garage burglaries, bike marking kits, and improved CCTV and street lighting in dark and secluded parts of the area and in the city centre.
Basingstoke MP Maria Miller said: "Basingstoke is a safe community and our local Police work hard to keep it that way, but this extra funding from the Government will help address some of the concerns that people have raised with me, particularly residents in the town centre. Extra street lights, help with better security systems for homes and garages will all make sure people feel safer.
"Community safety is a real priority for Basingstoke and this extra funding has been secured because our Police and Crime Commissioner works in partnership with the local Basingstoke Council to secure support for the community.
"How crime affects a community shifts over time. So it's really important to hear regularly from residents about community safety in their part of the Borough. I am meeting residents in the town centre on 24 June to discuss community safety. For more details email my office."
Basingstoke and Deane Borough Council's Cabinet Member for Communities, Planning and Infrastructure Cllr Simon Bound said: "I am delighted that the Hampshire Police and Crime Commissioner's bid for funding to implement new security measures and support residents in the town centre and Eastrop to feel safer in their area has been successful. We look forward to working with them to deliver the programme.
"Crime in any form is completely unacceptable and has a huge impact for victims. Ensuring residents feel safe is a key priority for the council and alongside the work of our community safety team, we continue to work closely with the Police and Police and Crime Commissioner to address key issues across the borough."
In Portsmouth, the project will include improved street lighting, the redesign of some secluded areas and vegetation management to improve lines of sight and deter drug use, and the installation of buggy and wheelchair friendly gates to reduce the use of motorbikes on footpaths.
Cllr Gerald Vernon-Jackson, Leader of Portsmouth City Council, said: "The funding allocated through Safer Streets provides invaluable financial support to enhance our streets in one of the most deprived and high-crime areas of Portsmouth.
"Burglaries, vehicle theft and street crime have a corrosive effect in our communities; making people apprehensive about leaving their homes and walking around their own neighbourhood. This funding will allow us to reduce crime and enhance community safety in the Charles Dickens ward."
A similar project in Southampton earlier this year implemented improved lighting, CCTV and gating in one of the city's parks and surrounding residential area. A survey amongst residents showed that these measures increased feelings of safety: 81% of those asked that having effective street lighting would make them feel safer, and 75% said that having effective CCTV would make them feel safer.
Following the success in Southampton, the measures will be delivered in partnership with local councils, community organisations and residents. All projects are due to be completed by 31 March 2022.