ADDICTIONS IN FOCUS: How Police and Crime Commissioner Donna Jones is tackling drug related harm and reoffending in Hampshire and on the Isle of Wight
03 April 2023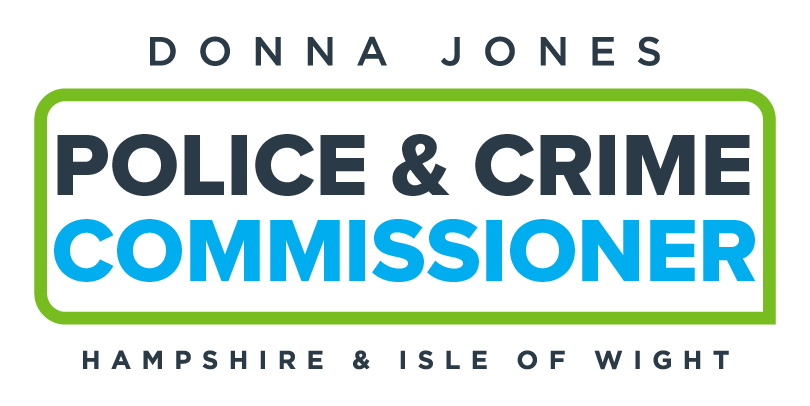 Police and Crime Commissioner Donna Jones has set up a Pan Hampshire Combating Drugs Board, the first of its kind in the Solent region, to bring together senior leaders and organisations across the two counties to support the implementation of the Government's 10 year national Drug Strategy – from Harm to Hope.
The partnership brings together the police, public health, probation, OHID, NHS England, and HM prison service to maximise opportunities for treatment, prevention, and enforcement with the goal to drive change from every level of dealing with substance misuse.
The Commissioner is leading the Board to support partners in working together to crack down on drug use linked to crime and reoffending, taking a public health approach to tackle the problem.
Police and Crime Commissioner Donna Jones said: "The issue of drugs is much bigger than simply the taking of illegal substances. Drugs are the driving force behind a lot of crimes, with half of all homicides and thefts believed to be linked to drugs.
"Drugs are often the root cause of anti-social behaviour; which as Commissioner I know is an issue that many residents are concerned about. The government has just launched its strategy to clamp down on anti-social behaviour. One of the plan's commitments is banning the sale of nitrous oxide, or 'laughing gas' because of the links it has to young people's health and offending behaviour.
"This is why it is vitally important that the right steps are taken to tackle the issue of drugs, including taking robust action to cut supply, treating addiction and changing attitudes towards drugs.
"In Hampshire and the Isle of Wight, the police relentlessly prioritise cracking down on supply lines and exploitation. But this is only part of the solution, to truly combat the issue of drugs, we also need effective treatment, rehabilitation, and education.
"Early intervention and education in the lives of young people are paramount if we are to kerb the demand long term; leading to less exploitation, less crime, less ASB, less pressure on public services and less homicides and violence on our streets."
Treatment and recovery – 46% referred to treatment from police custody suites
The Association of Police and Crime Commissioner's recently published their 'Addictions in Focus' report which shares how Police and Crime Commissioners across the country are taking new approaches to tackle the issue of drugs and contributing to the government's from Harm to Hope strategy.
There are innovative approaches taken in Hampshire to help those who are dependent on drugs which fuels their offending. One of those projects is Drug Testing on Arrest.
Police and Crime Commissioner Donna Jones, explained: "We know that there is a link between drug dependency and crime. If we can help break that cycle, we can reduce crime and protect victims. The Drug Testing on Arrest initiative supports a number of areas:
Identify individuals who misuse specified Class A drugs and commit crime to fund their habit
Helps ensure people are steered out of crime and into treatment pathways at the earliest opportunity
Whilst a positive test cannot be used as evidence of a previous crime it can be used to require an Assessment with a Drug Referral Worker
A positive test can be used as a factor in determining police bail and restrictions whilst on bail by the courts
335 people were eligible to be tested (not all were tested due to having no indication of drug use to commit the offence or the offender was a child)
261 were tested equating to almost 78%
178 were trigger offenders with associated intelligence of suspected drug use
Police referred 157 offenders to commissioned treatment services to help deal with their addictions
Of those, 30 failed to attend their assessment (19%) with 26 being prosecuted.  Police believe that if treatment services were based in custody suites this figure would dramatically reduce.
Following its initial success the Commissioner has provided £482k of funding from the Drug Confiscation Fund to enable the scheme to be rolled out more widely to all four Custody Centres in Hampshire from April 2023.
Reduce demand, shift attitudes – providing facilities for people to recover and rehabilitate
The Commissioner also funds the homelessness and substance misuse charity Society of St James (SSJ) to provide support workers in the Integrated Offender Management Houses (IOM) in Gosport, Portsmouth and Southampton with plans for a fourth IOM House in Basingstoke. The houses encourage healthy lives free from crime and substance abuse, predominantly for those leaving prison.
Residents take part in a weekly timetable of meaningful activities and engage with peer mentors to help them tackle underlying causes of offending.  There are 21 bed spaces in total housing a highly vulnerable group: Between Jan and March 2022, 50% were victims, perpetrators or grew up around domestic abuse, 85% were not in employment or education, 95% had self-reported mental health issues, and 55% grew up with family members with substance misuse.
IOM House Workers made 51 referrals to support services, including 17 for physical health, 14 for drug and alcohol misuse, eight for mental health.
The programme has demonstrated significant impact on social outcomes, including engagement in life skills development (100%), sports activities (100%), voluntary work (80%), courses or training (50%), peer support sessions (40%), and paid employment (20%).
All residents engaged in mandatory substance misuse treatment after one month. The average length of stay in the programme was four months and three residents successfully left the programme to live with family.
Of 20 residents, 65% were aged over 35 years, 100% were male, 95% were White British and 10% had a disability.
Donna Jones, Police and Crime Commissioner, said: "Integrated Offender Management (IOM) is a nationally recognised way of managing offenders and is proven to be the most effective way to reduce re-offending and keep communities safer.
"The IOM houses give people a home, providing them with support to stay off drugs and equipping them with new skills and knowledge. This includes training, volunteering and employment opportunities, engaging with sporting activities, becoming a peer mentor and budget management.
"Interventions must operate at every level across Hampshire and the Isle Wight to prevent drug use and associated criminal activity and also support those already involved in the criminal justice system.