Stop & search: 45% people not confident in knowing their rights
28 February 2020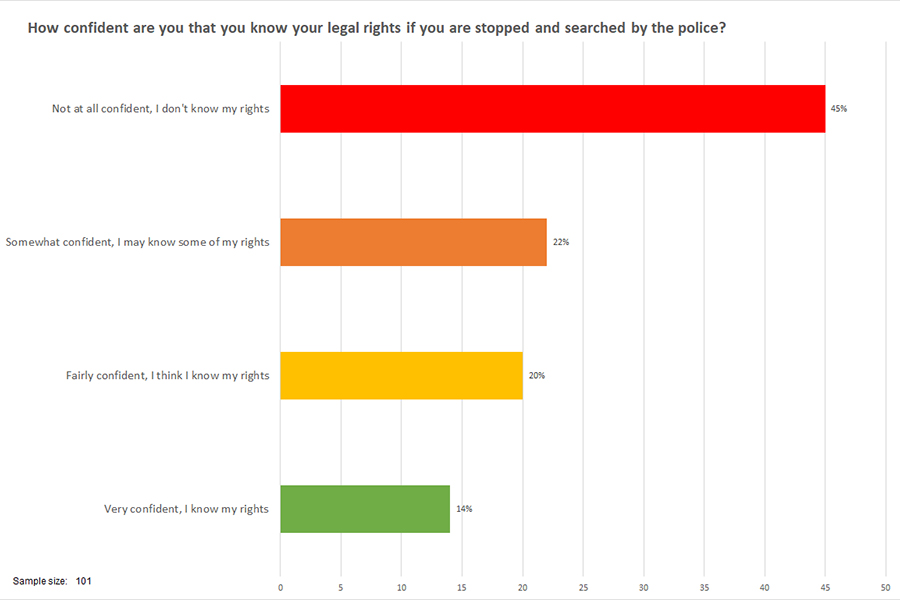 As part of Justice Week 2020, the Office of the Police and Crime Commissioner ran a poll of knowledge about legal rights. We asked people "How confident are you that you know your legal rights if you are stopped and searched by the police?"
45% of over 100 people said they were not at all confident, with a further 22% said they "may know some of their rights".  Only 14% said they were confident they knew what their rights were if stopped and searched by the police.
In the fight against crime, especially crimes where weapons and/or drugs are suspected to be involved, the power is proactive and has a protective nature.  Public misunderstanding around how the use of this power is and can be used has highlighted the need for continued awareness and education.
The police can stop and question you at any time – they can search you depending on the situation. A police community support officer (PCSO) must be in uniform when they stop and question you. A police officer doesn't always have to be in uniform but if they're not wearing uniform they must show you their warrant card.
A police officer has powers to stop and search you if they have 'reasonable grounds' to suspect you're carrying:
illegal drugs
a weapon
stolen property
something which could be used to commit a crime, such as a crowbar
You can only be stopped and searched without reasonable grounds if it has been approved by a senior police officer, known as a Section 60 order. Section 60 Criminal Justice and Public Order Act 1994 (s.60) gives police the right to search people in a defined area during a specific time period when they believe, with good reason, that: serious violence will take place and it is necessary to use this power to prevent such violence; or that a person is carrying a dangerous object or offensive weapon; or that an incident involving serious violence has taken place and a dangerous instrument or offensive weapon used in the incident is being carried in the locality.
Section 60 orders have been used recently in the Hampshire Constabulary area, such as in Southampton and Basingstoke.
Find out what your rights are if stopped and searched by the police, and what you can expect to happen during that process.