PCC Michael Lane visited the site of the Eastern Police Investigation Centre (PIC) in Portsmouth with young people from his Youth Commission, the Volunteer Police Cadets, representatives from Hampshire Constabulary, and the contractors Mace Group.  The group celebrated the time capsule they buried at the site with a tour of the custody area.
Youth Commission members and the Police Cadets contributed items for the time capsule, due to be opened in 2069 – 50 years after the development is due to open later this year.
Michael Lane, said: "This is a really important day as part of the journey we take in order to deliver the new police investigation centre on time, on budget, and in better quality. It's about a great partnership, having modern buildings and looking to the future.  I really appreciate the aspirations for 25 years and 50 years into the future, which the young people here have added to the time capsule."
Nick Abbey, Framework Director at Mace, said: "Looking forward, who knows how policing will have changed in the next 50 years before this time capsule is opened again. I'm really proud of what the team here has achieved and I would like to thank the Youth Commission and the Police Cadets for helping us to do this."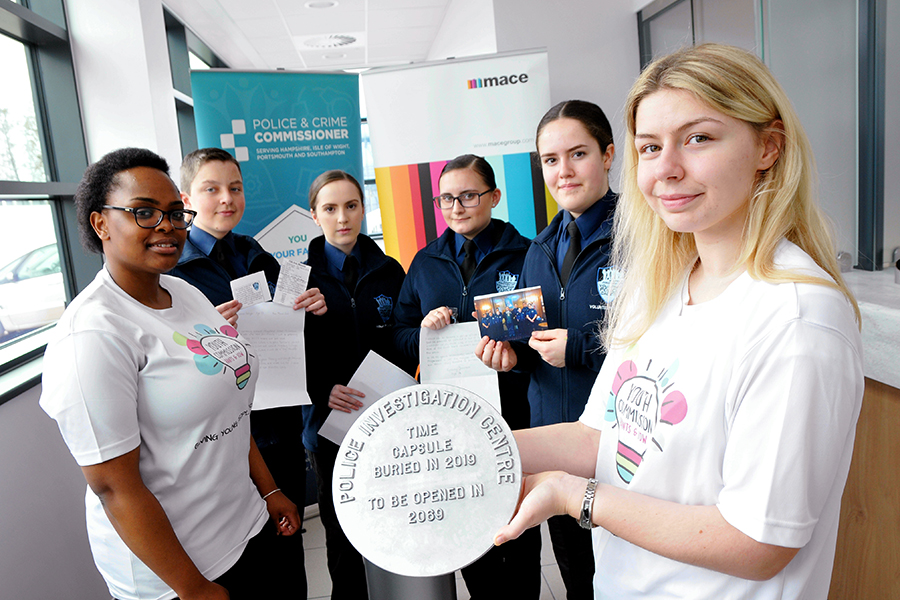 The PIC located on Portsea Island, and will serve Portsmouth, Havant, Gosport, Fareham and parts of East Hampshire by providing modern and fit-for-purpose facilities, and a central investigation function. It includes a 36-cell custody suite, support rooms and investigative areas, and will house 430 officers, investigators and staff.
Mace was appointed to the project through the Southern Construction Framework three years ago, and has provided full design services and all aspects of construction delivery from stage 2 onwards, including in-house sustainability services, achieving BREEAM very good standard. Mace also provided the design, development and construction of the Northern PIC for Hampshire Constabulary located in Basingstoke.