This week the Commissioner and his team welcomed practitioners from local authorities, housing associations, service providers and Hampshire Constabulary to our 'Connecting partnerships to keep our communities safer' conference.
Delegates learned about the work of the PCC's office with various academic researchers and how they can benefit from that research too.  They also explored how they can further utilise the community safety data made available by the PCC's team and – more importantly – better connect with each other on shared interests and initiatives.
OPCC and businesses partnership tackling hate crime
This week the Safer North Hampshire Partnership, Enterprise Ltd, and the Assistant Police and Crime Commissioner launched a new Business Crime Guide to support employees affected by hate crime. The guide is another example of how we all need to come together to tackle hate crime. It is the latest in a series designed to support businesses, managers and employees in dealing with crime in the workplace, and is available to download for free here. The collaborative project has seen businesses, local authorities and crime experts work together to provide comprehensive advice accessible to all businesses in the Hampshire Constabulary policing area and beyond.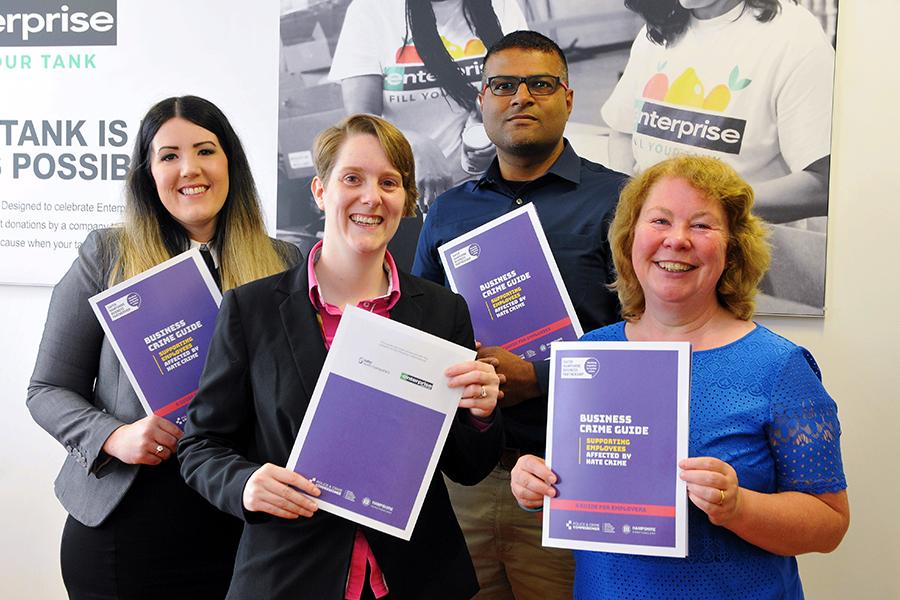 Partnership working in criminal justice
The Commissioner and Assistant Commissioner attended the quarterly Local Criminal Justice Board (LCJB) meeting this week. The Board brings together agencies with responsibility for delivering criminal justice services for communities in Hampshire and Isle of Wight. This includes representatives from probation, courts, prisons, youth offending teams, defence, crown prosecution service (CPS) and the community rehabilitation company (CRC) and is chaired by the Chief Constable. The Board reviewed progress on its priorities in the areas reducing offending and supporting victims, and also discussed topical issues facing the criminal justice system and what collect action they can take.
Meeting the Chief Executive of the APCC
The Commissioner was pleased to welcome Susannah Hancock, the Chief Executive of the Association of Police and Crime Commissioners to the office this week. They also visited the PCC funded Victim Care Service in Chandlers Ford and met a member of the Youth Commission who spoke with Susannah about their priorities and the importance of Commissioners engaging with young people and listening to what they have to say. Susannah was also given a presentation on InterAct from the Head of Performance and Information, which illustrates how the PCC uses data intelligence to scrutinise force performance.
Keeping young people safer online
Due to extensive demand from local primary and secondary schools, the Commissioner has announced he will be extending his Cyber Ambassadors Scheme for another two years to 2021. The scheme, which was developed by his Youth Commission, educates children and young people on how to be safe online through peer to peer training.
The idea behind Cyber Ambassadors was informed by the Commissioner's Youth Commission, which through consultation with thousands of young people identified the growing risk faced by children and young people when online. As a result, the Youth Commission developed the scheme to provide peer-to-peer training and support on cyber safety in both primary and secondary education. Since May 2017 Marcia Tanyanyiwa who is the Cyber Ambassador Coordinator, previously a Youth Commission volunteer and member, has delivered training to 30 schools and 264 Cyber Ambassadors
To sign up to the scheme or for more information, please contact the Cyber Ambassador Scheme Coordinator at the Office of the Police and Crime Commissioner on 01962 871595 or opcc.comms@hampshire.pnn.police.uk.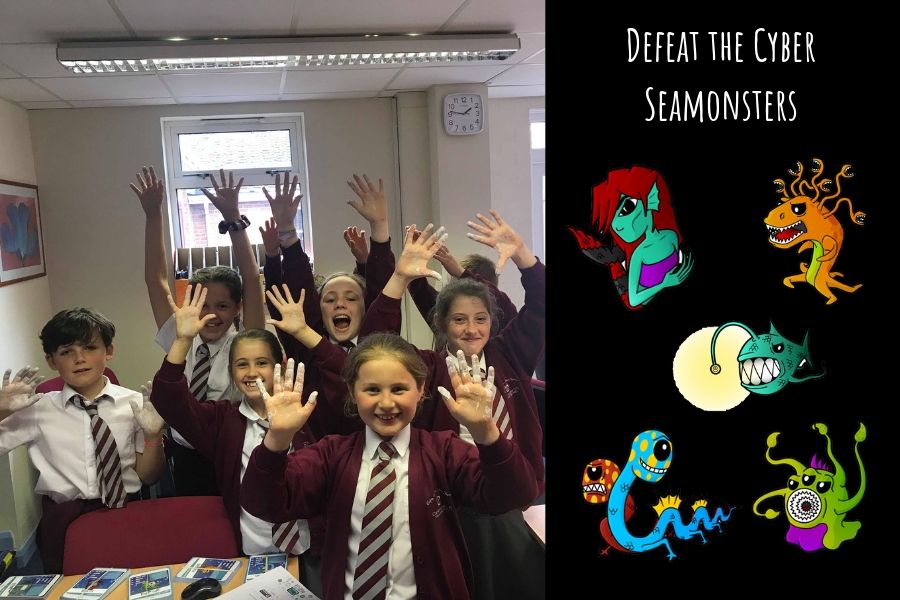 Supporting Hampshire Scouts
Assistant PCC Enzo Riglia and Cyber Ambassador Coordinator Marcia Tanyanyiwa attended the Hampshire Scouts Annual Review in Winchester last night, hearing about their achievements and listening to Joe Doherty's account of his Antarctic expedition when he became the first Scout to ski to the South Pole and kite-ski back.