How your will your money be spent?
The overall budget for 2021/22 is £387million. This year the additional funding raised through the increase in the policing element of the council tax will provide more than £10million of essential funding. All of this money will help to protect local policing.
The budget set by the Police and Crime Commissioner will deliver:
Investigation of up to 26,000 more crimes
Maintaining our PCSO numbers
The pursuit of 300 more of the most dangerous criminals, with a focus on serious violence and drug related harm
Reduce offending by a further 1,000 crimes
Safeguarding an additional 12,000 vulnerable people, including 240 more high risk children
Enable targeted support for rural initiatives
More new officers recruited sooner
Provide infrastructure and support to the Uplift programme and continuation of delivery of policing services on a sustainable basis
Better justice for victims
The Commissioner determines the priorities for the Chief Constable, and also how the funding received is allocated between policing and wider prevention and intervention work that supports victims, reduces offending, protects the vulnerable, and reduces the demand on policing.  The vast majority, 99%, goes directly to support policing our area.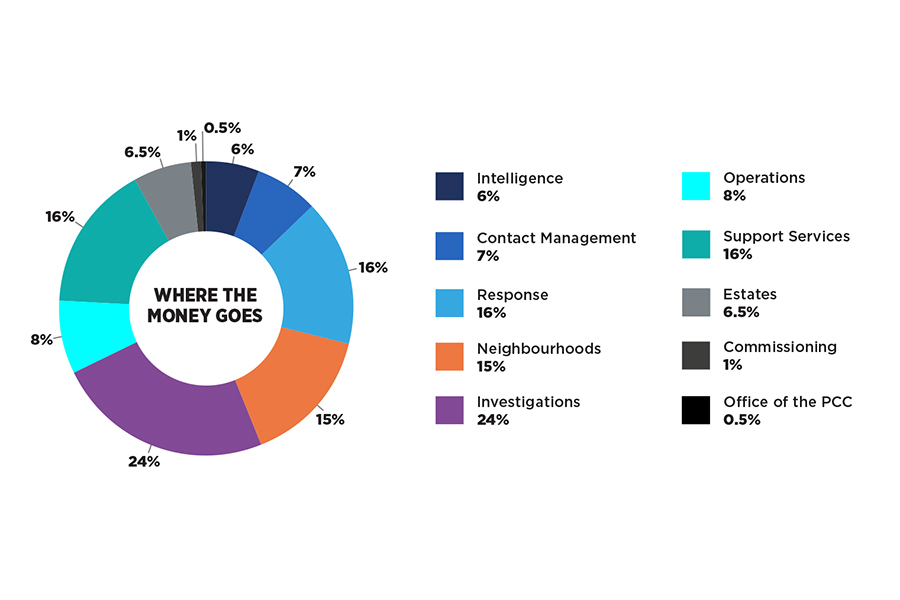 Within policing it is up to the Chief Constable to determine how police resources are allocated and which incidents are investigated. Decisions on individual service changes are based upon the professional judgement of the Chief Constable.
Read more…
Policing: an overview of how Hampshire Constabulary plan to spend their budget.
Statement of accounts: the detail of past spending by Hampshire Constabulary and the PCC.
Financial information: monthly spending by the Constabulary and PCC over £500, contracts and standing orders, and the gift register.