Current Funding
It is important that the Constabulary is able to focus on policing – identifying threats and risks, protecting the community and pursuing those who wish us harm.
The Commissioner looks beyond policing – seeking to help prevent crime and offending, to support the vulnerable and those who have been victims of crime. The PCC's work addresses the needs of victims beyond the immediate policing of the crime, helps police officers to be effective in their role, and ensures that as many police officers as possible are released to the frontline.
One of the ways the PCC does this is by working with, and providing funding for, a variety of services that seek to:
prevent people from becoming victims;
help those who have been affected by crime on their recovery journey;
help people avoid triggers that might otherwise lead them into anti-social behaviour or crime.
Full list of current funding
Ministry of Justice – Domestic Abuse Sexual Violence Uplift funding – 01.04.21 to 31.03.22
Performance of current funding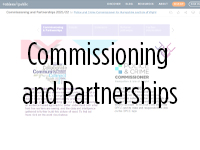 Apply for funding
Feeling inspired? If you've got a project that would support the Commissioner's priorities and benefit from funding, learn how to apply here.
Presentation to the Police and Crime Panel December 2020
Additions to funding 2020/2021
| | |
| --- | --- |
| Ministry Of Justice |   |
| Sexual Crime Therapeutic Service | 474,807 |
| Independent Sexual Violence Advocates | 106,185 |
| MoJ COVID Funding – 1st Round | 615,611 |
| MoJ COVID Funding – 2nd Round | 195,604 |
| Total MoJ funding | 1,392,207 |
| Home Office |   |
| Violence Reduction Unit | 880,000 |
| VRU Micro Charity Funding | 46,820 |
| Domestic Abuse Perpetrators | 244,492 |
| Total Home Office Funding | 1,171,312 |
| GRAND TOTAL | 2,563,519 |
Grants round
Up to £50k per project.
Total bid for – £2,839,889 from approximately £1,000,000 allocated for this grants round.
Open 1 October to Friday 30 October at 4pm.
93 Applications received
Child Criminal Exploitation and Child Sexual Exploitation (5)
Crime Prevention (8)
Cyber Behaviours (2)
Domestic Abuse and Adolescent to Parent Violence (16)
Female Offenders (2)
Hate Crime (4)
Hidden Harm (2)
Modern Slavery (1)
Reducing Reoffending (8)
Restorative Practices (1)
Sexual Abuse (5)
Supporting Victims (6)
Youth Diversion (33)
Decision process
2 November
Community Safety Partnerships
Acting Superintendent Mark Lynch
Gary Wright at HMP Winchester
Domestic Abuse and Sexual Crime Commissioners.
CSPs meetings between 9 and 20 November.
Scoring on Monday 23 November and will continue until Friday 11 December.
Panel includes theme leads from different agencies
Aim signed off by the Commissioner in January for applicants to be notified of the results in February.