The PCC attended the passing out ceremony of newly-trained police officers this week, and the office have been working at events on the Isle of Wight, in Portsmouth, Fareham and Havant to keep the public informed about our work.  We've also been working alongside the Constabulary to tackle serious sexual offences, developing resources to support police officers, and the Commissioning team have been exploring partnership working to access funding for young people in our communities.
Working towards 210 new police officers for Hampshire
The Commissioner was proud to attend the passing out parade of some of the new police recruits funded by the council tax increase this year.  210 new officers and 65 police investigators will be recruited by the end of the year thanks to the support of the public.
Speaking to the new police officers at the event, the Commissioner said: "I am delighted that you have chosen to serve the people of Hampshire. Policing today faces significant challenges, with increasing demands, greater complexity and changes in criminal activity. You are part of the future of policing, and my promise to you, and to your families, is that I will continue to fight for the resources you need to meet the tasks you will face, and to champion the outstanding work that you are about to do in the company of experienced colleagues."
We've also been out and about this week as we come into the public events time of year, when we enjoy engaging and consulting with the public on their priorities and letting them know more about the role of the Police and Crime Commissioner.
Royal Isle of Wight County Show
We were pleased to join Hampshire Constabulary Country Watch Team at this year's event. The Police and Crime Commissioner has provided funding for a number of rural crime prevention initiatives including a dot peen property marking machine which was on show.   People at the show had the chance to bring along equipment to be marked or to book an appointment with officers to get larger equipment marked. Almost 150 people completed our consultation cards on where they would like to see funding invested.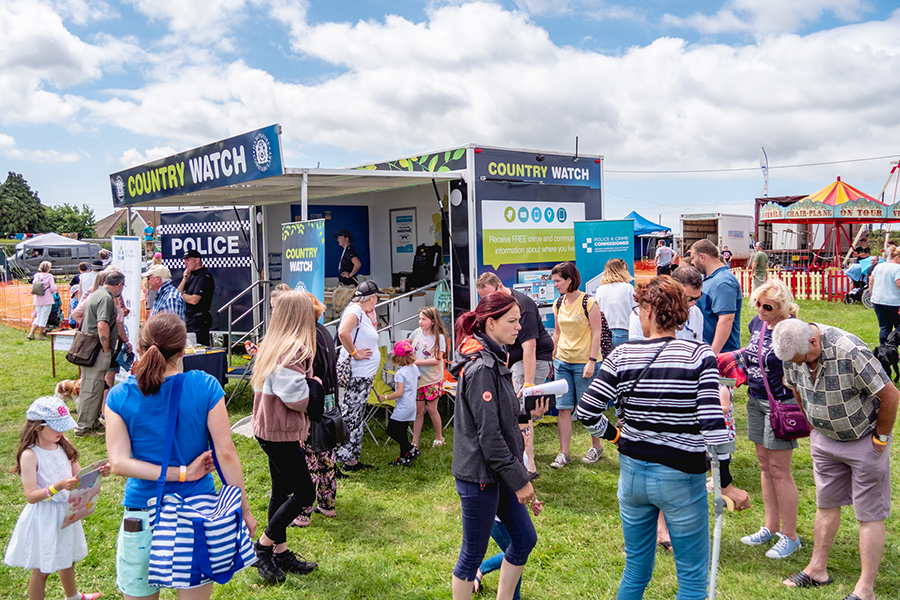 Fareham 999 Day
Members of the office ran a stall at the event hosted by Y-Services for Young People.  We were joined by the Commissioner's Youth Commission and contracted partner Restorative Solutions. The emergency services day is a chance for the local community to meet emergency services and local service partners in Fareham.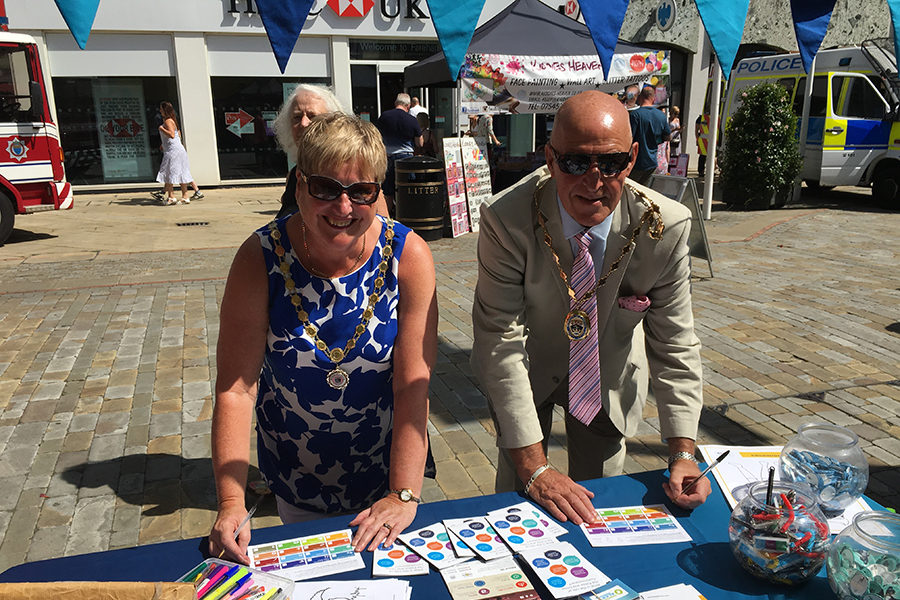 Havant older persons information fair
We had a stall at Havant Older Persons Fair hosted by local MP Alan Mak this week. We were joined by a representative of Restorative Solutions our commissioned Restorative Justice partner.  The event was attended by 36 local organisations and agencies offering a wide range of services locally.  We gave advice to local residents on how to avoid fraud and scams and provided them with our Safer Pack which were developed with Hampshire Constabulary and other partners. We also talked to residents about their views on the policing budget and asked if they would support an increase in council tax to pay for more policing next year and which priorities they would like to see the funding invested in. We engaged with over 200 residents, 100 safer packs were given out and 50 people gave their views on the policing budget.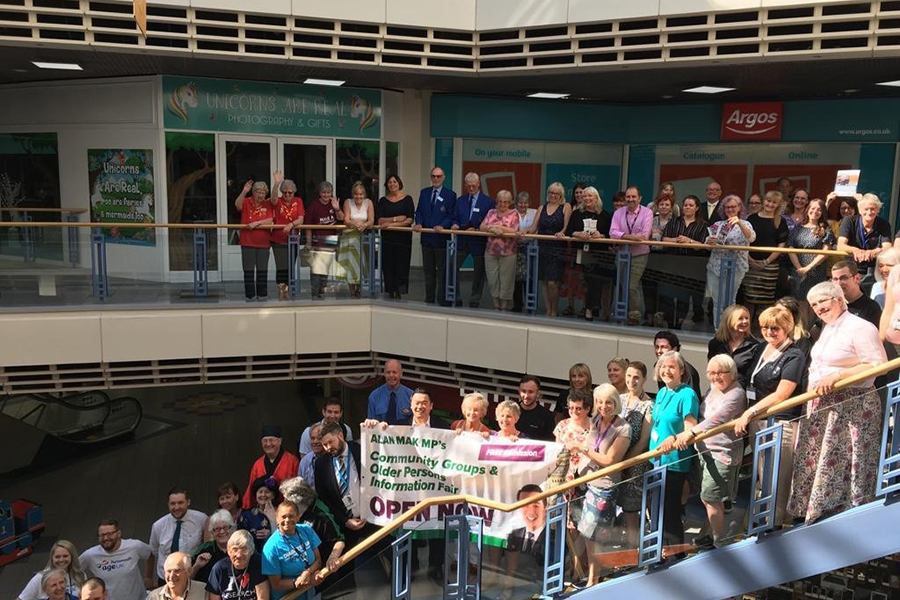 Presenting progress
The Commissioner had his quarterly meeting with the Police and Crime Panel this week, when he presents the progress of his delivery plan and priorities set out in his Police and Crime Plan. He also presented the latest progress on the recruitment of the new police officers which are funded by the increase in council tax this year. Over 60 of the 210 new police officers have already been recruited to date and the Commissioner was proud to attend the passing out parade of the latest recruits this week at Netley.
Working in partnership
The Assistant Police and Crime Commissioner was pleased to officially open the Society of St James' Café in the Park in Portsmouth this week, and support their initiative of 'Pay It Forward'. This is a new initiative will enable customers to buy a hot drink or snack for a complete stranger who is in need. Society of St James is one of the partners supported by the Commissioner through his Community Fund. The charity provides support and housing for vulnerable adults including emergency accommodation and a day centre.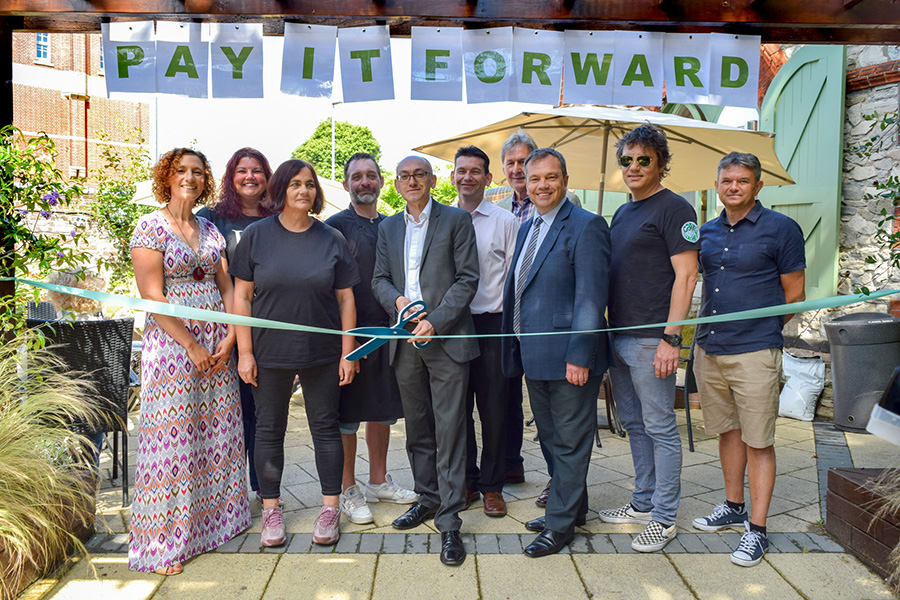 Other activities in the office this week…
The Victim and Witness Commissioning and Contracts Manager attended the Hampshire Constabulary Serious Sexual Offences Silver Board last week, which is chaired by DCI John McGonigle and meets on a quarterly basis.  The Serious Sexual Offences (SSO) Silver Group is a multi-agency partnership responsible for providing strategic direction and drive on the response to, and management of, serious sexual offending.  The board is also attended by Hampshire Constabulary, CPS (RASSO), SARC, ISVA provision, Victim Support, CIS'ters, NHS Sexual Health.
A project team in the office is looking to develop an app for police officers to signpost them to commissioned service providers. This will be a valuable source for officers on the frontline to aid early intervention. The work is starting with the collation of a directory of services. Service providers are being very supportive and positive to the initiative. It will be piloted in Winchester.
The Commissioning and Contracts Manager brought together a number of partners from Hampshire Constabulary, Youth Offending Teams, local authority and education for a workshop to explore joint opportunities to apply for funding from the Government's Youth Endowment Fund. The office will be leading an application for this funding to support initiatives that work with 10 to 14 year olds at risk of or involved with serious violence.