This week the PCC attended the Big Band Buffet in Romsey to meet older residents; represented Hampshire, the Isle of Wight, Portsmouth and Southampton at the Association of Police and Crime Commissioners; called for improved and greater information and data sharing amongst partners; and reminded residents about next week's New Forest Show.
Helping to keep older people safer
The Commissioner enjoyed his annual visit to the Big Band Buffet on Saturday at Mountbatten School, Romsey. It was a great event, a mix of brilliant big band music, food laughter and useful advice for older residents on staying safe and well, with a particular emphasis on fraud prevention.
Representing local needs nationally
The Commissioner and assistant PCC have been in London this week attending the Association of Police and Crime Commissioner (APCC) annual general meeting (AGM) and policy meetings.
The AGM focused on a number of issues including child sexual exploitation, an update on transforming forensics capabilities and the National Digital, Data and Technology Strategy. The afternoon included presentations from the Director of the Scottish Violence Reduction Unit and Professor from Cardiff University on what works in reducing serious violence and a discussion on the development of Violence Reduction Units across England and Wales. The Commissioner has recently coordinated a partnership funding bid for a Violence Reduction Unit for the Hampshire Constabulary policing area and is waiting for a response from the Home Office. This unit would enable greater collaborative working to tackle serious violence but also develop ways to that help to prevent it.
They also attended the APCC policy deep dive on road safety which undertook a review of the current position on road safety including an update from the DfT and the Parliamentary Advisory Council for Transport Safety. There was a discussion of initiatives that PCCs can promote and what support is required by victims and an opportunity to learn more about the potential benefits of Community Speedwatch Online.
Reminder to take small items to New Forest Show for marking to prevent theft
Local residents can secure their valuable items by having them marked by Hampshire Constabulary's Country Watch team at the New Forest and Hampshire County Show next week.
From 30 July to 1 August the Country Watch team will be at the show with their new Dot Peen Property Marking Machine that has been funded by the Commissioner. Residents can take along small items, such as garden tools, power tools, mobile phones and tablets and equestrian tack.
For larger items such as plant machinery, tractors and trailers and golf clubs, residents should visit the stand to book a visit from a member of the Country Watch team who can offer property marking at rural locations, including farms and equine centres that could be targeted by thieves.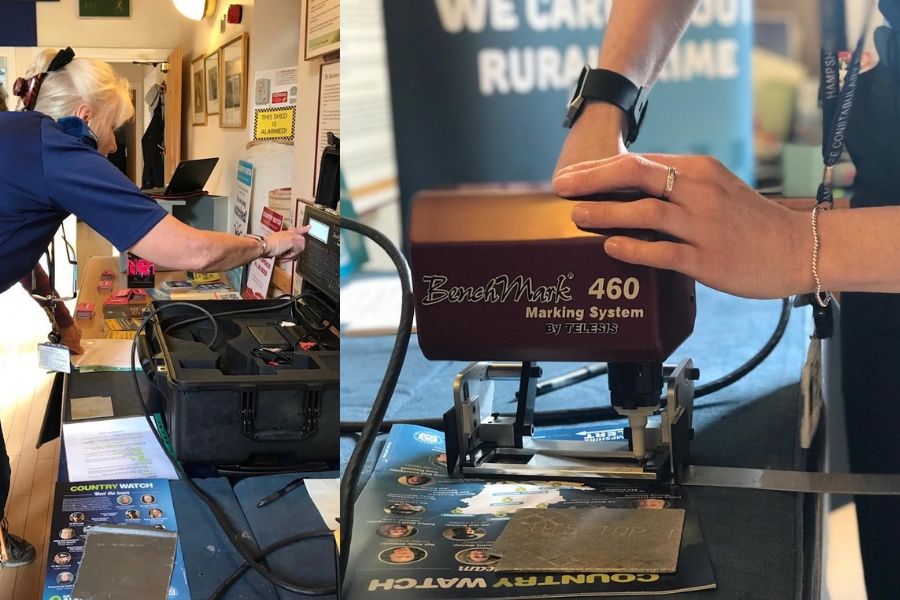 Collaborative data and information sharing
This week the Commissioner called for improved and greater information and data sharing amongst partners following a conference he hosted earlier in the year.
More than 60 organisations and 1,000 practitioners are now using the data and information sharing tools provided by the Commissioner's office, known as InterACT and SafetyNet+. These have been designed to empower partners with easy access to high quality crime and community safety data in their area as well as a secure multi-agency information sharing space. However, even more collaboration between agencies is needed for residents to experience the full benefit of these tools.
The Commissioner commented on the importance of this work: "Data sharing between partner organisations beyond our immediate field of expertise is increasingly important in a multi-agency, preventative approach to tackling issues such as violent crime, and essential to our ability to respond to the challenges of changing crime, technology and demographics.
"Sharing data and creating the tools to use it to create intelligence and actionable, evidence based plans makes sense as it improves both effectiveness and efficiency. But it will continue to be essential that expertise and local understanding sit alongside the ability to see broader context. This conference and the growing partnerships will empower both the local and strategic understanding."


View the video highlights from the last few months which highlights the activities of the Commissioner and members of his office.