Consultations: Have your say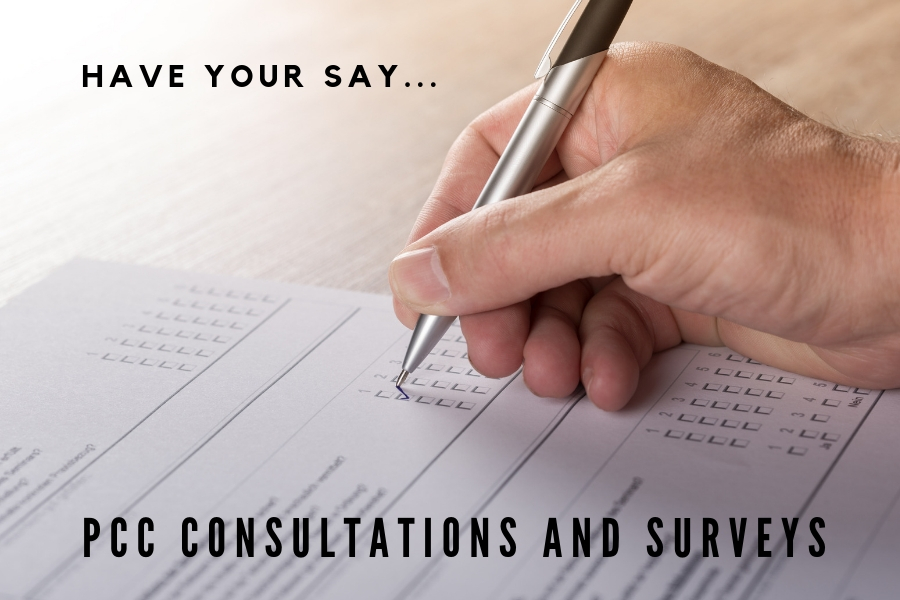 Part of the Police and Crime Commissioner role is to listen, respond, and act upon your views, carrying out meaningful consultation with the public to inform the work of the Office.
Listening to the community, business, specialist partners and the Chief Constable's team, who deliver the operational policing is an important first step before producing a Police and Crime Plan.
Police Precept Consultation – ENDED – Results will be published in the new year.
Thank you to everyone who took part in our annual precept consultation. We had over 8,000 responses from across the two counties. Results from this consultation will be published and shared on this page in the New Year.
Thank you to the following libraries for making sure the consultation was available to everyone, not just those with an internet connection:
Portsmouth Central Library
Newport Library
Southampton Central Library
Aldershot Library
Fleet Library
Basingstoke Discovery Centre
Tadley Library
Havant Library
Petersfield Library
Alton Library
Hayling Island Library
Andover Library
Lymington Library
Gosport Discovery Centre
Fareham Library
Winchester Library
Eastleigh Library
Local Consultations
It is important that as a resident of Hampshire, Isle of Wight, Portsmouth and Southampton you have the opportunity to talk to us about your thoughts, views and experiences on local policing, community safety and solutions to improving the life opportunities for all our residents.
Having your voice heard and seeing how you have contributed to positive change for individuals and communities is our goal. We want to provide focus groups and consultation opportunities on a range of themes and topics, all of which feed directly into the work of the Commissioner and his team.
Whether you:
Have been a victim of a crime or know someone who has
Want to share your thoughts on a particular issue
Want to share your experiences on policing and community safety
Want to help shape how we communicate with residents and share opinions on campaign materials
We'd really like to hear from you.  We ask you take the time to register your interest in being a part of our focus group and consultation opportunities. This link takes you to a registration form where you can complete your details securely and let us know the types of things you'd like to talk to us about.
Register your interest here: https://survey.alchemer.eu/s3/90468660/participant-sign-up
Responses captured through our focus groups, consultations and surveys are anonymous and cannot be used to identify you. We will share results of consultations and engagement activity with relevant partners to ensure a strengthened partnership approach to understanding the needs of the public, and the wider support needed to help keep our communities safer. 
Reports from our previous focus groups can be found on the results and reports page.
National Consultations
There are currently no national consultations to take part in.