Consultations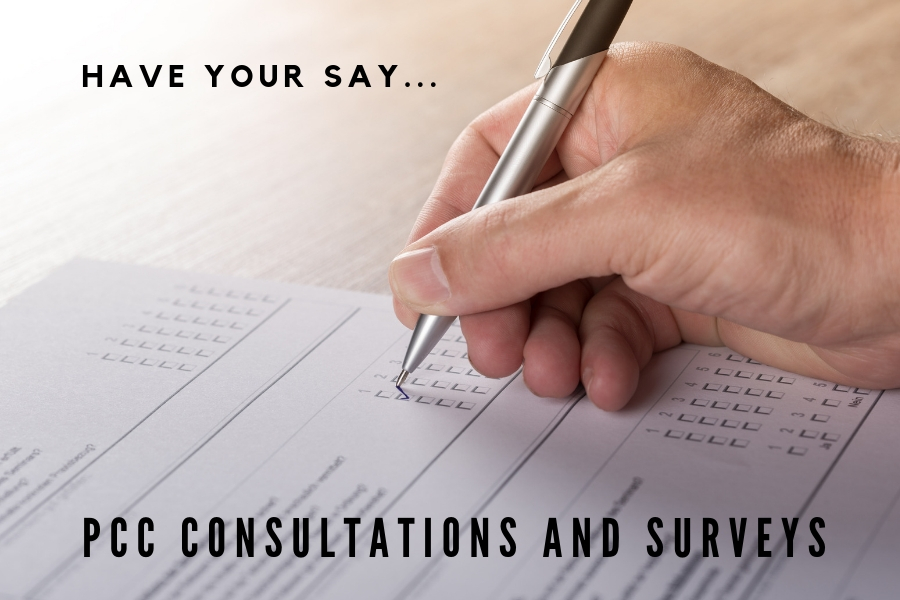 Part of the Police and Crime Commissioner role is to listen, respond, and act upon your views, carrying out meaningful consultation with the public to inform the work of the Office.
Listening to the community, business, specialist partners and the Chief Constable's team, who deliver the operational policing is an important first step before producing a Police and Crime Plan.
You can find open surveys and consultations on this page. You can also sign up to the mailing list to receive a monthly alert about open consultations.  See the latest email here.
Violence Against Women and Girls call for evidence
The Commissioner, is asking residents and practitioners to share their thoughts, views and experiences of Violence Against Women and Girls (VAWG). The views and feedback will provide the Commissioner's VAWG Task Group  with a clear understanding of the scale and impact of these crimes across Hampshire and the Isle of Wight.
Through this call for evidence the Task Group specifically wants to:
hear people's experience of the reporting process
understand support service capacity
identify examples of best practice and what is working well locally
learn about the current challenges in tackling VAWG and what requirements are necessary to improve
Take part in the VAWG Task Group call for evidence by completing the most relevant online survey for you:
Please do not use this call for evidence to report a crime. If you need to, you can call 101 or use the online reporting link: Report a crime | Hampshire Constabulary. In an emergency always call 999. If you are looking to report a VAWG related crime triggered by this call for evidence, please do so via online reporting or 101 ensuring you reference the survey/call for evidence in your submission.
Due to the sensitive nature of this call for evidence, and the need to ask about personal experiences of violence, harassment and abuse (for example sexual assault, stalking, domestic abuse, sexual abuse, etc.) it is important that where needed, individuals reach out to access the support available:  Supporting Victims.
This call for evidence is open for 6 weeks, from March 8th 2022. until  April 18th 2022 11.59pm.
It is important that as a resident of Hampshire, Isle of Wight, Portsmouth and Southampton you have the opportunity to talk to us about your thoughts, views and experiences on local policing, community safety and solutions to improving the life opportunities for all our residents.
Having your voice heard and seeing how you have contributed to positive change for individuals and communities is our goal. We want to provide focus groups and consultation opportunities on a range of themes and topics, all of which feed directly into the work of the Commissioner and his team.
Whether you:
Have been a victim of a crime or know someone who has
Want to share your thoughts on a particular issue
Want to share your experiences on policing and community safety
Want to help shape how we communicate with residents and share opinions on campaign materials
We'd really like to hear from you.  We ask you take the time to register your interest in being a part of our focus group and consultation opportunities. This link takes you to a registration form where you can complete your details securely and let us know the types of things you'd like to talk to us about.
Register your interest here: https://www.surveygizmo.eu/s3/90145045/Focus-Group-and-Consultation-participant-registration 
Reports from our previous focus groups can be found on the results and reports page.