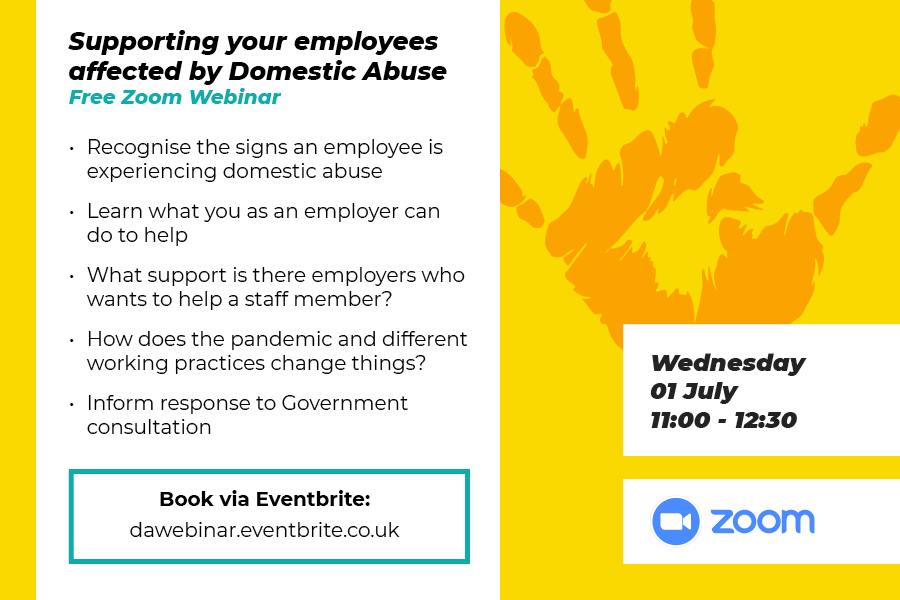 Domestic Abuse Webinar
01 July 2020
As an employer, you want what is best for your employees.
Research indicates that 75% of Domestic Abuse victims will be targeted at work, 1 in 3 domestic homicides happen on workplace grounds, and 58% of victims will miss at least 3 days of work a month, all due to domestic abuse. Workplaces are changing in light of COVID-19, so how does that impact your business?
If an employee is affected by domestic abuse, you as a manager cannot solve the problem, but you can offer support, and take all reasonable actions, to ensure the individual feels safe and secure in the workplace and support perpetrators in accessing help to address their behaviour.
Join the Free webinar on Wednesday 01 July at 11:00 to 12:30 and find out more about how you as an employer can help.
Recognise the signs an employee is experiencing domestic abuse
Know what support there is for you as an employer who wants to help a staff member
Find out how the pandemic and different working practices have changed things
Plus
The Government is seeking to bolster employment rights for victims of domestic abuse. This webinar will explore the consultation questions and we will use your feedback to formulate a response:
What practical circumstances arise in relation to domestic abuse and work?
What support can be offered in the workplace to victims of domestic abuse?
What is possible with the existing framework?
What does current best practice look like?
What is the potential to do more?
Hosted by the Office of the Police and Crime Commissioner and the North East Hampshire Domestic Abuse Forum